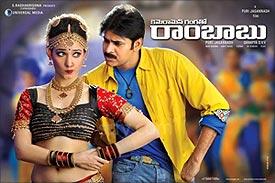 CGR is a one time watch, writes Radhika Rajamani.

Of late, the media seems to be a favourite theme with the Telugu filmmakers. After Srimannarayana, comes Cameraman Gangatho Rambabu (CGR) directed by Puri Jagannadh.

Like in all Puri's films, there isn't much of a story.

Puri doesn't attempt anything new but makes Pawan Kalyan take centrestage and gives him a few punchy dialogues, thereby making it essentially a hero-centric film.

The introduction -- a montage of several clips of politicians along with the titles -- is quite impressive but when the film unfolds, it's a different story.

Imagine a journalist taking a rod and the law into his hands to save people. Add to it, the kind of people he encounters in his life.
The story goes like this: Rambabu (Pawan), a mechanic and garage owner is motivated by news reports and television bulletins to help people -- even if it requires using aggression, force and violence. Cameraman Ganga (Tamannaah) hears of him and his nature, and gets him a job in her channel.
In the course of his work, he locks horns with Jawahar Naidu (Kota Srinivasa Rao), a former chief minister, who wants the seat again, aided by his son Rana Babu (Prakash Raj). An ugly tussle follows, and Rambabu is forced to leave this NC Channel and join another rival one called C Channel, owned by Smita (Gabriela).
There is a love triangle for a while here. Rana Babu enters politics and then the second half is full of face-offs between Rambabu and Rana Babu.
The pace of the movie goes up and down and there are moments when the gripping factor dips. There are enough hard-hitting dialogues, an item number (by Scarlet Wilson) and songs with Tamannaah which make up the film. Basically, the film is utopian -- rather imagines such a situation.
One cannot imagine a media person doing what the protagonist does in the film. Some of the characters (those of Tamannaah and Prakash Raj) don't have any depth in them. There are some ridiculous scenes where the head of a division of a channel is slapped by Rambabu and happily gets himself hit.
Also, be prepared for long sermons on womanhood, statehood and country (where the arguments seemed a tad confusing and devoid of strength).
Yet, there are some positive points like one where Ramababu scolds Brahmanandam for peppering the facts with masala.
Pawan Kalyan carries the film ably on his shoulders. He's able to bring out the character of Ramababu, well aided by the pithy dialogues by Puri.
Tamannaah looks chic and smart with a makeover in a tomboyish role  but she is made to perform over the top.
Gabriela's presence was unwarranted.
For others like Kota Srinivasa Rao, Prakash Raj, Tanikella Bharani and Nasser, the roles are like child's play. Brahmanandam and Ali provide the lighter moments in the film.
The movie is quite sound on the technical front.
With Cameraman Gangatho Rambabu, Puri Jagannadh is trying to look for an idealistic situation. If one is fond of movies with a political backdrop and is a fan of Pawan Kalyan, CGR may make for a one-time watch.
Rediff Rating: