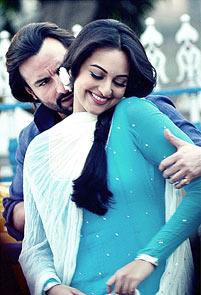 The most entertaining songs in Bullett Raja are Tamanchey Pe Disco, Jai Govinda Jai Gopala and Saamne Hai Savera says Joginder Tuteja.

One has decent expectations of the music of the film Bullett Raja, considering the fact that Saif Ali Khan and Sonakshi Sinha feature in the film.

However, since Tigmanshu Dhulia's films aren't really known for their music, and the genre of the film restricts a notable soundtrack, one is prepared for the kind of music that acts as a filler.

Sajid-Wajid are the composers with RDB coming up with a guest song. Sandeep Nath, Kausar Munir, Shabbir Ahmed and Raftaar are the lyricists for six numbers in the album.

The album Bullett Raja begins with the speed of a bullet, courtesy Tamanchey Pe Disco, a characteristic rendition by Nindy Kaur.

Though one expects RDB, Nindy Kaur and Raftaar to present a song that has a Punjabi base to it, the team reinvents itself with a tune that has a UP-Bihar flavour to it.

A fast-paced number that moves relentlessly, one's only regret is that it lasts a mere two minutes.

Sajid-Wajid's composition Saamne Hai Savera begins in a way that reminds one of Chori Kiya (from Dabangg).

The manner in which Shreya Ghoshal renders the number with Wajid joining her, also reminds one of the romantic numbers that Sajid-Wajid have composed for Salman Khan films.

Easy on the ears, it makes one wonder, though, whether it will fit into the setting and milieu of Bullett Raja, which is a fast paced movie. Meanwhile, the interspersing portions are filled by Bonnie Chakraborty who takes a folk route.

There is a fun element in Neeraj Sridhar's Jai Govinda Jai Gopala.
It could be a hit if promoted well. It could well be the next Hare Krishna Hare Raam (Bhool Bhualiyaa). With some good beats to it and a pace that compliments the kind of flavour that a song belonging to this genre warrants, it rightly appears in a 'remix version', which is a good add on.
However this good work is negated by Mamta Sharma's
Don't Touch My Body.
The makers may argue that the song is meant for the front benchers in the cow belt, but considering this is a Saif Ali Khan film and one is primarily looking at the multiplex audience, a song like
Don't Touch My Body
is a strict no-no.
Average lyrics coupled with a forgettable tune further bring the song down. One wonders if Mahie Gill, who has made a guest appearance as an item girl in this song, would be able to save it.
The title song
Bullett Raja
makes a belated appearance, with Wajid bringing himself on board for yet another number that has its base in the cow belt.
With support from Keerthi Sagathia, the number has a good hook to it and should do well in the narrative. In fact it would be interesting to see how Saif approaches this number.
Satake Thoko
undoes the overall effort. A situational number that gets back to the Bhojouri scheme of things, it has Wajid and Keerthi Sagathia joined by Danish Sabri behind the mike. It may just seem entertaining with the picturisation, but as a standalone number, it's not worth hearing again.
Bullett Raja
, the album, is a mixed bag which does well when the mood is more contemporary.
Eventually, the songs that entertain are
Tamanchey Pe Disco, Jai Govinda Jai Gopala
and
Saamne Hai Saver
a.
Rediff Rating: