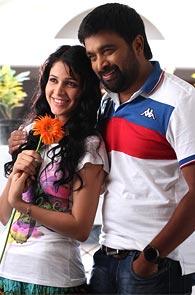 Director-turned-actor Sasikumar's Bramman directed by debutant Socrates is an average film that revolves around two friends separated in childhood, who are deeply passionate about cinema, writes S Saraswathi.
Director-turned-actor Sasikumar's films on friendship are legendary in Tamil cinema.
In Subramaniapuram, Naadodigal, Poraali to Sundarapandian, Sasikumar has always played the perfect friend, giving up everything for friendship.
Bramman, his latest venture, is yet another film extolling the virtues of a good friend.
The film is directed by debutant Socrates, a former assistant of Kamal Haasan. The music is by Devi Sri Prasad. It is produced under the banner of K Manju Cinemas and Anto Joseph Film Company.
Bramman features newcomer Lavanya Tripathi along with Sasikumar in the lead role supported by Naveen Chandra, Santhanam, Soori and Jayaprakash.
Shiva (Sasikumar) and Kumar (Naveen Chandra) are inseparable as children. Crazy about cinema, the two steal film reels from the local theatre to make their own childish bioscope. Together they dream of making films to screen at the local theatre in their village.
Fed up with their antics, Kumar's parents decide to leave the village hoping to break Shiva's influence on their son.
The story now moves 25 years into the future, where Shiva and his friend Santhanam take a lease on the old theatre. Their desperate attempts to release new films in the theatre always fail, and they incur heavy losses.
Shiva is unable to maintain the theatre or even pay the taxes. The dues pile up and eventually the government issues a notice threatening to seal the place in three months time. He requires Rs 5 lakhs to get out of this mess. Since he is already in debt, no one in the village is willing to lend him any more money.
Kumar now enters the scene. After leaving the village, he has become a very rich and successful Telugu film director.
Shiva has been keeping track of his friend's journey to success. He feels just like him, his friend Kumar too will be interested in protecting the legacy of the old theatre, where they spent countless moments together as children.
Does he succeed in saving his beloved theatre or like countless other landmarks will this too be destroyed to build a shopping complex or a wedding hall?
Despite the very interesting concept, the film fails to impress.
The first half is extremely slow and boring, while the second half is designed to include every possible scenario to highlight the many sacrifices that Shiva makes for his friend. There are many dramatic twists, yet the film lacks the depth, intensity and sentiment that we have come to expect from Sasikumar.
Music by Devi Sri Prasad is mediocre except for the En Uyirin Uyiraga number, which has beautiful visuals and is sung by DSP himself.
As far as performances are concerned, Sasikumar has not attempted anything new. Debutante Lavanya, who plays his love interest, does not make much of an impression. Santhanam is adequate, and Soori livens things up a bit in the second half.
In his attempt to glorify the character, director Socrates has regrettably sacrificed a very good story; the climax is the only saving grace of the film.
The film will definitely be a huge disappointment to fans of the hugely talented Sasikumar, whose almost perfect record will be marred by this film.
Rediff Rating: