Aditya Chopra's film reminds us that a well-shot Bollywood romantic film can be so entertaining even when it does not offer anything new, says Aseem Chhabra.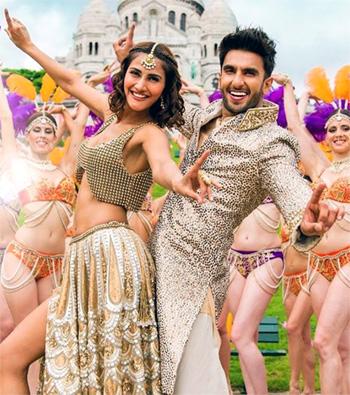 Aditya Chopra's fourth feature as a director -- Befikre is a hot and sexy film.
Despite its thin plot (what plot, a journalist friend asked me after the film's premiere at the Dubai International Film Festival), the film holds its attention with the good looking stars, their energy, songs, dances and many lovely day and night scenes in Paris.
Chopra's film reminds us that a well-shot Bollywood romantic film can be so entertaining even when it does not necessarily offer anything new.
Befikre opens with a string of kisses. As the credits appear on the screen, we see several characters on the streets of Paris -- young, old and of different colours, kissing as Labon Ka Karobaar plays in the background.
It is a sweet, romantic and very happy look at Paris.
One loses the count of the kisses, just as it is impossible to say how many times the film's leads -- Ranveer Singh and Vaani Kapoor -- lock lips through the film.
Singh and Kapoor kiss with full abandonment in Befikre, again and again, and it is sexy, fun and absolutely okay.
The film is a signal of how far India, Bollywood and the censor board (despite the strange conservative mood the current board often reflects) have come from the days when Hindi films would show flowers and bees to suggest romance, or physical contact between the male and female leads.
But the sexy tones of the film do not stop there. The first scene has Singh's Dharam breaking up with his live-in girl friend. And as he angrily throws her out of his apartment Dharam struts around only in a short black boxer brief.
Also I do not know how much the censor board has cut from the film (we clearly saw the uncensored version of the film in Dubai), but Singh will go down in history of Indian cinema as the first actor to pose completely naked from the back. It is a very brief shot, but I doubt if Chopra used a body double.
Kapoor's fans should not be disappointed. The actress shows enough skin through the film, often taking her top off and showing her bra. She especially looks positively hot shaking her hips and dancing to the song Nashe Si Chad Gayi.
And she and Singh are equally attractive dancing on the streets of Paris to the song Ude Dil Befikre.
Kapoor and Singh are natural dancers and even in many of the film's choreographed sequences they move their bodies with a lot of ease. And their tango-ish dance scene towards the end of the film simmers with a lot of sexual tension.
With all of this sexually charged energy it hardly matters that Befikre attempts to follow a story line.
Dharam is a young man from Karol Bagh in Delhi and he retains a tad bit of Bittoo Sharma's Janakpuri accent from Band Baaja Baaraat. Dharam arrives in Paris to perform at a stand-up comedy club called Delhi Belly.
Singh is often very funny in the film, and utterly likeable and charming, but he is flat as a stand-up comic. Perhaps Dharam should have been given a different career path in Paris.
In Paris Dharam meets Shrya (played with a lot of confidence by Kapoor) -- an Indian woman, born and raised in France. They dance, drink, sing songs, fall in love, move in together, fall out of love and then much like Band Baaja Baaraat's Bittoo Sharma and Shruti Kakkar decide to become friends.
In fact, Befikre carries quite a bit of BBB hangover, with occasional nod to Chopra's breakthrough film Dilwale Dulhaniya Le Jayenge.
But in Befikre Dharam and Shyra take it one level further when in a state of confusion and anger they get engaged and even close to marrying other partners.
Of course, Befikre is a Hindi film and no surprise how it will end.
There are some messy moments in the film, especially the weird unruly slapstick scene towards the end in a church.
And that is when one senses that Chopra is not in full control of the plot. He knows how the film will end, but the path to that seems forced and convoluted.
Still much of Befikre is loaded with a carefree spirit. It is joyful and it will make you smile.
Rediff Rating: