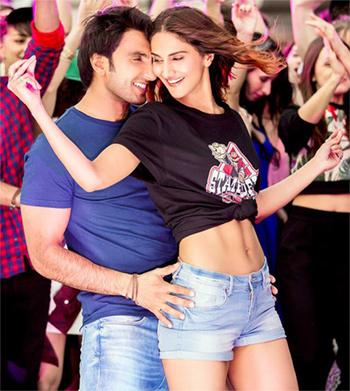 Befikre is a colossally stupid film, says Raja Sen.
I wonder what films Aditya Chopra watches.
I wonder who the reclusive filmmaker meets and speaks to in real life, and what on earth he imagines lovers and romantics to be doing.
Perhaps he, who obviously watches his own iconic success Dilwale Dulhaniya Le Jaayenge a million times over, believes (and hopes) they do the same.
Yet if he intends to connect with his audience and make films speaking the 'with-it' language of the youth today, perhaps it is finally time he put an end to his Willy Wonka lifestyle, strolled out of his production house and took a look at the world.
This is because his Befikre is a colossally stupid film, a bad comedy with some skin and spit-swapping thrown onto it in a desperate attempt to attract attention.
Despite the montage where lovers -- old, blond, bewigged -- smooch over the opening credits, what follows is not a youthful or fresh or interesting film.
Like a big budget wolf dressed like a particularly skimpy sheep, this film recycles ideas we've seen done to death by Chopra's own production house: The underdressed carefree tourism of Neal And Nikki melts into the inevitability of Mere Yaar Ki Shaadi Hai, itself built upon the second half of Chopra's DDLJ, with the Dance Of Envy from Dil Toh Pagal Hai thrown in for good measure.
Befikre goes through all these hackneyed bits while trying, in foolhardy fashion, to make a combination of the over-imitated talkie Before Sunrise and the wildly sexy Love Me If You Dare.
Love Me If You Dare, a twisted French romance about a pair of lovers egging each other on from fun and games to callous and destructive madness, is a film that fetishises recklessness and the idea of committing to something impossible: A dare.
It is a heady film that captures, vividly and sexily, the volatility of a relationship built on wildcards.
Befikre doesn't dare.
A mediocre advertisement for Paris Tourism, the film is an inane mess where characters contradict themselves merely in order to outdo their own stupidity.
Even the stolen idea of daring each other into anything isn't adhered to as we see a couple of fools fall in love -- the only upside to this being that they cancel each other's imbecility by taking themselves off the market.
Ranveer Singh is a Delhi boy who titters at lesbians and uses 'that's so gay' as an insult, while Vaani Kapoor is a French girl of Indian origin who has a prolific sex life, and -- conveniently for the production incentives -- shows tourists around Paris.
There are no emotional or romantic stakes anywhere in sight, and it's hard to give a flying fikar what happens to these idiots.
He falls for her, she falls for him, and then after a year of separation -- though we hardly see them apart -- they decide to be friends.
How very French, says the film, which also believes that a young man being polite to his mother is not French. Ah.
I wonder where Aditya Chopra stands on fries. That said, we do find out where he stands on desi potato eating, this film's big romantic question being a mother asking her daughter if her potential soulmate is aalu paratha enough for her.
Kapoor's character is confident but unbearable in the film, yet at least she occasionally makes sense when talking of life and love and marriage.
Singh, who plays a lame stand-up comic, knows absolutely nothing. There are other people on the scene, lovers for these lovers, and while he scores a pretty French girl who tries on headphones and enjoys stripping, she finds herself a smooth, un-boring banker.
I must here admit that given the romantic cinema we've seen this year, it feels refreshing that this banker is played by some regular guy and is not a cameo by some beautiful Pakistani man.
There is, as the trailer promises, a whole lot of kissing in this film, and if you are in the mood to watch much mushing-together of mouths and to see Singh and Kapoor go at it with far too much aggression -- her pre-kiss look is that of a rugby player readying for a scrimmage -- then this film may, by all means, be your thing.
I must, however, warn you that none of this is remotely sexy.
Despite Kaname Onoyama's cinematography being one of this film's few pluses -- there are some fine tracking shots pulling out from the two of them into the lovely world around them -- it is bewildering how unflatteringly Kapoor has been photographed, and Singh cancels out his own charm by frequently displaying the energy of an electrocuted monkey.
Singh is a fine actor but struggles with the inanity of this material, material that requires him not merely to be always-on, but to be always obnoxious.
The only moment he manages to salvage is one early on where he locks eyes passionately with a statue; it's the actor's way of flexing his leading man muscles and saying he could romance anything.
He manages his character by wearing his cluelessness on his sleeve, and making his Delhi boy loud and vaguely effete, and resultantly renders this weak film nearly watchable.
(As an aside I must hereby request some filmmaker to cast Singh in a completely effeminate and clueless role, even that of a valley girl. The Alicia Silverstone role from Clueless, even. He'd kill.)
At a point when our mainstream cinema is beginning to grow up, Befikre is painfully childish drivel that proves to be a maddening waste of time.
It starts out shrill, turns predictable, and ends up chaotic.
To use the language of the youth Aditya Chopra is attempting to speak, let's call it Befi-cray-cray.
Rediff Rating: