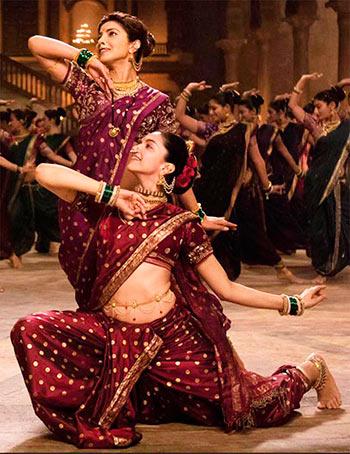 A lot of qawalli and romance in Bajirao Mastani's soundtrack, says Aelina Kapoor.
Music has always been an important part of Sanjay Leela Bhansali's movies. While songs composed by other composers are a hit even today, his own stint as composer, in Guzaarish, was forgettable.
He returns as music director with Bajirao Mastani, along with as many as three composers in tow (AM Turaz, Siddharth-Garima, Prashant Ingole).
Shreya Ghoshal sings Deewani Mastani, in which Deepika Padukone appears as a courtesan in Ranveer Singh's 'darbar' in the film.Everything about the song fits in pretty well, be it the rendition (with Ganesh Chandanshive chipping in as well), elaborate qawalli interludes, choreography and picturisation.
But just when it seemed like the party was starting, there comes a downer in the form of Arijit Singh's Aayat.
Reminding us Guzaarish's Tera Zikr Hai, and not in a good way, this song (with Qawalli interludes once again) is slow, monotonous and boring.
Vishal Dadlani comes to the rescue with his rendition of Malhari. A celebration song about the march of victory, this one catches your attention and instantly reminds one of Ranveer Singh's playful act in Tatad Tatad, Ram Leela.
The pace of the soundtrack dips again with Mohe Rang Do Laal, a classical piece by Pandit Birju Maharaj and Shreya Ghoshal. Since this is a period film, the music naturally has to compliment the era. However, one looks for an entertaining song, and doesn't find it here.
Classical number Albela Sajan has been revisited many times over the years and Bhansali brings in his own touch by roping in Shashi Suman, Kunal Pandit, Prithvi Gandharva, Kanika Joshi, Rashi Raagga and Geetikka Manjrekar for the chorus. This one should go well with grand visuals.
By this time, one gets to know the sur the album is taking, and so Ab Tohe Jane Na Doongi doesn't surprise you anymore. It is a love song sung by relatively new singers Payal Dev and Shreyas Puranik.
Priyanka Chopra and Deepika Padukone come together for Pinga and to lend the right voice, Bhansali ropes in the services of Shreya Ghoshal and Vaishali Made. It cannot be compared to Devdas' Dola Re Dola (picturised on Madhuri Dixit and Aishwarya Rai) but if one looks at Pinga as a standalone number, it fits in quite well.
The energy is diluted to some extent by Javed Bashir's Aaj Ibaadat, not that the singer does a bad job. But the kind of pace and presentation of this situational song is such that one can't really take it out of Bajirao Mastani and give it a standalone hear.
Comparatively, Vaishali Made and Ganesh Chandanshive's Fitoori is better, as it brings back some sort of pace into the proceedings.
The album concludes with Gajanana, a number hailing Lord Ganesha, something which has become quite prominent in the movies recently. This Sukhwinder Singh sung number manages to find its own place and one doesn't mind hearing a new take on the popular devotional number.
The music of Bajirao Mastani is a roller coaster ride. Though there isn't anything wrong about Bhansali's tunes here, there are quite a few ups and downs in the 10 songs in the soundtrack.
Rediff Rating: