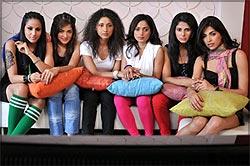 Sonil Dedhia reviews United Six.  Post YOUR reviews here!

Nowadays chick flicks in Bollywood have become very common. These films usually offer a slice of women's lives. United Six is one such film.

More on the lines of the Hollywood flick Charlie's Angels, United Six is the story about six girls (Parvathy Omanakuttan, Daisy Bopanna, Mahi, Pooja Sharma, Isha Batwe and Luna Lakhar) who are living in Bangkok.

Like many chick flicks, the film is about the problems the girls face in their lives like sexual harassment at work, cheating boyfriends etc. Add to it the recession and you have six out of work girls who drowned their sorrows in drink. 

One night, after too many drinks, one of girls who has just been fired from her job at a bank decides to rob her former place of employment. She then enlists the help of the other five.

The plan -- which the girls come up by watching a couple of Hollywood movies -- is to rent a bakery next to the bank and start digging a tunnel to the bank. The digging work which ideally takes days to complete takes our power-puff girls only a few hours. However, the girls back out of the plan mid-way.
Next morning the girls wake up to find that the bank has been robbed. Who has robbed the bank? Will the police nab the six girls? The second half seems endless with the six girls running all over Bangkok dressed in skimpy outfits, in a bid to save their lives.
Director Vishal Aryan Singh is as confused as the six girls in the film. None of the girls are even worth mentioning. The film goes on one track but offers no explanations. Then there are the item songs (performed by the six girls) which are unnecessary. 
All in all, you can give this one a miss.
Rediff Rating: