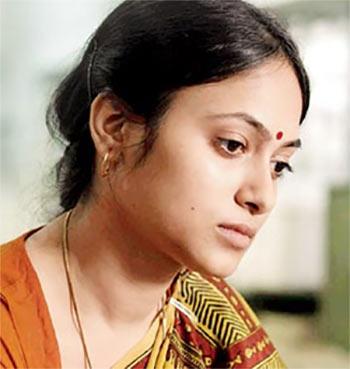 Bengali film Asha Jaoar Majhe is a must watch, a once in the lifetime kind of work that should be supported by film lovers and experienced on the big screen, writes Aseem Chhabra.
Aditya Vikram Sengupta's directorial debut Asha Jaoar Majhe (Labour of Love) opens in a mysterious way.
One morning, a woman dressed in a starched, mustard coloured cotton sari walks through narrow lanes of a middle class neighborhood of Kolkata, then boards a tram and finally switches to a bus, where she eats a small piece of cake for breakfast, and eventually completes her long journey.
Meanwhile, a man dressed up as if he is ready to go out, drinks tea, then slowly removes his clothes, as he gets ready to take a bath. He washes his dirty clothes, puts on a white kurta pajama and then eats a similar small wrapped piece of cake for breakfast.
The mystery resolves as we watch the characters in their parallel lives that intersect for a brief moment in a dream-like sequence that plays towards the end of the film.
But before that, we hear about the harsh reality of life in Kolkata.
The film opens and in the background, we hear a Bengali radio news announcer talking about the recession that has hit the entire state and people fear losing their jobs.
Life that Sengupta portrays in Asha Jaoar Majhe are the daily rituals of a man and a woman, perhaps a married couple (played by Ritwick Chakraborty and Basabdutta Chatterjee), at home and work, captured with fine details. But every move, every act, every detail adds to the hypnotic quality of the film. I have seen the film three times now and cannot seem to get enough of this haunting cinematic experience.
To say that Asha Jaoar Majhe is one of the best Indian films of 2015 is an understatement. It is surely one of the most unique, beautifully realised films to come out of India in a very long time. It is like experiencing poetry and lyricism on screen.
It is a very rare quality for a film and especially one made in India. One has to go back to the early works of Satyajit Ray to find that sensual tone in the narrative, for instance watching the young bride Aparna (Sharmila Tagore), preparing tea in the morning at her new home (Apur Sansar) or the details of Charulata's (Madhabi Mukherjee) life inside her old palatial house.
Last year, Sengupta won the Fedeora Award at the Venice Film Festival for the best director of a debut film. Since then Asha Jaoar Majhe has won several other awards including two National Awards in May -- the Indira Gandhi award for best first film to Sengupta and best audiography award to sound designer Anish John.
And the real surprise -- not a single dialogue is spoken in the film. But dialogues are totally unnecessary. We know what the two characters are thinking, we understand their feelings and actions. The silence in Asha Jaoar Majhe is so calming.
But with no dialogues, Asha Jaoar Majhe must have been a dream project for sound designer John. The film is packed with ambiance sounds, street noises -- car horns, tram bells, voices of street hawkers, cats meowing and crows cawing, background radio news programmes, Bengali film songs, a woman taking music lessons and early in the morning, school children singing the Indian national anthem.
It is like everyday life in India. These background sounds are such a vital part of anybody who had grown up in India. John and Sengupta present the musicality of life in India with such ease that it practically becomes another character in the film.
At times, words are spoken, such as when the when the man goes out to buy fish from a local market. We see his lips moving, body gesture, but we do not hear any sounds. We are in a very real world and yet not hearing voices does not seem strange. It is a quite meditative.
The camera, handled by Sengupta and Mahendra Shetty, often pans through the house, exploring ordinary household objects -- clothes hanging, kitchen utensils, cooked lunch and dinner in fridge, a household cat who slinks around the wooden four poster bed, table cloth with crochet work and lacey curtains flapping, as the ceiling fan is run on a high speed.
There is lovely delicate old world feeling to these details and the film, again taking the viewers back to the cinema of Ray. It is as if Charulata or Arati of Mahanagar were 21st century women living in 2014, balancing household chores with demanding jobs that were situated many miles away. And their husbands have their own pressures, yet the two find a lovely balance in their lives.
The film ends with a beautiful elaborate shehnai piece that we also hear at the start of the film. The choice of the music makes all the sense as the films ends.
Asha Jaoar Majhe is playing in limited engagement in Kolkata, Delhi, Mumbai and Bangalore. It is a must watch film, a once in the lifetime kind of work that should be supported by film lovers and experienced on the big screen.
Rediff Rating: