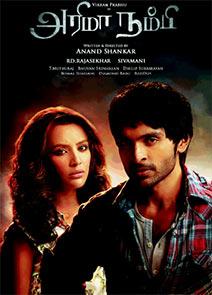 A skilfully written plot, deft direction and excellent camera work make director Anand Shankar's Arima Nambi a highly engaging, action-packed thriller, writes S Saraswathi.
Director Anand Shankar, a former associate of A R Murugadoss, makes his debut with an impressive action thriller, Arima Nambi.
The film is produced by Kalaipuli S Thanu and features Vikram Prabhu and Priya Anand in the lead.
The story revolves around the strange events surrounding the mysterious abduction of the protagonist Arjun Krishna's (Vikram Prabhu) girlfriend, Anamika (Priya Anand).
Arjun and Anamika become acquainted at a high end pub and the sparks fly instantly. They are deeply attracted to each other, but are at the getting-to-know-each-other phase when she is mysteriously abducted.
Arjun sees two armed and dangerous looking men whisking her off in a speeding car. Though he attempts to save her, he fails.
He approaches the police, but on investigation there is absolutely no evidence of the abduction. The police dismiss his complaints and are convinced he is simply a drunk talking nonsense.
Though thoroughly confused and helpless initially, Arjun finds help in Arumugam (M S Baskar), an honest police constable who believes in him.
But things get complicated. Arumugam gets killed and Arjun realises it is not just some local bad guys, but the police as well as a minister who are involved.
How he rescues his girlfriend and uncovers the murky truth forms the rest of the story.
The film starts off well, maintaining a brisk pace and building up the suspense. But post interval, the pace slackens. Suspense takes a back seat before once again getting back on track.
There are a number of exciting chase scenes in extremely crowded neighbourhoods and shopping malls.
Several scenes shot at night are a credit to cinematographer R D Rajashekhar. He keeps us engaged with his excellent camera work.
The ace drummer, Sivamani, who has over 35 years experience in the music industry, makes his debut as music composer in the film.
There is nothing remarkable about the songs, but Sivamani is definitely in his element with the background music, which keeps up with the tempo of the narration and helps to build up the suspense and excitement.
This is Vikram Prabhu's third film after the megahit Kumki and Ivan Veramathiri, which failed at the box office.
He is suited to the role, which requires him to be serious for most part. Action sequences seem to be his forte, but he does seem a tad awkward with romance.
Priya Anand has a glamorous new avatar in the film. She is portrayed as a party animal wearing short skimpy dresses and does full justice to her role.
Yog Japee, who played the Inspector in Soodhu Kavvum, appears in the second half, but has little to do. Neither has Arjunan as Vikram Prabhu's friend, as there is no scope for comedy.
Modern gadgets and their use in investigation is highlighted along with our extremely vulnerable situation due to social networking sites that make our private life a wide open book, accessible to all.
A skilfully written plot, deft direction and excellent camera work make director Anand Shankar's Arima Nambi a highly engaging, action-packed thriller.
Rediff Rating: