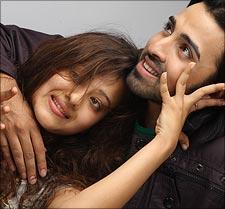 Preeti Arora reviews Angel. Post YOUR reviews here!

Love stories are made with newcomers. Well, most of the time. The reasoning is simple. No stars, no major hype, no expectations. The script works as a launch pad and then chemistry takes over. And it has worked many times in the past.

Decades ago it was films such as Bobby and Love Story which were the biggest blockbusters of the decade. Of late, this formula has seen more misses than hits. And Ganesh Acharya's Angel is one more love story which will fade into oblivion faster than the coffee in your cup can cool down.

Angel stars newcomer Nilesh Sahay as Abhay, the bumbling hero who doesn't just have a heart crafted of gold. He probably has two hearts and zero brain. There seems to be no other reason for his behaviour -- which borders on manic -- through the first half of the film. His long black hair flapping in the wind, Abhay has returned to the city after a two-year sojourn in jail. But this stint behind bars has left him unaffected. 

So Abhay returns from home only to find his family isn't overjoyed. They were probably hoping he would be put away for a really long time. Thirty minutes into the first half and the audience also shares the same feeling. But since he's now prowling the streets of Mumbai, the tortured story (for the audience anyway) plods along at a slow crawling pace...

Since guilt is something our hero has never experienced, his mother forces him to look back. After all, he did bump somebody off. So Abhay, playing the obedient overgrown brat takes off to apologise for his misdemeanours.

Here he meets Sonal (Maddalsa Sharma) whom gradually falls in love with. And later he nicknames her 'angel'. How original. But the path of true love has never run smooth. It will eventually be 'Happies Endings'. The most important question here is when?

The other characters forming the backdrop to this story are stereotypes last seen in films of the '60s or a Rajshri production.  The helpless mother who loves her son but must control her feeling for the fear of offending her older son, henpecked brothers, avaricious sisters-in-law (not one but two) and

even the quintessential Christian domestic help, Mary, who speaks broken Hindi with a Konkan accent. At least that's what the director was aspiring towards. But it translates into a shrill screech every time she opens her mouth.

Obviously planned as a launch vehicle for Nilesh Sahay (who incidentally happens to be the nephew of the '70s actress Zaheeda), the actor towers in every frame and shamelessly tries to imitate every star at the top. He aims for SRK's goofiness, the romantic vibe which Hrithik exudes into the most mundane of situations and Salman's muscular stride every time he enters and exits, making a mishmash of all three.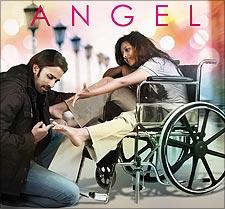 The point to be noted here: debutants score well because of originality and not because they have spent many months, or in this case, years building up their brawn quotient. A lesson Harman Baweja has learnt the hard way.

When the screenplay isn't showcasing Nilesh Sahay's so called histrionic skills, it becomes a platform for Acharya's choreographic prowess. The songs which have lyrics in English and Hindi have been forced into the script. Acharya who's generally given the more rustic songs probably hopes producers consider him for the more 'Westernised' numbers which seem to be more in demand today.

 

Or maybe Paa has set a trend where films about disabilities will earn critical acclaim for the director even if it spells disaster for the distributors.

 

The end credits roll with Nilesh, Acharya and Sukhwinder Singh crooning Aye Khuda to the audience. Ganesh Acharya the producer cum director has a huge fan following for choreographing the chartbuster Beedi Jailale from Omkara. Let's hope his many admirers forgive him for his directorial disasters.

Angel is best avoided. 

Rediff Rating: