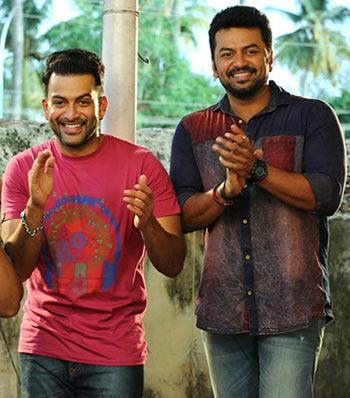 The director successfully maintains a fine balance among the three leading men in Amar Akbar Anthony, says Paresh C Palicha.
In the late 1980s and early 1990s, Malayalam cinema had many 'mimicry films'.
These were films helmed by people who once did mimicry shows on stage and were stars in their own right.
Such films followed a pattern -- it started with a suspense prologue, followed by a laugh riot mostly telling the stories of jobless youngsters, a villain, and action, culminating in a free-for-all climax.
So when Nadirshah, a long-time exponent of mimicry, directs a film, we have a premonition about how it would turn out. And he does not disappoint.
His directorial debut Amar Akbar Anthony, starring Prithviraj, Jayasurya and Indrajith, exactly follows the pattern of the mimicry films of yore.
His leading men are not jobless but doing jobs that are considered lowly.
Amar (Prithviraj) drives battery-operated toy cars and gives joyrides to kids in an upmarket mall. He gives his girlfriend an impression that he is a pilot.
Akbar (Jayasurya) is a lift operator in a posh hospital.
Anthony (Indrajith) is a pizza delivery man.
They live in a slum with their families.
The pivot of the story is that these three youngsters are saving their hard earned money to make a trip to Pattaya and how the difficulties of daily living create hindrances in making their dream trip.
They are also vying for the attention of their neighbour, Jenny, a dancer.
The narrative is punctuated by humour, mainly at the expense of the leading trio, who are presented as dim-witted and slapped by the fairer sex every now and then.
Today, the villains are not the traditional loan sharks or the bank managers; they are the migrant labourers with criminal pasts and paedophiles.
This being a multi-star entertainer, the director successfully maintains a fine balance among the three leading men. Yet, it is Prithviraj who shoulders the weight of the film on his beefed-up biceps.
Jayasurya looks more of a hunchback than a polio-afflicted person, who uses his brace to get even with one of the villains while standing erect as a pole.
Indrajith's Anthony is the butt of the jokes and he does not mind cracking jokes on himself too. It really makes him most likable character of the three.
Namitha Pramod is under-utilised as the leading lady.
Amar Akbar Anthony entertains.
Rediff Rating: