Neeraj Pandey's Aiyaary is the sort of spy fantasy story that drunks narrate in bars, says Sreehari Nair.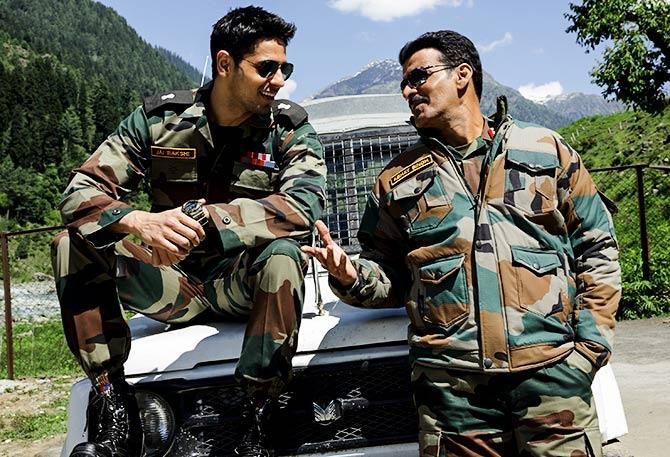 Often in movies where he's anointed by the devil, Kumud Mishra plays a terrible Advance Man. He comes forth with an evil plan and while presenting it, jeopardises it for himself and his team.
You get the feeling that the devil may have touched him, but held back from giving him all his refinements.
The great charm in Mishra's performances and a big part of their humanity even, is in his negotiating his way out of tight spots: they become illustrations of what a powerful yet graceless man might do when pushed to the corner.
In Neeraj Pandey's Aiyaary, Kumud Mishra, playing retired Lieutenant General Gurinder Singh, takes yet another stab at this terrible Advance Man character.
As General Pratap Singh (Vikram Gokhale) turns down his corrupt army trucks deal, Mishra fumbles, his brow tightens, his nervous smile breaks through, and he tries to keep himself in order.
But when nothing works, Gurinder Singh angrily drops it on the general that he's got the goods: he lets him know that he has information on the covert squad that Pratap Singh has formed.
'You accept my deal or I'll un-covert you,' is his silent threat, but Mishra smartly takes the edge off that threat. And you will be grateful that he does so!
Because Kumud Mishra's Gurinder Singh, though sketchily written, offers us the only illusion of a true human presence in this tale of zippy souls being surveilled, and them in turn surveilling the surveiller.
This is a world of Toms peeping on Peeping Toms and Kumud Mishra is happily Gurinder!
Neeraj Pandey's Aiyaary is the sort of spy fantasy story that drunks narrate in bars.
Its vision is derived from our basic paranoia that there is more to modern living than we can perceive outright, and that the system could be giving it to us in ways we cannot totally comprehend.
The film is sporadically entertaining -- chunks of it possess a brute vitality -- but it is constantly weighed down by the fact that most of Pandey's imagination has gone into devising moments of people double-crossing each other using high technology.
If you set aside the Dhoni biopic (which was a nothing film really), Neeraj Pandey's career cuts an interesting picture: He doesn't attempt to do meditations on popular film genres but instead makes agreeable, straight, thrillers.
Part-sleek and part-clunky, Pandey's movies benefit from a craftsmanship of suspense; they turn an audience on by keeping the plot in a state of motorised excitation.
However, Pandey's weakness is built into his strength: His movies also prove what a malicious fallacy 'plot' really is. For the man is hardly interested in making careful connections with any of his characters.
Always looking for vertiginous possibilities in the bureaucratic/political-thriller genre, Neeraj Pandey's characters exist only to perform incredible feats with an unmistakable cool.
But because they rarely shove things into you, his characters don't give you a headache. And because they substitute canned speeches with clipped, precise, lines of dialogues, they never come off as bores.
Pandey's good people, however, are also bound by one common belief: That it's the liberals who are responsible for emasculating our police and armed forces.
In Aiyaary, Manoj Bajpayee's Colonel Abhay Singh derides Nivedita Bhattacharya's journalist character in true Arnab Goswami meter. 'Lutyens' Delhi type,' he classifies her, grinding his teeth through the description.
Neeraj Pandey is well-read and he may want us to believe that his thrillers are apolitical, but he seems the sort who would never read a book if it didn't fortify his existing beliefs.
Here, in his fight against liberalism, Pandey reserves his most cunning haiku for Naseeruddin Shah (probably the staunchest of our liberals), who, in an embarrassing turn, plays Baburao, a commoner with a poetic temper, who releases a video in which he narrates a minor life experience involving his dogs and a housing complex, and, lo and behold, manages to bring an entire corrupt system down!
This must the fastest revolution ever recorded, and Shah's Baburao achieves it through a steady stream of tears, 'Kya Saabs,' and metaphors.
They say you shouldn't let poets loose for they can kill with their metaphors, and Pandey with his Baburao proves how right that is!
Naseeruddin Shah's Baburao achieves the maximum in his limited screen time, but this dragon-slaying genre movie isn't about him.
It's about Sidharth Malhotra's Major Jai Bakshi, a young surveillance expert, who turns cynical about the system, and turns rogue.
Jai Bakshi is the proverbial bird on a branch, who grows a mane and foreshoulders, and transforms into a lion.
The armed forces and its covert squad are wounded to the quick by Jai Bakshi's defection, and they ask Manoj Bajpayee's Abhay Singh to stop Bakshi in his tracks.
What is supposed to give Abhay Singh's pursuit of Jai Bakshi its emotional undercurrent is the past relationship the two men share: Abhay was mentor to Jai.
In a way, the story is Apocalypse Now, but with the ranks of the hunter and the hunted reversed.
Bajpayee's Abhay Singh is the Neeraj Pandey's preferred character-type; the type that believes that lack of feelings is what gets the job done.
Bajpayee gets three or four of the best sequences in the film.
One scene has him trying to 'manufacture a smile' as he talks to Lillete Dubey, who plays Jai Bakshi's mother. He assures her that everything is fine and then walks out of her apartment to quip, 'The bastard has gone rogue.'
Another especially effective stretch, set in Kashmir, offers us a glimpse into Abhay Singh's cold soul: How he operates out of an unforgiving matrix of sin and punishment.
I was also left open-mouthed during a fleeting scene which has Abhay Singh being tailed by those who want to overthrow him, and he calls up his wife (Juhi Babbar) and talks to her in code language.
'Chandigarh. Dekho,' he says and Babbar runs to a diary and decodes the message.
Pandey uses skillful suspense techniques on an emotional level, but he also stays close to the push-button appeal of his subject.
The big villain Mohan Kapoor (played by Adil Hussain) is a compendium of the corrupt types: Devious, arrogant, and irreparably evil.
'I have no use for honest people,' Kapoor says at one point, as if summing up the range of his character.
Contrary to Bajpayee's Abhay Singh, Malhotra's Jai Bakshi gets to do nothing of any significance except let a contrast between his sweet-face and his soiled intentions build naturally.
The women (Jai Bakshi's girlfriend Soniya played by Rakul Preet Singh, Pooja Chopra as Captain Maya, Juhi Babbar, and Nivedita Bhattacharya), are not even faintly drawn out, and Neeraj Pandey offers compensation by letting the women wear that 'I am a confident woman'-patch over their foreheads.
Though unevenly paced and put together in an almost maniacal style, Aiyaary is not without its broadly clever touches: The primary requisites for an enjoyable thriller.
However, the movie's righteous conclusion presented with that righteous relish, where everything wrong with the country is attributed to its liberal class, points to a malevolence that cannot be disregarded.
The thriller genre has a new villain, and the first sign of his villainy is that he asks for nuance.
This is a movie that is deceived by its own cleverness.
Rediff Rating: