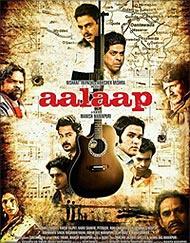 Aalaap is an ambiguous, confused and excessively annoying mess masquerading as a film, writes Ankur Pathak.

Few films are good at tackling sensitive socio-political issues. The intention may be good but the film ends up trivialising the issue or over-simplifying it. Or, as in the case of
Aalaap
, offering naïve solutions that send out fruitless messages of peace and optimism.
The issue here is Naxalism. The plot revolves around a group of four directionless youth, who one day witness the blowing up of a bus carrying paramilitary personnel. This triggers the urge to participate in the struggle in some way.
One of them is 'Mr Cool' Rahul (Amit Purohit) who is a campus star, sort of a messiah of the youth. He wins trophies and is soon catapulted to the status of cultural maestro of his college, which is set in a small town in panic-ridden Chhattisgarh. The man himself, for all the glory heaped on him, is a bundle of nerves, a skeptic version of a pop celebrity who has absolutely no idea how he got there.
While he collects certificates and is made responsible for important cultural events at the state level, our band of boys, most recognisable among them being actor Pitobash Tripathy, are defiant kids strumming on guitars in underground dens, riding around on motorcycles and generally being mean to their parents.
Like in
Rang De Basanti
, these aimless youth suddenly find an aim in life when they witness the heinous killing of the
jawans
.
A generation awakens? Barely. At first they want to take on the Naxals, but later pick up their drums and sticks and begin to churn out music in a bid to spread the message that peace is the only unifying medium to stop the prevailing conflict. The key characters face some perplexing moral conflicts and, again, like in
Rang De Basanti
, a thoroughly predictable closure is reached.
Aalaap
could have been better if it provided some critical evaluation of the situation by first time
director Manish Manikpuri, instead of passing judgment on Naxal politics.
Instead, Manikpuri makes this a propaganda movie that unequivocally brands Naxalites as terrorists who must be stabbed with their own weaponry, in their very own clandestine nests.
It's confounding why the director would choose to take such a strong political stand when he hasn't even bothered to explore the underlying motivations of the movement of the oppressed that is out to overthrow what it perceives as an imperialist system.
When this does occur to him at one point, he cleverly side-steps it by promoting the colossally unrealistic idea that music can bring about change.
I'm not saying this is not an effective tool to drive a revolution. It is inspired and robustly workable, more at a subconscious level. In fact, the
Kabir Kala Manch
, a troupe of musicians, has been doing the same for the Dalit movement, though it has now gone underground due to political threats.
But the insipid way in which this has been represented in the film makes it look like a simplistic answer to a grave problem. We get the idea of non-violent political engagement, but the message is half-baked and never entirely developed.
Though it has references to real life incidents and people -- the CRPF killings in Dantewada and a vague Dr Binayak Sen-like character --
Aalaap
doesn't have the haunting seriousness of a
Hazaaron Khwahishein Aisi
, or the accuracy evident in a lesser known documentary called
Jai Bhim Comrades
, made on a similar theme.
The intentions of the makers may be genuine, but the ill-constructed ideologies hamper the narrative, making it too preachy and even obnoxious because of the substandard acting.
The music by indie rock band
Agnee
is consistently brilliant and in sync with the film's theme. That's not enough to patronise Aalaap -- an ambiguous, confused and excessively annoying mess masquerading as a film.
Rediff Rating: