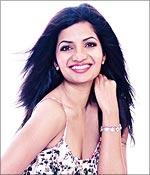 After Jacqueline Fernandez, it's time for another former Miss Sri Lanka Ghamya Wijayadasa to enter Bollywood.

Ghamya will make her debut with an item number in this Friday's release Aalaap.

Aishwarya Rai was one of Ghamya's inspirations when she decided to try her hand at Bollywood. So who else inspired her? You can ask her youself!
Here's your chance to chat with Ghamya, and know more about her and her experience in Bollywood.
Chat with Ghamya Wijayadasa on ZaraBol Chat at 3 pm on Wednesday, July 25.

Also read: Meet The Latest Item Girl in Bollywood

(Due to circumstances beyond our control, date and time of chat may change)