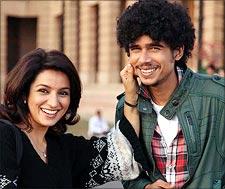 Preeti Arora recommends the thriller 404 but adds that it is not for the feeble-minded. Post YOUR reviews here!

The tagline to 404 is 'Error Not Found'. But for all the internet junkies and those addicted souls who practically live in cyberspace, this one isn't for the computer geeks. There's no sci-fi action here. In fact, 404 explores a theme which has been attempted far too many times in Bollywood over the last decade with films like Phoonk and Aagyat.

Just a couple of weeks ago, there was Vikram Bhatt's Haunted. The fascination for ghosts and spirits remains as strong as ever.

Abhimanyu (Rajvvir Arora) is the latest entrant at a medical college. He's bright, logical and is contemptuous of his fellow colleagues who believe unfulfilled souls don't go to heaven but circle the earth for many years after death, wreaking vengeance on mere mortals for no apparent reason.
Given his strong convictions, he unhesitatingly moves into a Room 404 in the hostel, a room with a history behind it. A few years ago, an unnatural and unfortunate death had occurred in it.

His confidence, which borders on being smug and self-righteous, attracts the wrath of his seniors. The trio of seniors headed by Chris is determined to prove Abhimanyu wrong. It starts out as typical brawl between a fresher and a power crazy group of older students but degenerates into a crisis with no solution in sight.

Campus ragging in reality is a far cry from that shown in 3 Idiots or Munnabhai MBBS. It brings out baser instincts and brutality becomes the norm. Breaking the ice isn't the intention of these interactions, they only aim to break a student's spirit.

Attempting to smoothen things out is Professor Anirruddh, a world renowned psychiatrist and a part of the guest faculty at this institution. Severe warnings are issued to the troublemaking group they are suspended from the hostel, yet the weird incidents continue unabated. Are there really evil spirits creating havoc?

404 isn't a film for the feeble-minded. But it's refreshing. And enthralling. And in all probability will keep you involved even though you may not find it entertaining. The strength of the film lies in director Prawaal Raaman's ability to steer clear of cliches. No grotesque make-up, no shrieking banshees either.

Following a linear structure, the narrative stays focused right through. There's a complete absence of romantic interludes and sub-plots (Good for us). There's just Abhimanyu and his confused state of mind. It is an impressive debut by Rajvvir who obviously believes less is more and underplays his role.

Chris (Imaad Shah) is the bully, who never raises his voice or lifts a finger. He saunters into the frame in a relaxed and self-assured manner, expressing his anger or disgust with a twitch of his lips or a casual shrug. But his presence fills the screen. The shy teenager from Yun Hota To Kya Hota has metamorphosed into a fine actor. One who understands the nuances of cinema, and delivers.

Professor Abhimanyu (Nishikant Kamath) could have done away with the unnecessary histrionics, especially in the second half; reminiscent of Nana Patekar in the 1980s. Despite this major flaw, he's convincing.

The cinematography is excellent. The cameraman effectively uses the locations -- long brick-lined corridors, deserted hostel rooms, and old-world libraries to create a sense of terror. Harsh lighting and grainy visuals accentuate the spook effect without creating 'artificial terror'.

Prawaal Raman has done away with the gimmickry and the gore associated with the thriller genre of late. It's the implicit violence woven into terse dialogues which help maintain the pace of the film. The language is almost free of cuss words and mindless obscenities.

The music and lyrics by Imaad Shah show promise. The background score is disappointing and needed to be more subtle.   
Racing crisply towards an unpredictable end, it's here that the film loses steam. The climax needed to be shorter and the melodrama was uncalled for. Without this obvious flaw, the film would have been a winner.
The film is a must watch for all 'thriller' fans. And also horror buffs! Don't miss it.
Rediff Rating: