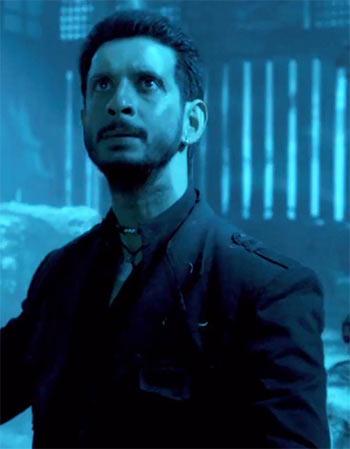 Not only is the story done-to-death, there is hardly anything spooky about 1920 London, feels Namrata Thakker.
Sharman Joshi's 1920 London is like most of Bollywood horror movies: boring and predictable.
Cliched dialogues, unrequited love angle and romantic songs... the film has everything but scares.
If that isn't enough, you have actors who look blank throughout the film and barely hold your attention.
Sharman Joshi, however, does a decent job in comparison to his co-stars Meera Chopra and Vishal Karwal.
Also, 1920 London is very similar to the first installment in the franchise. While in this one it's the wife who saves her husband, the first film had the husband saving his wife from an evil spirit.
So even story wise, director Tinu Suresh Desai has nothing new to offer. The interesting twist just before the interval is not enough to keep you hooked to the film.
The songs aren't that bad but a horror film is supposed to be crisp and to the point, without any distractions. That's one of the prime reasons why horror movies should not have songs, even if there is a love angle.
Shivangi (Meera Chopra) and Veer (Vishal Karwal) are happily married and settled in London. Things are great until they receive a necklace as a gift from their hometown Rajasthan.
Thereafter, Veer falls ill and Shivangi believes her husband is possessed by an evil spirit. She goes back to her hometown to find an exorcist, who can help save her husband.
That's when Jai (Sharman Joshi) comes into the picture. He is Shivangi's ex-love and the only one who can save Veer.
Since it is a typical Bollywood horror movie, no guesses for what happens in the end.
And of course, there has to be stuff like black magic, tantric and gangajal. How else can Bollywood explain all the bad things and save the possessed one?
It seems 1920 London has been made JUST to take the franchise forward. Not only is the story done-to-death, there is hardly anything spooky about it.
It's sad that makers of horror movies usually end up ignoring the script and logic completely. No wonder, this genre hasn't made it big in India yet.
Meera Chopra has a long way to go as far as acting is concerned. She needs to work on her emoting skills.
Vishal Karwal's performance is also disappointing. He has very little screen time and that's a good thing.
Sharman Joshi has been trying to experiment with different kinds of films but his strategy doesn't seem to be working. He is a terrific actor but needs to very cautious while choosing scripts.
But if Sharman wasn't in the film, 1920 London would have been a very painful ride.
Rediff Rating: