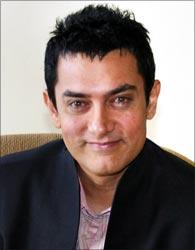 If Big B won your hearts with
Kaun Banega Crorepati
, Salman Khan made you laugh with
Bigg Boss
and
10 ka Dam
, and Akshay Kumar kept you on the edge of your seats with
Khatron ke Khiladi
, how could Aamir Khan be left behind in the race? 
Even before hitting the small screen,
Satyamev Jayate
, with which Aamir Khan makes his television debut on May 5, is already making waves. To be telecast on Sundays at 11 am, the show will be reminiscent of Sunday morning family TV viewing -- a common thing when serials like
Ramayana
and
Mahabharat
were on air.
Like his movies, Khan has kept the concept of the show a secret, but industry officials say it is a talk show where he will talk about social issues like child labour, health problems and other issues affecting the country.
"I am not attempting to change anybody's life. When I speak about change, it's about changing myself. I am not interested in changing the world. I only want to connect with them emotionally and empathise," Aamir Khan said at the launch of the show's theme song.
For the first time, a show will be aired simultaneously on two networks -- STAR and Doordarshan. Even within STAR Network, it will have simulcast on Star Plus, Star Pravah, Star Jalsha, Star Utsav, Asianet and Star Vijay.
In addition, the show is being dubbed in four southern languages -- Telugu, Tamil, Malayalam and Kannada. "This show is being launched on a large scale. I had to make complete use of this medium. This is a baby step in that direction," he said.
Airtel is the show's presenting sponsor, while it is being co-sponsored by Aqua guard. Coca-Cola, Johnson & Johnson, Skoda, Axis Bank, Berger paints and Dixcy Scott have also been signed up as associate sponsors.
According to media sources, STAR will give exclusivity to sponsors. This means, there will be no competing brands on the show and the broadcaster will not sell spots to any competitor brand. The title sponsorship has been hawked at Rs 16-20 crore, while associate sponsors have paid Rs 6-7 crore.
"
Satyamev Jayate
focuses
on social issues that hold back the nation's progress. It taps into the latent desire of people to better their lives. Aamir Khan's foray into television will ensure strong viewership for the show and will give Axis Bank the pan-Indian presence," said Manisha Lath Gupta, chief marketing officer, Axis Bank.
Even the promotions of the show, with the budget of around Rs 6 crore, are touted to be the most expensive yet on the Indian television. For the first time ever, a TV show had road block across channels; and, it will be supported by a multimedia campaign as it moves closer to launch. Even for shows hosted by Salman Khan and Shah Rukh Khan, the initial promotion costs have not exceeded Rs 2.5 crore.
"The big idea in the marketing campaign is summed up in one line "
Jab dil ko lagegi, tabhi baat banegi
" while the candid campaign is simple, yet revolutionary, as Aamir discusses the show with a team member and shares his thoughts in a conversational, reflective and passionate style," said Gayatri Yadav, executive vice-president (marketing), STAR India.
The campaign is a series of about ten films, each delivering a message about the show -- "
entertainment ka matlab
", "
dil se dekh kar dekho
", "
sabka show
", "
doodh ka doodh
", and more.
A source from Aamir Khan Productions said this was one of the company's most ambitious projects. "It's one of the biggest and most innovative projects we have worked on so far," he added.
Most executives from rival channels said, though the show looked innovative, it had baffled everyone because Sunday mornings were chosen for telecast, and not prime-time slots available between 8 pm and 10 pm on weekends.
"STAR will have an advantage, as most channels do not have exclusive programming for Sunday mornings. If the show clicks, it might actually just revive that slot timing and change the current rules of TV viewing," said the chief executive of a competing network on the condition of anonymity.
The industry says Khan's marketing moves have hardly missed their aims. This time, STAR India would be hoping this one is no different.