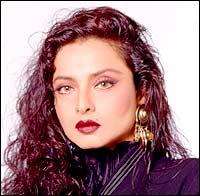 Gemini Ganesan's daughter Rekha did not attend her father's funeral this afternoon.
"She is shooting for a film in Kulu-Manali, and therefore did not come for the funeral," the family said.
The cremation took place at the electric crematorium in Besant Nagar, in South Chennai at 3:30 pm.
The Tamil Nadu government accorded a state funeral to yesteryear's superstar.
Ganesan, who passed away at 1.30 am on Tuesday, is survived by wife T R Alamelu (Bobji), seven daughters and a son.
Don't Miss!
He was the king of romance!
'Gemini made me starry-eyed!'
Ganesan is not Rama, he's Krishna!
Gemini remembers his peer