'I can't wait for the day when the market value of an actress is not judged by the heroes or the superstars she's acted with.'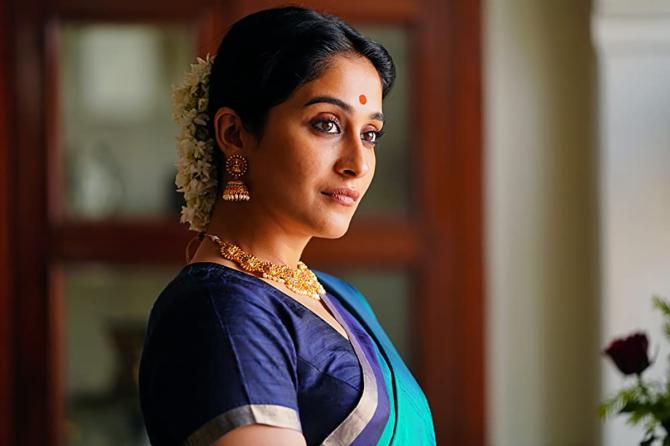 Regina Cassandra has successfully carved a niche for herself with her choices of films and performances not only in the Southern film industry but also in Bollywood.
After making a rather unconventional debut in Hindi films as Sonam Kapoor's love interest in Ek Ladki Ko Dekha Toh Aisa Laga (2019), Regina is making the most of the OTT wave with varied projects.
She is currently excited about the season two of her critically well received OTT show Rocket Boys in which she plays dancer Mrinalini Sarabhai, Dr Vikram Sarabhai's wife.
"I had a good run in 2021, 2022, and now, 2023 with Jaanbaaz and Rocket Boys. I take it one step at a time. One day at a time," Regina tells Mayur Sanap/Rediff.com.
How does it feel to be back for the second season of Rocket Boys?
Oh, it feels good to be back because this is going to jog my memory now. We won so many awards.
I'm so happy that Abhay (Pannu, the director) shot both seasons almost simultaneously.
The pressure of 'Are we going to live up to season one?' is not there, or at least, it is not as bad as it could have been.
There's a certain sense of detachment because we shot season two, along with season one, at least the majority of my portions, and a little bit later on.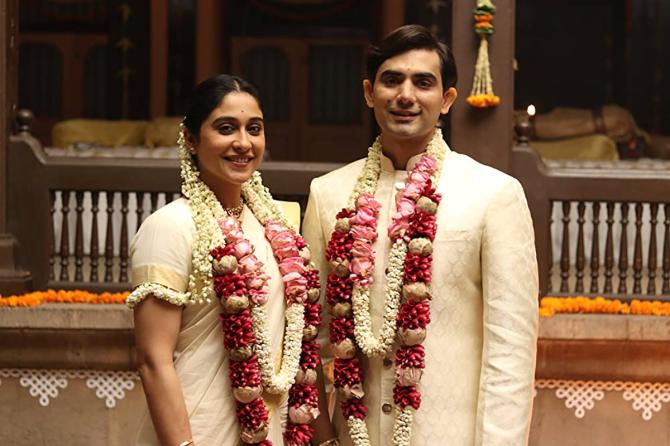 What's your process of getting into the skin of the character, especially when you are playing a real life character?
This happens to be the first time I'm essaying a real life character.
I am playing someone who has such a huge prominence in the world of Indian culture and art. She made a big mark for India.
To have to live up to that was a big responsibility.
Mrinalini Sarabhai is a force to reckon with.
I really wish I met her, but having met her daughter Mallika Sarabhai, I felt like half the job was done.
I read her books and saw her interviews.
Before I had to do anything that needed to channel her, I would just close my eyes and picture her and just have her move through my body, especially during the dances and certain scenes.
Actors often talk about learning something from the characters they play. Did you experience that with this role?
I don't generally take away from characters that I do; I keep them back in that book that I've taken them out of, which is the script basically.
But I fell in love with Mrinalini Sarabhai and the way she carried herself through all her trials and tribulations.
She tried to create awareness for the women in our country, whether it was dowry death or just anything. She has done a wonderful job to inculcate that through art.
She's a legend because she has built a legacy for herself.
If you walk into Darpana today in Ahmedabad (the school for performing arts, established by Mrinalini and Vikram Sarabhai in 1949), there's this energy that you feel. It is so beautiful.
I love how she has passed that down to her children and how everyone just carries that energy.
Her quiet strength is definitely something that I've taken with me.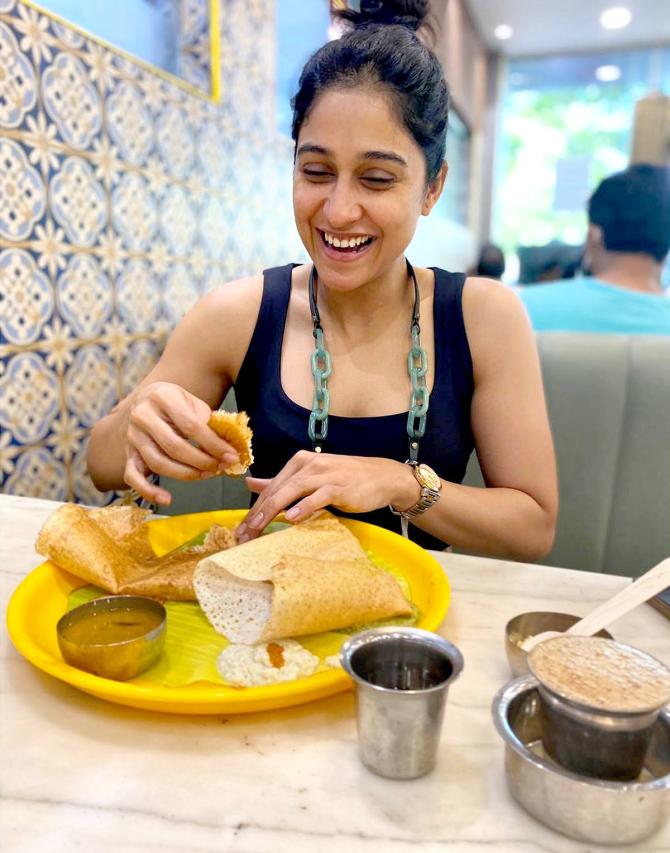 You started acting at the age of 14. How do you describe your journey so far?
Yes, I was the heroine's sister in that (Kanda Naal Mudhal, 2005, Tamil film).
But I started doing ads before that, from the age of nine to 14.
Doing a film just meant doing something bigger.
When I had the opportunity to do a film, it felt like it was the next step.
I loved facing the camera.
I loved learning my lines.
It was all very exciting because I was just 14.
I had to take 24 days off from school and my mom would sit in the room, writing my history notes. I had to study for my history exam while I was learning lines for my scene!
I was a very hyperactive kid and liked doing multiple things at a time.
How do you juggle your career between three industries? Which one is the toughest?
Oh, just juggling is quite tough (Laughs).
I can't choose which industry is tough to handle because I don't have time to spend on thinking about what's happening. Everything just happens on the go, it's crazy.
I'm flying in and out of Bombay, and then I'm in Hyderabad. Then I'm in Jaipur and then in Kashmir.
So, this juggling is quite a balancing act.
I'm so blessed and grateful for the fact that I can do it, which means that none of the industries are tough because they allow me to do it all.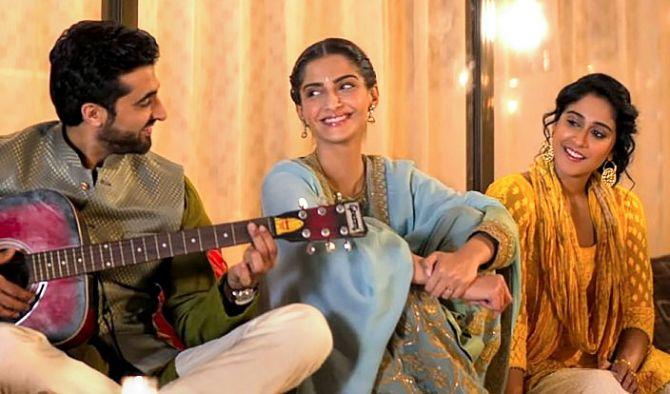 You made a rather unconventional debut in Bollywood with Ek Ladki ko Dekha Toh Aisa Laga in 2019. Do you believe that gamble paid off?
(Laughs) It's funny how people still ask me this.
It was not the thought that I led with, although I knew that that is going to be what everyone is going to look at it as.
For me, it was the subject of the film that was very intriguing. And the way the story was being told, I thought was very interesting.
I consider myself an ally of the LGBTQIA+ community. Just the fact that I could use my platform to express my love for the community was special.
I did not even think about it so much, I just lead with heart.
Do you think that film led to better opportunities in Bollywood?
I didn't do Ek Ladki ko Dekha Toh Aisa Laga to get better opportunities or to say, 'Hey, there's this actress who is now in Bollywood.'
I did it because I wanted to do it.
If better opportunities come my way after that, so be it. And if they didn't, then I'm sure in time they will.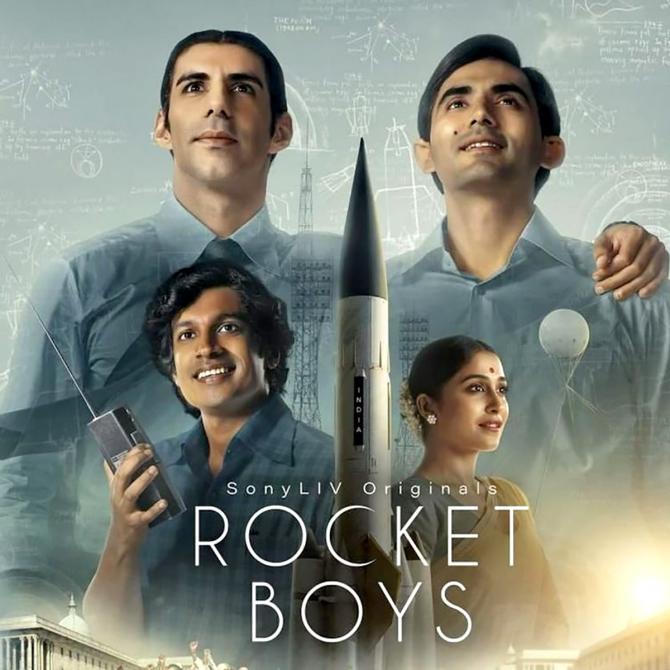 In one of your interviews, you said you have been underpaid for your work. Do women still have to face this issue in the film industry?
Yeah. If you haven't acted with the superstars of the country, your market value doesn't go up that much.
I can't wait for the day when the market value of an actress is not judged by the heroes or the superstars she's acted with.
I think that's going to take some time to happen.
I still think sometimes I'm underpaid as an actress.
But having been in the industry for so long, I think it is a part and parcel of the times we are in.
If it has to be a fight, so be it. I think I'm in the middle of that fight, but I don't feel like I'm fighting.
I feel like I do my thing and just be happy about it.
What's the best and the worst thing about being an actor?
The best part about being an actor is the fact that I get to act. I'm passionate about acting.
Acting is my purpose.
I can't think of a worst thing.
But I choose projects that are so varied that there were times when I was shooting for Rocket Boys in Hyderabad until 9 pm, and then take a 5 am flight the next day for another shoot, and then finish that by 9 pm... and I would get tired.
But when I'm in front of the camera, the energy would come.
I never faced a complaint as 'Oh my God, Regina, you're looking really tired' or 'You're not doing a good job in this scene.'
I have not faced that and let's hope I don't ever.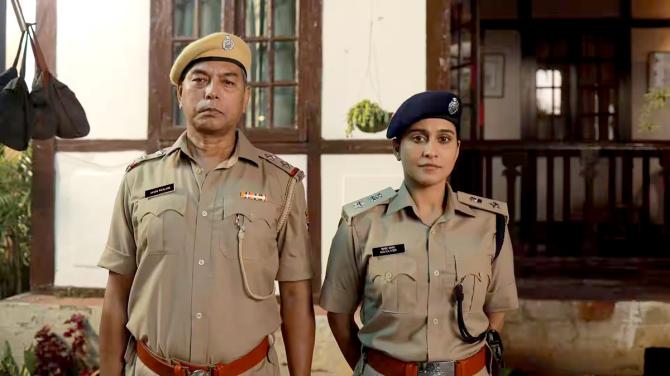 With the success of shows like Jaanbaaz Hindustan Ke, Farzi, and Rocket Boys, do you think you're finally getting your due as an actress in Hindi?
I'm enjoying the journey.
All of us know our own potential, right? I know my own potential and I'm really happy that film-makers are happy to tap into my potential.
I think I have a lot more to showcase.
What's your next big career goal?
I don't have big career goals. I believe in short-term goals.
The goal right now is that I have four films ready for release. I'm hoping they get to see the light of day in a theatre or even on OTT.
I've signed films and shows and I can't wait for them to start.
I had a good run in 2021, 2022, and now, 2023 with Jaanbaaz and Rocket Boys.
I take it one step at a time. One day at a time.