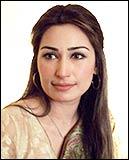 She is flabbergasted that the Indian media has called her 'Pakistan's Aishwarya Rai'.

"I am extremely touched by the response I am getting in my first visit to India," says Reema. "I never imagined I would be this popular in Mumbai. Every television channel and newspaper journalist wants to interview me. They just want to know more about Pakistan and its film industry," says Reema who is also a sociologist.

The Pakistani actress recently visited India to sign on singers for her directorial debut, Koi Tujh Sa Kahan, whose music has been scored by Pakistani musician Amjad Bobby. "I have signed Udit Narayan, Shreya Ghoshal, Alka Yagnik, Jaspinder Narula and Abhijeet. Their voices suit the lyrics and script of the film. So why not take them for my film?" she says.





Is Ash world's most beautiful?

Who's in the race for awards?

And

the Globe goes to...



After working in over 175 films for the last 14 years, she confesses she decided to do something she wanted. "That is why I shifted to direction. It is very exciting. Whatever I do in future, I will direct one film for professional satisfaction," she states.
About her film
Koi Tujh Sa Kahan
, Reema says, "It is a woman-oriented film. That is all I can say about it. It will be the first [
Pakistani
] film to be shot in London. If all goes well, I will release it in India too."
During her visit that Over a fortnight visit to Mumbai city, she met Indian film personalities like Dilip Kumar, Jeetendra, Rakesh Roshan, Hrithik Roshan, Preity Zinta and Bappi Lahiri.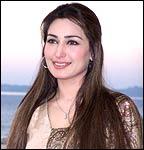 Asked whether she was planning to venture into the Hindi film industry like Salma Agha and Zeba Bakhtiyar, Reema says, "I don't know much about them. But I can definitely say that I am capable of doing well in Bollywood as I can act, dance, and possess the talents required for a Bollywood actress. But my visit is only concerned with my film and to spread the message of peace. Later, when I come again, I might think about it."
Among her favourite Indian stars are Dilip Kumar and Amitabh Bachchan: "The most exciting part of my visit has been my meeting with Dilip Kumar. I was thrilled to meet him over a cup of tea. He was very warm and remarked that I look like Aishwarya Rai. Amit
ji
has also given me an appointment and I may meet him soon." 
Recalling Urmila Matondkar and Pooja Bhatt's recent visits to Pakistan, Reema says, "They were so down to earth and people in Pakistan really appreciated their goodwill mission. If more stars from India and Pakistan visit each other's country, it will help all of us to bridge the gap of enemity. Therefore, I invite Indian actors and actresses to visit Pakistan and see for themselves how similar we are."
Click here for More Features