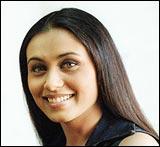 F
or those who wondered where Rani Mukerji would go after filming
Black
with ace director Sanjay Leela Bhansali, here's the answer in two words:
Mira Nair
.
This is not the first time the duchess of the Diaspora Mira Nair is directing an Indian cast. She worked with Nana Patekar and Anita Kanwar in Salaam Bombay, Sharmila Tagore and Roshan Seth in Mississippi Masala and Naseeruddin Shah and a host of Indian actors in Monsoon Wedding.
Nair's latest film, Vanity Fair (starring Reese Witherspoon), an adaptation of William Makepeace Thackeray's classic, has opened to mixed reviews in the US. It was screened at the Venice Film Festival in the competition section this week.
Nair will direct Rani in a screen adaptation of Pulitzer Prize winner Jhumpa Lahiri's
The Namesake
.
Though she is tightlipped about her collaboration with Nair, Rani will play a Bengali girl's journey from her teens to her mid-40s in the US.
Rani may start on this project after her US tour with Shah Rukh Khan and Preity Zinta.
After her collaboration with Reese, it would be interesting to see what Nair does with Rani, who is riding on a career high with hits like Saathiya, Chalte Chalte and Hum Tum. Her forthcoming films Black and Yash Chopra's Veer-Zaara are some of the most awaited ones this year.
After Vanity Fair, Nair was actually supposed to direct a movie adaptation of American playwright Tony Kushner's political play Homebody/Kabul.
But Nair changed her mind because she wanted to do something Indian after Vanity Fair.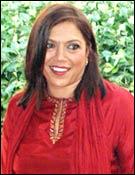 In an exclusive conversation from New York where Nair has just returned from the Venice premiere of Vanity Fair, the director confirms, "I have signed Rani Mukerji to play the pivotal role of Ashima in The Namesake. I've been wooing her over the phone ever since I saw her in Mani Ratnam's Yuva."
The director will travel to Kolkata shortly to finalise the rest of the cast, though the male protagonist will be played by an Indian actor in the US.
As for directing the fifth segment of Harry Potter, Nair goes mum.
"It's too early to talk about it now," she says. "I don't know how it got out on the Internet. I have to sit with them and work out dates. Until then, I am forbidden to talk about it. Now, I am fully into The Namesake and am looking forward to meeting Rani."