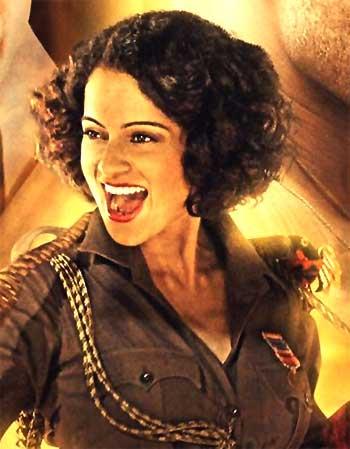 Watch the trailer and tell us what you think of it!
Director Vishal Bharadwaj finds stories in the strangest of places.
No one could equate the Shakespearean Hamlet with terrorism in Kashmir but Vishal did, and gave us Haider.
Before that, he adapted Macbeth, set it up in the Mumbai underworld and gave us Maqbool.
When he decided to remake Othello into Omkara, he went to the rugged lands of northern India .
With Rangoon, he's moved to Yangon (which was known as Rangoon earlier), the capital of Myanmar (formerly Burma).
The trailer begins with the chaos of World War II. Within all that mayhem, India is fighting the British for her Independence.
But then, you need money to fight a war, isn't it?
And where else can the money come from, but the financial capital -- so we move to 1940s Bombay and Miss Julia (Kangana Ranaut), who fires up the screen with the song Bloody hell. Her entry is reminiscent of Fearless Nadia in her 1935 film, Hunterwali.
Saif Ali Khan, with his one-liners, and Shahid Kapoor, as Julia's bodyguard who escorts her to Rangoon, are impressive.
The trailer ends in a love triangle.
It looks really good, especially Bharadwaj's dialogues and the song Bloody hell.
Rangoon will release on February 24.