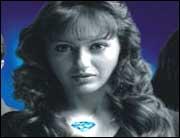 Television actress Kuljeet Randhawa allegedly committed suicide at her apartment in Juhu, suburban Mumbai, the police said Thursday.
Kuljeet, 30, who became popular for her role in the serial Koh-I-noor, hung herself Wednesday evening, the police said.
A maid discovered the body late Wednesday night and alerted the police, they said.
In a suicide note, Kuljeet said she was ending her life, as she was unable to cope with life's pressures, the police said.