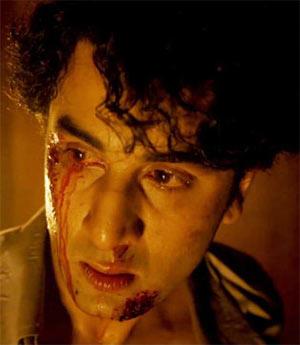 Bollywood movies in which our celebs pack a punch... literally!
Ever since Amitabh Bachchan locked himself in a ring in his 1981 super hit film Naseeb, boxing has become a macho sport for our folks in Bollywood.
Since it requires a great physique, though, not many stars dared to enter the ring.
But boxing is back in vogue now, with as many as five leading men all set to don the gloves in the next few months.
Here's a look at films that used boxing to show off their star's macho spirit.
Ranbir Kapoor in Bombay Velvet (Release date: May 15)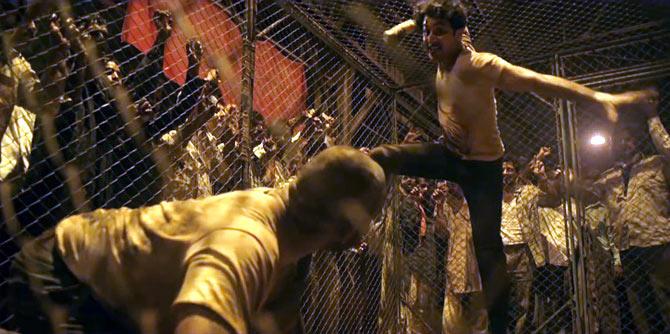 Image: Ranbir Kapoor is ready to deliver the winning punch in Bombay Velvet.
Not much is known about Bombay Velvet, but there are ample hints that Ranbir Kapoor will be stepping into the boxing ring.
Ranbir is best known for light-hearted, romantic films -- his last big hit was Yeh Jawaani Hai Deewani.
The young Kapoor's gangster transition will be interesting to watch.
Akshay Kumar and Sidharth Malhotra in Brothers (Release date: August 14)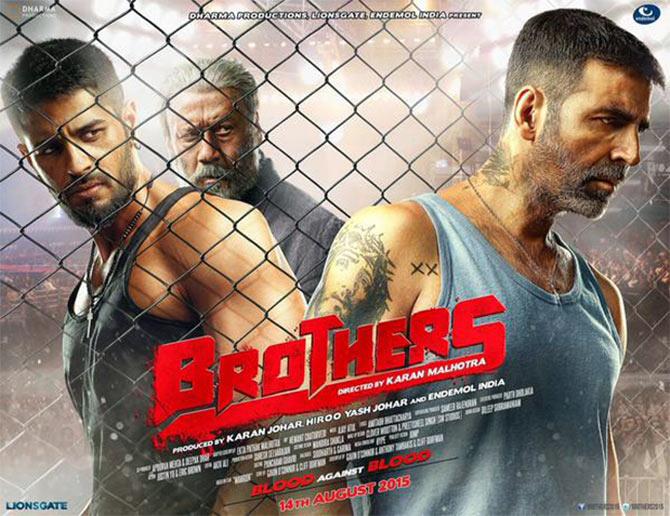 Image: Dark, brooding, Brothers.
Akshay Kumar has one of the best bodies in the business, so it's about time he is seen in a true-blue boxing film.
Siddharth Malhotra too has left behind his chocolate boy image with Ek Villain.
The duo, who are acting together for the first time, play boxers in Brothers.
R Madhavan in Saala Khadoos (Release date yet to be announced)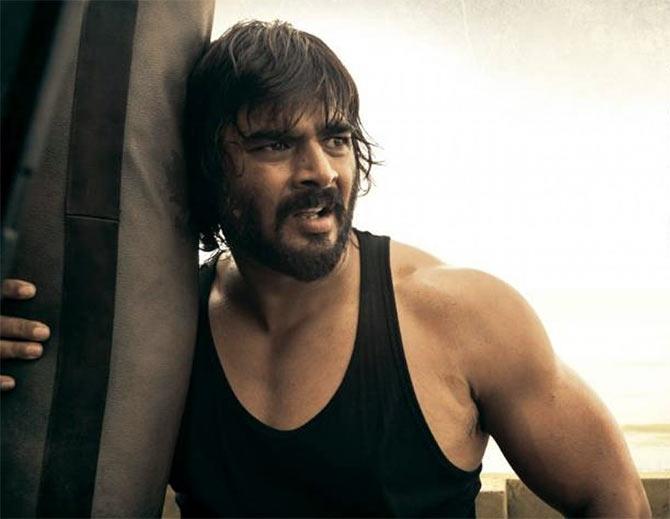 Image: R Madhavan gets tough in Saala Khadoos.
Madhavan is known to adapt his physique to the role he plays. As a boxing coach in Saala Khadoos, he is expected to do full justice to the role.
With Raj Kumar Hirani agreeing to present the film, Saala Khadoos is bound to be special.
Dharmendra, Sunny Deol, Bobby Deol in Apne (2007)

Box office collection: Rs 24 crore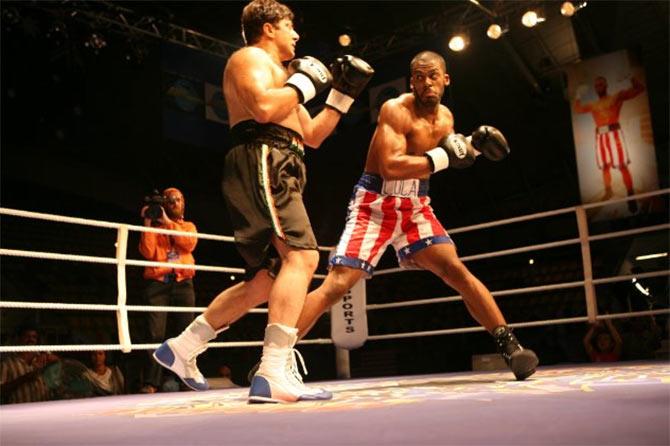 Image: Sunny Deol refuses to be cowed down in Apne.
This is the only time in India that a real life family came together to make a film on boxing that would be a box office winner.
The all-Deol starrer was a well-made film and had impressive scenes set in the boxing ring. The climax, in particular, had us at the edge of our seats.
Priyanka Chopra in Mary Kom (2014)
Box office collection: Rs 64 crore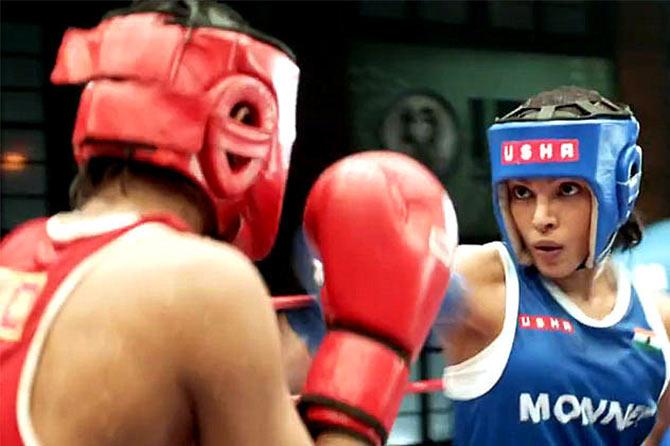 Image: Priyanka Chopra is a knock-out in Mary Kom.
One of the biggest success stories set in a boxing ring was this bio-pic on five-time World Amateur Boxing champion Mary Kom.
Priyanka Chopra did complete justice to the phenomenal powerhouse who beat the odds to become a champion.
It was a physically demanding role and Priyanka's portrayal was credible and convincing.
Aamir Khan in Ghulam (1998)
Box office collection: Rs 12 crore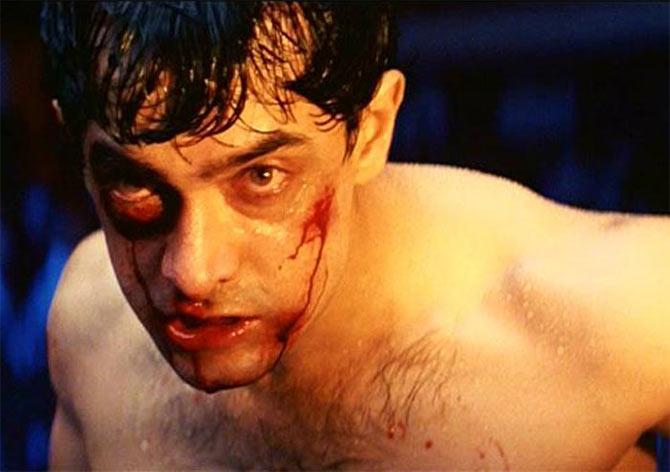 Image: Even the blood dripping off his face dare not challenge Aamir Khan's intensity in Ghulam.
When Aamir Khan chose to play a boxer in Ghulam, there were doubts about whether he could pull it off.
He did it so well that even in his fight with Sharat Saxena, who could well be double his weight, nothing on screen came across as fake.
Aamir delivered one of the best performances of his career in the film.
Mithun Chakraborty in Boxer (1984)
Box office collection: Rs 1 crore
Image: Mithun Chakraborty gets intense in Boxer
Mithun Chakraborty's Boxer hit the screens a little over three decades ago.
Sharat Saxena played the villain here as well and -- no surprises! -- he was a boxer too.
A true pulp fiction affair with quintessential Bollywood masala moments, the film was a decent success.
Dharmendra in Main Intequam Loonga (1982)
Box office collection: Rs 1.5 crore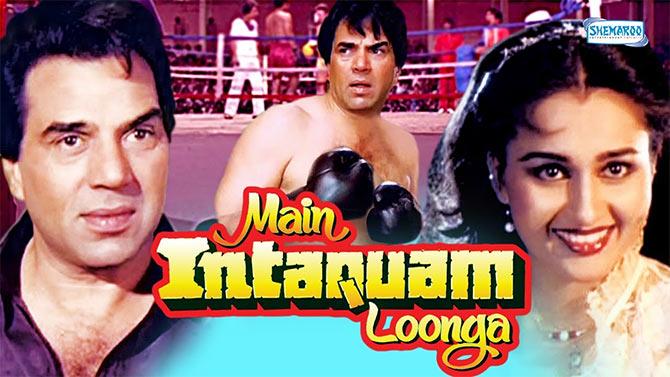 Image: No one could play a boxer better than Dharmendra, seen here in Main Intequam Loonga.
Boxing seems to have a popular option with the lead actors in the early 1980s.
But very few could carry off the character as effectively as Dharmendra, who looked extremely believable taking the mean men on.
When it came to seeking revenge, he showed what he was capable of by beating the pulp out of any baddie who dared face him in the ring.
Amitabh Bachchan in Naseeb (1981)
Box office collection: Rs 10 crore
Image: Amitabh Bachchan, who made boxing seem so real, in Naseeb.
The biggest blockbuster of them all is still Naseeb, with Amitabh Bachchan showing his talent for freestyle street boxing.
Though the film wasn't about boxing per se, audiences were treated to some magical Bachchan moments like the formula of 'rising from the dead', that too with aplomb.
Ajay Devgn in Jigar (1992)
Box office collection: Rs 5 crore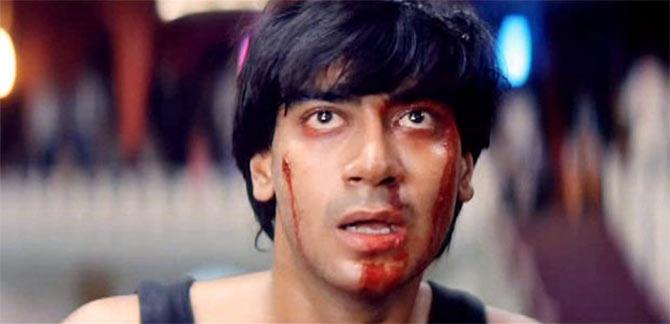 Image: Ajay Devgn took to boxing in his second film, Jigar.
More freestyle boxing, this time from Ajay Devgn. It was his second film and fight master Veeru Devgan's son did not let his father down.
Inspired by Jean-Claude Van Damme's Bloodsport, Jigar was a high decibel drama, filled both action and romance.
In the film, Ajay took on Arjun (famous for playing the mythological hero Arjun in the TV serial Mahabharat) and looked effective beating him to a pulp.
Sohail Khan in Aryan: Unbreakable (2006)
Box office collection: Rs 2 crore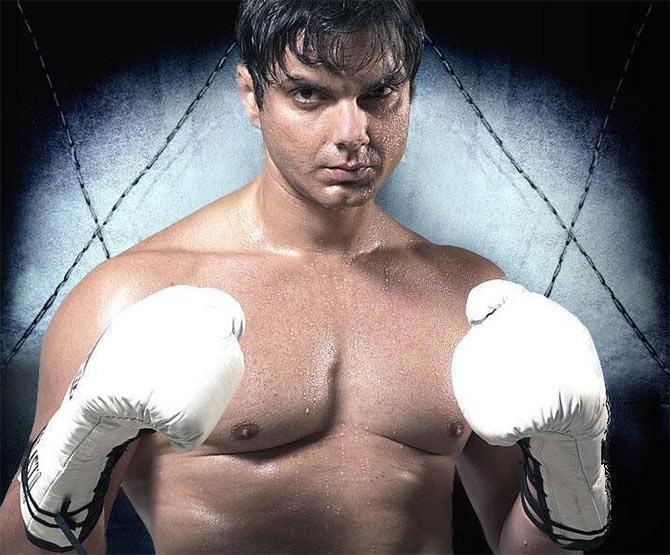 Image: Sohail Khan takes his work seriously in Aryan: Unbreakable
One of the rare true-blue accounts of a boxer, Aryan: Unbreakable centred around the life of a boxer played by Sohail Khan.
Sohail gave his all for this role. The film was directed by Abhishek Kapoor (Rock On!), who made his debut behind the camera.
Despite being a well-made film, it failed at the box office.
Neil Nitin Mukesh in Lafangey Parindey (2010)
Box office collection: Rs 27 crore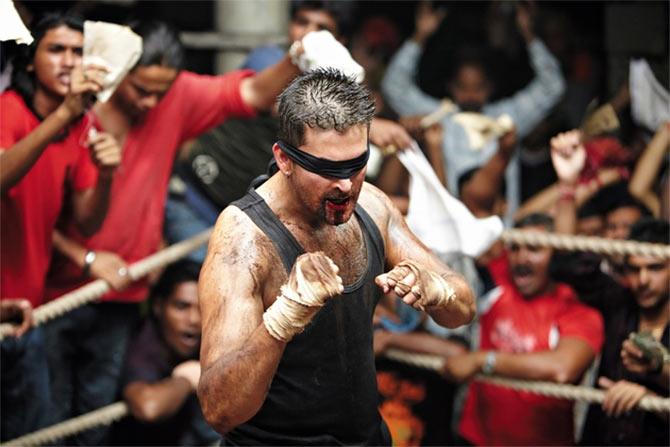 Image: Yet another street fighter... Neil Nitin Mukesh in Lafangey Parindey.
As a street fighter, Neil Nitin Mukesh was superb right from the start of Lafangey Parindey.
The film was set in the boxing ring and showed scenes of training as well, as Neil teaches Deepika Padukone the tricks of the trade.
Shah Rukh Khan in Happy New Year (2014)
Box office collection: Rs 202 crore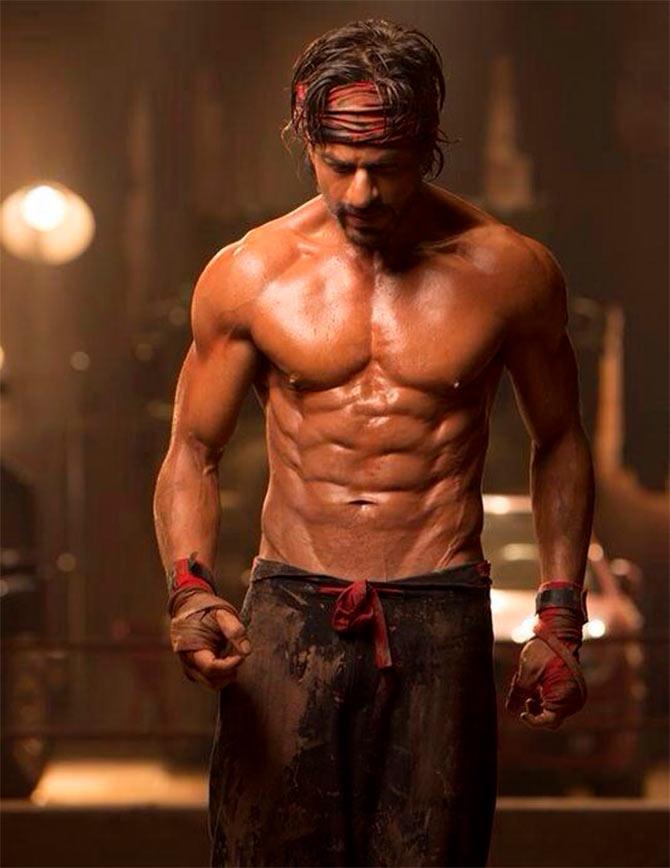 Image: If Amitabh can do it, so can Shah Rukh... seen here Happy New Year.
Shah Rukh Khan playing a freestyle street fighter had absolutely nothing to do with the core plot of Happy New Year.
Still, with him getting into the boxing ring, there were some cinematically euphoric moments that Farah Khan could create; it also justified the presence of a bare-bodied Shah Rukh, who now seems comfortable taking his shirt off.