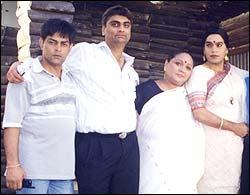 T
he Ashutosh Rana starrer
Shabnam Mausi
is based on a true life story, based on a eunuch legislator in Madhya Pradesh.
Directed by Yogesh Bharadwaj, the film is presently at the dubbing stage.
When this correspondent met Rana -- who plays the eunuch -- he was dubbing for a scene where he refuses to quit the electoral race.
In another scene, Rana tells a young girl how, in the good old days, one would guess what their bride would look like by looking at her relatives. They were never shown the girl before marriage.
The film's dubbing, which was in process in Mumbai's Sight And Sound studio, owned by Salman Khan, required plenty of patience. Even if the director was satisfied, Rana was not and he would do it once again.
During a coffee break, Rana spoke to rediff.com about the film.

Shabnam Mausi is a real life story about a eunuch MLA in Madhya Pradesh. I cannot reveal the entire story.
We had to make minor changes in the film because the Censor Board raised objections.

We have put across 40 years of Shabnam Mausi's life in two hours and 20 minutes. So we have shown what is important -- what changed her from a person to a personality. The main turning points of her life have been chronicled.
We have shown the political changes that brought her centre stage. She became a MLA, a leader. She rose from a life of disrespect to respect. She was voted to the legislature.
Politics and social work were her main aim. Elections have played an important point in her life and the film.
There are 33 lakh (3.3 million) eunuchs in India, but they are not part of the mainstream. You don't keep them at home. You don't give them jobs. You don't make them doctors or engineers like your other children. They can be employed in the police force or in the post office but no, this does not happen.
A eunuch has not created a eunuch. A man and a woman have created an incomplete being. What is the eunuch's fault? A mentally or physically challenged child are kept at home, but a eunuch child is disowned. Why don't we treat it as a physical disorder, like polio? Why do we ignore them?
This film is targeting that human tendency. We are telling the truth. Even after she became a successful MLA, her parents have not come out publicly to claim her.
We must not disown eunuchs. We must bring them into mainstream society; make them soldiers, cops, doctors, engineers, professors and artists. Why do we push them behind? We are wasting manpower. They beg on the streets. They have no families, so they will not be corrupt, and will think of the society as their family. They will make better social workers. Of course, there will be corrupt eunuchs too, but not in the majority. Corruption has nothing to do with man, woman or eunuch.
Eunuchs are incomplete. She has the ideas, but cannot execute them. There is romance in her life. She experiences it, but never tells that person.
The film has six songs: the traditional eunuch songs, a nautanki for the elections, a unique campaigning song, a lullaby and one when she parts from her beloved.
My next movie is Ab Tumhare Hawale Watan Saathiyo, where I play the main villain. It is directed by Anil Sharma and stars Amitabh Bachchan, Akshay Kumar and Bobby Deol.

Also Read:
Meet the real Shabnam Mausi