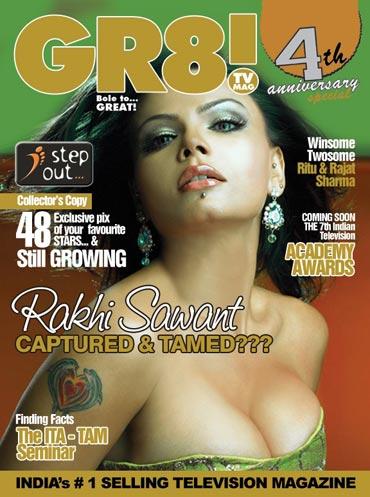 Seems like it's just another day, another eyebrow-raising news from Rakhi Sawant these days.

The camera-loving item girl claimed that she wanted to marry none other than yoga guru Baba Ramdev, and that she was attracted to his eyes.

She added that she used to be in love with Rahul Gandhi but has now moved on to Ramdev.

The item girl was at a promotional event for her new television show Gajab Desh Ki Ajab Kahaaniyaan.

Speaking

of which, the producers of the show are facing a tough time, courtesy its anchor, Rakhi Sawant. Apparently, she wants her producers to buy her C-string panties and has given an ultimatum that she wouldn't shoot without them on.

The controversy queen has demanded C-string panties in red, green and purple colours, which are very popular in Hollywood but rarely available in India.

Moreover, her constant demands for exorbitant clothes and accessories, leading to sky rocketing bills, have also miffed the crew.

It's hard to tell where Ms Sawant is headed to with her C-string and yoga guru fascination.