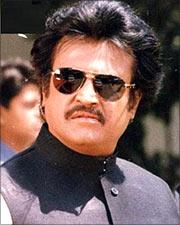 Superstar Rajnikanth, who was shifted to the Intensive Care Unit at a hospital in Chennai last night for recurrent respiratory infection and gastro-intestinal problems, is 'stable', hospital sources said.

"He is in ICU and he is stable," a spokesperson at the Sri Ramachandra Medical Centre (SRMC), where Rajinikanth was admitted on May 13, said without elaborating.
The 61 year-old actor was shifted to ICU last night to improve his breathing pattern.
Meanwhile, ardent fans of the star, presently committed to his period film Rana, are praying their 'Thalaivar' (leader) gets well soon and returns home at the earliest. Special prayers were conducted for the star at places including Madurai, Tircuhirappally and Tanjore.
Amitabh Bachchan expressed his concern, tweeting, 'All lovers of Rajnikant it has been disturbing to learn of his hospitalization... I have spoken to him and been in touch with his wife.
'Rajnikant is improving gradually she informs me, today by sms... we hope and pray that he recovers as soon as possible... our prayers,' he added.

Rajnikanth, who suffered from viral fever and exhaustion recently, was admitted to SRMC at suburban Porur days after he was discharged from another hospital where he had been treated for allergic bronchitis and viral fever.

He had suffered from exhaustion on April 29, the first day of the shoot of Rana co-starring Deepika Padukone, which is being directed by K S Ravikumar. He was admitted to Isabel hospital in the city and discharged the same day, only to be re-admitted there on May 4 for allergic bronchitis and viral fever. His family had last week dismissed reports that his health had deteriorated.
In the wake of wild rumours and speculative reports about his health, Tamil superstar Rajinikanth's wife too said he was "fine, doing well" and there was nothing to worry.