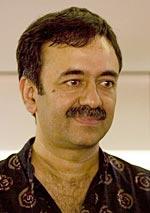 They may not have worked in any film together but director Rajkumar Hirani was fortunate enough to meet Shammi Kapoor quite a few times. The 3 Idiots director talks to Patcy N about his encounters with the legend:

I was a huge fan of Shammi Kapoor's dance, and the kind of films he did. I was also a huge fan of his style, and the style he brought into cinema at that time.

But I became a bigger fan when I met him.

The first time I met him was about two and a half years back.

I had gone to Shammiji's house with Aamir, who is a good friend and admirer of his. We've had long sittings with him. That was the time when he was on dialysis. He had to go to hospital every alternate day to get his dialysis done. He would always say that I do dialysis so that the next day, I can live my life the way I want.
What amazed me was that he was so spirited whenever I met him. It did not look like he was not well; he did not sit and worry about his life.
He was extremely spirited and his wife would always say, ''Theek ho jaatein hai, aur car lekar nikal jaate hai, chalo drive par jaana hai, aur phir Lonavala ponch jate hai.' (When he gets well, he says he wants to go on a long drive. The next you know, he has reached Lonavala).
He had lost his toe because of his dialysis and diabetes.
He spoke about the past era and the things they would do. They would go on shikaar (hunting). He showed me a few pictures of that.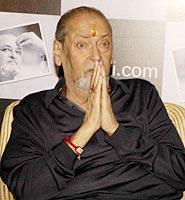 He was a huge internet buff, which I did not know before. He was constantly spending time on the net. He would play poker on the net and discover new things.
The one thing I learnt from him was and what amazed me was that here was a man who was not so well, on dialysis but you would not see that spirit even in a healthy person.
I love his film Teesri Manzil. It's a film you will remember for various reasons. It was a good film made by Vijay Anand, very well crafted. I will also remember the way Shammiji sang his songs.
He had a very interesting style. Nobody else had it. It was a very original style that he created in any song -- be it Chahe Koi Mujhe Junglee Kahen from Junglee, or the songs from Kashmir Ki Kali. I still remember him singing in the boat and jumping from that. He had so much energy even if he did not move very much. That's my memory of Shammi Kapoor.
I feel very sad losing a man like that. My last meeting with him was wonderful. Aamir, Abhijat (Joshi, writer), Vinod (Vidhu Vinod Chopra, filmmaker) and I chatted so much. In fact, I told him that I would love to spend time with him. But it never happened.
He had seen all my films, and loved them too.
He told me many stories about Nasir Hussain (Aamir Khan's uncle, who made films like Tumsa Nahin Dekha and Dil Deke Dekho with Shammi). Once, he had said, 'Saala bheta hoga upar, mere ko dekh kar bol raha hai, aayega abhi ye, phir baat kareinge.' (Nasir Hussain is sitting in heaven, looking down at me and saying that soon I will come up and then we shall talk).