'If Rajinikanth has any interest in joining politics, he would tell me first,' Shatrughan Sinha tells Subhash K Jha.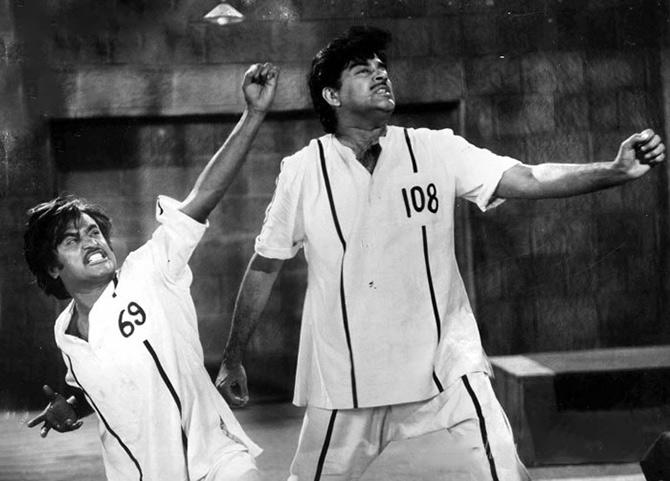 IMAGE: Rajinikanth and Shatrughan Sinha in Asli Naqli.
"To the best of my knowledge, my dear friend Rajinikanth is not getting into active politics nor joining the BJP," says Shatrughan Sinha, the actor and Bharatiya Janata Party MP from Bihar.
"I know he is being pressurised from many quarters to do so," says Sinha. "But he should not, must not give in."
Rajinikanth has acknowledged Shatrughan Sinha as his guru and has said he copied the 'Shotgun' manner of stylised acting in his early films before he went on to perfect the uniquely Rajinikanth style of performances.
Laughs Sinha, "He has always been very generous in his appreciation of me. He called me his guru. And when we worked together in K C Bokadia's Asli Naqli in 1986, he jokingly told everyone he was the naqli (fake) Shatrughan Sinha."
"That's the greatness of this humble man. I am afraid he will be a complete misfit in politics."
Rajinikanth, Sinha says, has come "this close" to joining politics.
"Several political parties have wooed him in the past. They continue to do so. I know for a fact that he has been seriously tempted on some occasions, but withdrawn from taking the actual plunge at the last minute," the MP from Patna Saheb added.
Sinha asks that not much be read into Rajinikanth's proposed meeting with Prime Minister Narendra Modi.
"Modiji, whom I call our real action hero, likes to meet the reel action heroes -- whether it's Salman Khan, Akshay Kumar or Rajinikanth. I don't think any of these superstars are actually taking the plunge (into politics). They are too busy with their acting careers to even think of branching into anything else."
"And if you are THE Rajinikanth, why would you want to get into politics to make the janta listen to you? He just has to express his will and his fans will obey."
"He doesn't need politics, though politics may need him."
Over the years Sinha and Rajinikanth have remained close friends.
"Every time I visit Chennai I try to meet him. And whenever he is in Mumbai he comes home."
"If Rajinikanth has any interest in joining politics, he would tell me first," asserts Sinha.
"I introduced him to Atal Bihari Vajpayee and Yashwant Sinha when he expressed a desire to meet them. And when Rajini wanted to meet Bal Thackeray I arranged the meeting."
"Whatever his political inclinations, I am a part of them. He won't take the plunge without consulting me."