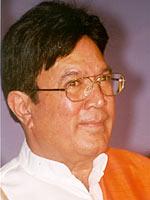 The first superstar of Bollywood Rajesh Khanna has passed away into the ages. He was 69.

The yesteryear actor had been ailing for some time now, and had been discharged from hospital on Tuesday afternoon. This was his third hospitalisation since he was diagnosed with a kidney problem.

Sources said that the actor was not responding to medicines, and had been put on IV and had been gasping for breath since morning. He had been put on life support.

His daughter Twinkle Khanna, who is pregnant, son-in-law Akshay Kumar and estranged wife Dimple were with him during his last hours.

He passed away at his bungalow, Aashirwad at Carter Road, Mumbai.
Post your condolences here.