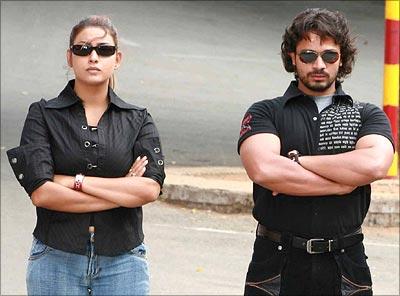 Ravi Srivathsa's latest film, Rajeeva, has Vijaya Raghavendra and Rakshitha playing police officers who take on the underworld. The couple have played onscreen lovers earlier as well.
The film has been shot in the pattern of Gautham Menon thrillers like Khaakka Khaakka and Vettayadu Vilayadu.
Rajeeva deals with the heroics of five officers, who have been assigned the job of fighting the underworld in Bangalore.
Raghavendra had earlier done an action film called Sree. But Rajeeva, he claims, is different. "It is an investigative film about a team of dynamic police officers," he says. "The inspiration is taken from five top and well known police officers in Bangalore."
Apparently, Srivathsa spoke to the police officers in detail so that the film would look authentic. "I have tried to make the film realistic," he says. "I'm lucky that I got the best of artists for the film. All of them, particularly the five actors -- Vijaya Raghavendra, Rakshitha, Harish Rai, Vijay and Nagashekhar -- were amazing."
Srivathsa has made technically superior films like Deadly Soma (Audithya and Rakshitha) and Ganda Hendathi earlier. The latter was based on Mahesh Bhatt's Hindi film, Murder. 
Text: R G Vijayasarathy