Before he starts work on his much-discussed English film on Mother Teresa, National Award winning director Rajeev Nath is making a Hindi film titled Aham. Based on the life of a gigolo, the film will feature Sonu Sood, Rituparno Sengupta, Jackie Shroff and Isha Sharwani.
Nath plans to start shooting for the film once he finishes a documentary called Indian Diaspora, which he is making for the US State Department.
In a conversation with Shobha Warrier, he talks about the filim and some of his earlier ventures. Here are some excerpts:
You have so far made only Malayalam films; why a Hindi film now?
The film is about the life of a gigolo, and a film on such a subject cannot be made in Malayalam. More than that, a gigolo is more of a metro phenomenon.
Where did you get this unusual idea?
Anup Menon, who acted in my last film Moksham, gave me this idea, and I found it quite interesting. As this idea will not work out in Malayalam, I discussed it with some of my friends in Mumbai. That is how we decided to make it in Hindi.
Can you tell me a little more about the character? Why did he become a gigolo?
The protagonist is an actor who has passed out of the National School of Drama. He then goes to Mumbai in search of work. Though good looking and with a good physique, he is a miserable failure in Hindi films. Out of work, he makes money only by working in a small theatre group.
He has a family, a wife and a 5-year-old daughter to take care of. When the little girl falls very ill, he doesn't have the money to save her. That was when a man suggested this idea. This man tells him, 'You are a performer. You have been performing behind the camera and on stage. If you can perform what I tell you, you will get enough money to treat your daughter.' He agrees to become a male prostitute to save his daughter.
He looks at what he does as a performance, like he does on stage or in films. At one point, he finds it hard to distinguish between reality, between the real performance and the reel performance.
Are you going to make it as a commercial venture, or is it going to be like your other films, offbeat?
There will not be any masala or formula in my film. I have never made such films. Any film that is exhibited in a theatre is a commercial film. That way, my film also will be a commercial film. But it will not be the usual Bollywood masala film.
Do you feel there is an audience for different kind of films in India?
Definitely. That is why I got a producer, which is a famous studio in Mumbai. I can tell you now itself. This will be a very controversial film.
Why do you say that?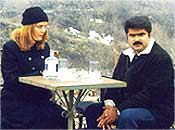 I won't tell you what it is now. There will be a controversy after the film is made.
For your last film Moksham, (right) which was shot in Kazakhstan, you signed on Zeenat Aman. This seems an unusual choice...
I decide on my cast only after the script is ready. In this case, The lady's grandfather was an Indian who had migrated to Russia from where he went to Kazakhstan. There, he married a German. The next generation is Russian. So, I wanted an artiste who had such a look. It was Kamal Haasan who suggested Zeenat Aman's name. She agreed when contacted.