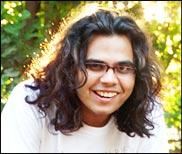 For movie buffs, the International Film Festival of India in Goa is where the action is these days.
rediff.com's movie critic Raja Sen is in Goa, living it up and savouring the sun, sand, drinks and the films. He chatted with rediff readers on November 30, and shared some of the juicy tidbits!
Raja Sen : Hi guys! Let's go.

---
mrpink : hi raja, from what we read, looks like the festival is more bout politics and less bout movies, how do you see it
Raja Sen : Well, a festival is as much about selling and showcasing movies as it is about actually watching them, but I think the 'politics' aspect has been overplayed by the media. It's all good, here.
---
Lahu : Hello Raja Sen do you think IFFI should be only in Goa or at different locations?
Raja Sen : IFFI's fun in Goa, but then I'm saying that because of the beaches and stuff. Infrastucture wise, this place is a bit of a nightmare. More experienced IFFI folk (the guys who go to fests loyally to watch films) think Delhi was better. (Anyway, I'm an unashamed Delhi-loyalist!)
---
Sush : Hi Raja, how is Aparaharn?
Raja Sen : Hi Sush. Apaharan is an interesting attempt. Nana Patekar's awesome, and the film has some dialogues with a lot of punch. The climax is waaay too long, though, and makes you yawn. Watchable, only just.
---
Sitaramji : Do You think Ajay Devgan will get another national award for Aparharan
Raja Sen : He might, but only because our National Awards are insanely whimsical now. Does he deserve one? No. But he didn't do a bad job.
---
lasttango : Hi what can you tell me about Big B's health ?
Raja Sen : From what I've heard, there's some reports of an operation. The Big B himself texted at 5.30 this morning saying he was ok and thanks for the wishes, so I'm assuming he'll be okay. Lets not let the hype get to us; I'm sure he'll be fine.
---
edc : raja, who are the big stars in goa
Raja Sen : Well, Rekha's the one coming in tomorrow. As I type this, Bipasha and the Apaharan cast are on an exclusive cruise to celebrate the premiere of the film.
---
lasttango : Do you think (God forbid) Bollywood will be the same with Big B it calling it quits ?
Raja Sen : I do think the superstar is exhausted, but I don't think we need to think about him quitting!It's not going to happen! :D
---
lara : tell us about blue umbrella!
Raja Sen : Blue Umbrella is a fantastic film! Personally, I rate it as Vishal Bhardwaj's best. It's a sweet, magical, and very beautiful movie, and Pankaj Kapur rocks !!
---
Moti : Did Naseer spoke to you about his directorial debut what do you think about it?
Raja Sen : Naseer's directorial debut, Yun Hota To Kya Hota, is a very interesting film. It's about a few Indian characters whose lives are ravaged by 9/11. The cast is quite unique, and I'm looking forward to the film.
---
sashi : Did people at IFFI miss BigB ??
Raja Sen : I don't think so, but they are definitely worried about him now.
---
lasttango : Ok Raja I write for Planetbollywood & Bollyvista and I like ur reviews because you are not overcritical and harsh . Something most think will get them respect a la Khalid Mohammad & Mayank Shekhar . UR views ?
Raja Sen : I think you haven't really READ my reviews :) Honestly, I'm often criticised for being too harsh. But hey.. *shrugs* I call em like I see em.Glad you like my stuff.
---
vincevega : how are the foreign films?
Raja Sen : Not really brilliant, so far. But today I saw a nice Italian film called Le Febbre (The Fever). Good enough to smile through. :)
---
rraghus : raja - when people say that Bachhan is a good actor do you think that he is at the same level as hoffman or de niro
Raja Sen : Amitabh Bachchan is a great actor, but because he is a megastar, he doesn't always get roles that exploit his talents. I prefer to look back on his Hrishikesh Mukherjee films and enjoy the magic. I think Chupke Chupke was his single best performance, to date.
---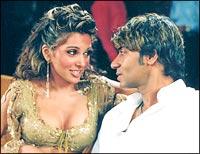 goodgirl : whose performance was good in apaharan.. that u most like
Raja Sen : Nana Patekar was great. He was 'Sarkar' like he should have been.
---
sashi : In Your opinion which film will have a mark at IFFI, this year
Raja Sen : A Brazilian film called Olga has caused a lot of waves, and an Indian distributor might just have bought the film with plans to release it in India.
---
Pankaj : Is Apharan action film
Raja Sen : Apaharan is a socially aware drama.
---
bhaskar : We hear that people throng theatres in other cities to watch movies..I am not sure how true it is..I tried myself to get a pass here..well I was declined and actually they were shocked to see that an academist like me is asking for a pass to wathc movies..It seems that they wanted CV of all those who ask for pass..I dont know why a man of the street should think of a CV to watch a good movie?
Raja Sen : I agree; it's quite ridiculous. Local Goa residents hate the fact that delegate passes are so hard to get. It's quite unfair, and is leaving a lot of cinefans justifiably upset.
---
Lindsay : Hi Raja Why do you think that Sameera Reddy can't act?
Raja Sen : Because I tried to see a scene from Musafir, and gave up. :)
---
bhaskar : Mr. SEn, can you please reply to my queries, PLEASE...?
Raja Sen : sure bhaskar, shoot!
---
lasttango : Raja why has the music of Apaharan not been released plus do you think Nana has overshadowed Devgan in the film ?
Raja Sen : There is no music in Apaharan, save one song (which is very avoidable).. Yes, NAna has definitely stolen the show in the film.
---
sashi : What do you feel about the fusion western and indian films?? Does Indian Movie has appreciation in overseas??
Raja Sen : The 'fusion' or 'crossover' film still has a long long way to go. But Indian films are definitely, increasingly finding an audience abroad.
---
punjabisharabi : hi raja is not delhi more suitable place for iffi
Raja Sen : Well, I haven't attended any of the IFFIs in Delhi yet, but I think the idea of Goa as a permanent venue is a good one. In a few years, the festival should be running really smoothly. Lets give these guys some time, yeah?
---
comkraft : Do get to see any movies before it is released because of being a fil critic.
Raja Sen : Yup! :) It's one of the best parts of the job!
---
lasttango : Is Goa really overcrowded rt now ?
Raja Sen : Actually, no. There's plenty of room, lasttango, come on over!
---
Vishal : Raja, I think you are the best film critic right now along with Mayank Shekhar...keep it up.
Raja Sen : Thanks Vishal :) I think you're the best chatter out there tonight! :P
---
Rakesh : As a so called "reviewer", why are your reviews mostly biased and a far cry from what most people think of the movie? Is it monetary?
Raja Sen : :D Well, I write exactly what I feel about a movie. I think just because a movie does very well doesn't make it a good film. Monetary in the sense that the directors pay me?? :D I wish! No such luck, Rakesh.
---
lasttango : Do you think media is over praising for certain stars like Shahid Kapur , Ayesha and Chitrangdha ( most of India doesn't know who she is)?
Raja Sen : Well, let the media bark what it wants, just don't let it dictate terms to you, as an audience member.
---
Sumit : Your Nagesh Kuknoor interview was very nice and same was Bipasaha's you are just too excellent at your work?
Raja Sen : Thanks Sumit, I'm glad you enjoyed it.
---
edc : but Sameera is sure sexy. Did you meet her in Goa?
Raja Sen : We met briefly, but I'm not her biggest fan. Give me Shilpa Shetty anyday ;)
---
Vishal : Raja, how do you rate the movie BOMBAY BOYS ? I think its one of the funniest and probably most realistic depiction of Bombay life.
Raja Sen : Well, I laughed through most of it, largely because of Naseer and Naveen Andrews. After that film, of course, Kaizad Gustad lost it.
---
sashi : Now coming to Apaharan, Do you think that having blogs of famous people of this movie (if you know, they have blogs here on rediff)gave a good publicity for the film ??
Raja Sen : You tell me, sashi. Did you read the blogs? Did they interest you? Did it make you want to watch the film?
---
Merril : Raja How is the nightlife in Goa
Raja Sen : Hi Merril. The Goa nightlife is quite awesome, and it's fabulous to sit by the beach and sip fenny with the sand between your toes.
---
bhaskar : As you have said, Delhi would be a better place...but dont you think if the organizers put their best foot forward with the political support, You can generate the same or even more enthusiasm in a venue like GOA as you may find in any toher metro where it has been held earlier? Also, dont you think IFFI should select a theme or design framework that encourages other cinemakers than just Bollywood crap makers?
Raja Sen : I do agree with you, Bhaskar. There is definitely too much of a Bollywood presence at IFFI. Regional filmmakers are still being sidelined, and that is an issue that definitely needs to be addressed.
---
vineeth : why do think 'batman begins' is a sad movie?
Raja Sen : :) Vineeth, my friend, I think we all have our own perceptions of Batman, since the comic character is so shadowy. We see him in a certain light, and for me, the film disappointed hugely. A lot of my friends loved it, and it made tons of money, but I just wasn't convinced. :)
---
Rakesh : Sorry, I later noticed that you had indeed answered my query. Sorry, if I was nasty. However, your reason didn't convince me as your wrote horribly of "The Rising" though it was a fine movie, liked by most (though didn't do well).
Raja Sen : I thought The Rising was rather pathetic; you liked the film. Neither of us can be WRONG, it's just a way of looking at the film. I'm glad someone enjoyed it!
---
punjabisharabi : sud not we stick too old romantic genre of movies instead of the new diff things that are tried out
Raja Sen : well, I think there are enough films being made in every genre, and I guess all you have to do is choose what to watch. Personally I like the fact that we have so many options today.
---
suresh : who is the sexiest actress in ur view in bollywood?
Raja Sen : Ah, now that's a damn good question. Well, I think Shilpa Shetty would have to top my list. But Bips is pretty damned hot. And Ayesha Takia is rather interesting too ;) who do you think is the sexiest, suresh?
---
vincevega : do filmakers get to interact with the viewers, media or is IFFI playing spoilsport?
Raja Sen : It's actually quite easy to talk to a director at IFFI. It's the 'stars' that are the problem. So if you want to go and chat with Ketan Mehta or Nagesh Kukunoor (who are far more fun than the actors), you're welcome to do so! :D
---
sashi : To be honest, i never felt that those blogs came straight from those people. Honestly, it gave no impression on the film (may be little negative :) )
Raja Sen : Alright, Sashi. I'll tell Bips you said that! :D
---
Vishal : So Raja, your top 5 albums of the year ? Ever heard of the band DREDG ?
Raja Sen : I like the new Franz Ferdinand album, Oasis' Don't Believe The Truth, The Killers' Hot Stuff..... but I honestly listen to more older music.
---
Ashish : Raja there is any movie in festival which is very technically fine but loses in the script? And dont you think these days directors done hardwork on style and not on script...
Raja Sen : I was talking to a few directors last night (Pankaj Parashar, Sudhir Mishra and Ketan Mehta), and they all feel that the foreign films that have come to the festival are largely similar to old, cliched Hindi films. Maybe this is what we mean by India's impact on World Cinema! *shudder*
---
sbikas : Hello Raja, do you have any plan to make movies for teenagers/kids?
Raja Sen : At some point, definitely. I think we surely need to make more and better children's movies in this country. Which is why I applaud Vishal's Blue Umbrella. Watch it!
---
suresh : whom u want to sign in ur next forthcoming movies?
Raja Sen : :D Me? Ah, I'd love to make a film with Abhishek Bachchan and Akshay Kumar (you guys listening???)
---
Deffy : Hi do you think that Hrithik Roshan will make a rocking comeback with Krris??
Raja Sen : I'm not sure. I don't think he can act, but as long as fans pack theatres, since when has that little detail mattered?
---
poonam : mr sen why u not answering my question?
Raja Sen : might have missed it, poonam, sorry. ask again, please?
---
nik : Hi Raja, did you like Mangal Pande?
Raja Sen : No :)
---
bunghee : As per your list, Who are the remaining Actors who qualify as 'ACTORS' in the industry?
Raja Sen : I think the best new actors in the industry today are Kay Kay, Boman Irani and Rajpal Yadav.You like them even if you don't like the films they're in.
---
rohan : hi raja..what do u think abt pahelis chances at the oscars?/
Raja Sen : I think it is a good choice, and stands a possibility of actually making it! Really! It's the kind of magical, exotic, very colourful fable they would appreciate, and it might work - like the French film, Amelie.
---
sameer : what do you feel about shahrukhs future in film industry? will he be able to sustain as long as amitabh?
Raja Sen : As of the current situation, he might even outlast him!!
---
sashi : We keep hearing about contemporary cinema in overseas. Do you think india cinema is ready to make one ??
Raja Sen : What do you mean? We shoot a lot of films abroad already, don't we?
---
Ramen : Hey Raja, Have you had the chance to see Rituporno's Andarmahal? I am not sure if that was there in Goa festival though. What do you think of it?
Raja Sen : It was at the festival, Ramen, but I didn't watch it. Didn't have the time.
---
rohan : hi raja..who do u hink is a better actor between srk and hrithik??
Raja Sen : Shah Rukh, by a mile.
---
omar : what kind of a person is bips???
Raja Sen : She's quite fun, actually. Disarmingly outspoken and very candid.
---
Onkarsingh : If Hrithik can't act, who according to u can?
Raja Sen : In the current crop of leading men, I think Abhishek certainly has the upper hand.
---
GSB : Hi Raja, please explain to us what you like about Antara Mali.
Raja Sen : I actually believe she can act. I liked her in Main Madhuri Dixit, Company, and Naach.The new film, however, just seems scary.
---
lara : you have a nice blog
Raja Sen : thanks, Lara.
---
punjabisharabi : any words on sunny's future
Raja Sen : I miss him, and he wish he makes some more movies soon. Good movies.
---
KK : If given a chance to make a film with which banner would you like to go
Raja Sen : Anyone who wouldn't "compromise my creative vision"! Ha ha ha!
---
saisid : hi raja,why do they call u(and others of ur brethen) film critics?dont u think film appreciator/evaluator or just a film columnist sounds better?
Raja Sen : Call us whatever you want, saisid. I'd prefer you just called me Raja.works for you?
---
GSB : Scary why? What if that happened to you? What if you died and came back as a woman? What would be the biggest adjustment?
Raja Sen : No, I mean the fact that the film looks rather badly made, and will, in all probability, be quite awful.The biggest adjustment? Ummm.. I'll probably spend a long while looking at myself in the mirror.
---
Senorita : What are your future plans?
Raja Sen : I'm totally clueless. Suggestions?
---
Varun : You're doing DPS proud!!!
Raja Sen : I wasn't in DPS, Varun. I'm a proud Don Bosco product !
---
nandadempo : which is ur favourite film of the year?
Raja Sen : wait for the rediff end of year lists ;)[honestly, just trying to buy myself some time to think. which was yours?]
---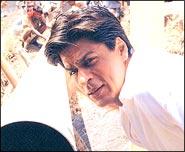 rohan : which performance is better-srk in swades or hrihik in kmg??
Raja Sen : I'm sorry, Rohan. I think SRK did very well in that film. Hrithik in KMG hammed beyond belief; it was a very hard performance to digest.
---
omar : isnt akshay overdoing comedies??
Raja Sen : On the contrary, I think he's brilliant at them! :D And hasn't he already proven his worth as an action hero?
---
saisid : u must hav seen apaharan...was it good?
Raja Sen : It was alright. I think the climax should have been tighter. The performances in the film are quite solid, and I like the dialogues.
---
atanu : Hi Raja nice to see u on the rediff chat? What do u have say to the comments given by others for your Reviews especially on 'Sarkar' where you didn't write very well abt the movie and all liked it? Do u read the comments btw???
Raja Sen : Atanu, I looove going through the comments. Its great fun to hear what others have to say.I still don't like Sarkar. RGV didn't like my review either :P
---
punjabisharabi : is not akhshay kumar one of the best nowdays
Raja Sen : Certainly.
---
rohan : whats the meaning of hammed(regarding hrithik in kmg)..does it mean overact??
Raja Sen : yup
---
nandadempo : what u think SRK was good in swades or amir in lagaan?
Raja Sen : Aamir in Lagaan. Bhuvan was a terrific character. Shah Rukh's character was believable, but in the context of the film, Aamir wins with the far better movie.
---
like : Why are you making film with Abhisek, he has no potential. there are lots of good actors
Raja Sen : like who? :D
---
saisid : dada,rediff has put this chat under "celebrity chats"?do u think that u really a celebrity ? :-)
Raja Sen : good question :) what do you think? :p
---
punjabisharabi : what abt punjbai movies at iffi raja
Raja Sen : There are no punjabi films at this year's IFFI, unfortunately.
---
atanu : No matter how u review Raja ..they still are fun to read. And u often end up confusing people with ur command over English. And the comments on ur reviews are even more interesting!!!
Raja Sen : Exactly my thoughts! Glad you have fun reading them.
---
omar : is smooching on screen so essential to the script??
Raja Sen : Well, it's more real than a shot of two sunflowers, isn't it?
---
Jungle : Today was Archana's last day and she missed her RAJ alot
Raja Sen : Thanks Jungle. I'm sure you made up for my absence.
---
brian : hey, do you like aishwarya
Raja Sen : she's pretty, but she can't act to save her life. (Hum Dil... was a feat of genius from Bhansali)
---
bvraman : hi sir i m eager to know ur cell no.. bec there r lot of ques to ask ..can u provide me
Raja Sen : ask me anything you want, BVR. Email me at rajas@rediff.co.in
---
nandadempo : mr sen why dont u indulge in making konkani films?
Raja Sen : let me start by making a film someday.. and then we'll look at konkani ones..
---
priya : whts ur comment on mallika sherawat??
Raja Sen : I think she's something else!
---
punjabisharabi : wat abt sex comedies...
Raja Sen : what about them?
---
Jungle : Who is your favourite hollywood actor
Raja Sen : In the current crop of A-list leading men, I like Jim Carrey and Johnny Depp.
---
atanu : Hey, do u mean u actually luv it or just enjoy it when people make fun of many of ur reviews....and they actually want u to stop??? What do u have to say abt ur reviews btw ? and the others for rediff?
Raja Sen : Well, it's amusing to read argumentative feedback. And some of the criticism is constructive.What do I have to say? Nothing.
---
priya : whos best actress today in india??
Raja Sen : Quite a few of them. Tabu is the first name that comes to mind.
---
omar : is it more fun to see a movie in a multiplex or a single theater??
Raja Sen : I like single theatres. They're big :) A lot more fun.
---
punjabisharabi : tanushree dutta is startling cud she be the nxt big thing
Raja Sen : don't hold your breath ;)
---
sashi : Requesting a favor before i sign-off. If you meet sush, can you tell her that i love her so much as an actress. She has such an amazing smile (next to madhuri). ahhh.... she is great!!!
Raja Sen : I agree entirely :D Will definitely do that.
---
priya : ramgopal verma,farhan akthar,sanjat leela bhansahli??? whos best according to you??
Raja Sen : I still rate Ramu the highest of these three, because of films like Company. Currently, however, he seems to have lost it!
---
priya : y dont ppl consider films frm south for national awards??
Raja Sen : I think they do, please look it up :)
---
atanu : Hey Raja, what do u have to say abt my favourite actress Juhi? Have you ever seen/spoken to her btw?
Raja Sen : I've met her very briefly. She's got great comic timing on screen.
---
saisid : i am from bhubaneswar in orissa and we have formed a film society here.we screen films of all genres(from majid majidi to kar wai wong to ritwik ghatak) every month(2 movies a month)!can i mail u to ask u which films to screen so as to hav a good understanding of films & for suggestions?if u hav time can u come and address our screenings?(in october nandita das addressed our screening)
Raja Sen : sure, that sounds great. please email me at rajas@rediff.co.in
---
amit : hey raj, if u wanna remake an old time classic, which one would it be
Raja Sen : None. I don't think one should ever remake a classic. I'd rather remake a bad film, and try to do a good job with it.
---
sampath : Whats ur comment on Exposing in Movies..? how it can effect the young minds..?
Raja Sen : I think the young minds are exposed enough. Television is more of a concern, with those ridiculous music videos.
---
filmcrazy : Is Deepa Mehta's Water being screened at the festival? Is so what are your thoughts on the movie.
Raja Sen : It was supposed to be, but nothing is confirmed yet. It is allegedly a script stolen from Sunil Gangopadhyay's Bengali novel, Those Days/ Sei Somoye.
---
manish : I have comment abt parineeta--- i think that was one of the worst reviews you wrote. I like your review in general but in Parineeta it seemed that you were bengali first and movie critic second. Just thought I will share. Keep up the great job!
Raja Sen : thanks manish. Interesting considering I didn't review Parineeta. :)
---
Shanu : Raja is being a journalist a tough job?
Raja Sen : Yeah, but I think if you enjoy yourself, it can never be that hard! It's lots of work though.
---
amit : but i still think guide with aamir isnt a bad idea after all
Raja Sen : nahin nahin yaar.. lets not remake devsaab's film.
---
francy : What do you think about kajol being back in business?
Raja Sen : It's great! Can't wait to see her with SRK again. Fanaah, with Aamir, should be fun too!
---
francy : What about all this item numbers in movies?Is that art?
Raja Sen : It's a rather ghastly passing phase.
---
atanu : Hey Raja some people are asking you questions on making movies. Just wanted to know that are u a director also (or are they confused with 'Sen')...or do u actually plan to direct in the near future?
Raja Sen : I think they're confused/clairvoyant. Yes, at some point... don't see it anytime very soon, though :)
---
francy : About amitabh on a roll with movies,commercials?
Raja Sen : I think there's a bit too much of him everywhere, but one has to admire how he can keep going.
---
Ashish : Raja i want to become a critic writer, for this what i have to do? any special program and what skills required?
Raja Sen : Just watch a lot of movies. Maybe you should try maintaining a blog featuring your reviews.
---
neha : what do u think about shahrukh khan doing the lux ad?
Raja Sen : It was 'almost' a good ad. Decent idea, though. At least everyone noticed it!
---
rohan : dont avoid the question-srk or aamir
Raja Sen : Ah, Rohan, you and your persistent opinion polls.Well, in my book, it's definitely... SRK.
---
Taradas : In most of the Bengali films the commercial aspect is given importance, not the quality. What is your thought on the furure of Bengali Films.
Raja Sen : I think there are a couple of interesting directors. Overall, the quality is slightly better than it was, say 5 years ago... Lets hope we have more good stuff.
---
francy : Your view on all newcomers coming from filmi backgrounds.Where does that leave the others trying to make it?No place for them I guess.
Raja Sen : I think guys like SRK and Akshay Kumar should give hope to all the others, no?Bollywood's big enough for everyone.
---
aj : hey amit what do you think about salman.He's got such a bad boy image with the press.Have you ever met him.How is he like ?
Raja Sen : He's one of the funniest men in Bollywood!
---
neha : dont you think david dhawan should stop making these no. 1 movies...? his shaadi no. 1 was .if i may...was crap? i dont understand why did he ever make that movie and why did those actors act in it?
Raja Sen : I think he will stop if people stop watching what he makes! Shaadi No 1 deservedly bombed! :)
---
Supremo : What have you to say about bollywoodization of bengali classics like parineeta and devdas?
Raja Sen : Sanjay Leela Bhansali's Devdas is the single WORST film I have ever seen.
---
francy : Comments on skin show by all the model-turned so-called actresses.Is that really necessary?Have we not seen too much of it already.
Raja Sen : They can't act, can they? Might as well stick to what they're good at! Thankfully most of them have minimal shelf-lives.
---
sarat : You write really well and I enjoy reading all your articles.Isnt Ramgopal Varma overrated? Atleast hes not half the director he was when he made Kaun and Satya. Everything since then has been only about camera angles and sound effects. Whats your take?
Raja Sen : thanks Sarat.Yes, I think RGV has unfortunately begun to believe all the hype around him. It's quite tragic to see this happening to a gifted director.
---
ananda : Hi Mr sen!what do u feel about maniratnam as a director and how do u rate him?
Raja Sen : Mani's terrific, one of the best we have. I treasure Dil Se; I think Yuva was a peculiarly botched effort.
---
francy : Do you think Madhuri will come back in a big way like kajol ?
Raja Sen : I REALLY hope so!
---
Masti : Which is the next movie which we should wait and watch for?
Raja Sen : Actually, any movie that I ever announce I'm making :PThanks a lot, guys. Chatting with you all was tremendous fun, and hope to do it again soon! Take care! Ciao!