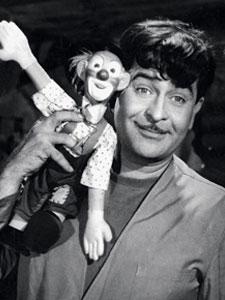 Raj Kapoor was one of the first filmmakers in Bombay to recognise Manna Dey's versatility. Dey sang the most soulful songs for the actor.

One of the best romantic classics in Indian cinema -- Yeh Raat Bheegi Bheegi -- would not have been recorded in Manna Dey's voice had it not been for two people.

"The producer of the film arrived at RK Studios straight from the airport and looked around, searching for one face," Manna Dey told me.

He saw Raj Kapoor, who was playing the lead in Chori Chori opposite Nargis. And then there was composer Shanker (of the Shanker-Jaikishan team) and Lata Mangeshkar. And lyricist Shailendra.

'Where is Mukesh?' demanded famous Tamil producer Avichi V Meiyappan (AVM), who had flown from Madras for the song recording. Told then that Manna Dey was going to sing the composition, the heavy-set Meiyappan shook himself vigorously, saying loudly, 'I want Mukesh.'

Though Manna Dey had sung for Raj Kapoor in a handful of films and his songs for Basant Bahar (1956) were creating a huge buzz, Meiyappan thought only Mukesh could do justice to Raj Kapoor's screen persona.

"It took nearly an hour for Shanker and Raj to persuade him," Manna Dey continued, recalling that famous 1956 situation.

Raj Kapoor said, in a final attempt, 'Let him record the song and if you don't like it, I shall have it recorded in Mukesh's voice at my own expense.'

After the recording of this duet, Meiyappan complimented Manna Dey. He almost hugged the singer.

"He was at least gracious enough to do that," I said.

"What else could he have done?" Manna Dey said, laughing.

Raj Kapoor was one of the first film-makers in Bombay to recognise Manna Dey's versatility, and used his voice (along with Lata Mangeshkar) in the crucial dream sequence song, Ghar Aaya Mera Pardesi in Awara in the mid 1950s.


"We were also friends," Manna Dey told me. "We discussed so many things in Bengali." Raj Kapoor had lived in Kolkata for eight or nine years, spoke Bangla and even played football on the city's Maidan.
And Raj Kapoor never hesitated to give credit to Manna Dey.
"People say Mukesh is my soul," Kapoor told me during a visit to New York in the 1980s. "And, indeed, he was my soul. But I must also say Manna Dey sang some of the most soulful songs for my films.
"Some of them were pictured on me (
in films like Shree 420 and Mera Naam Joker
) and some on other artists (
David lip-syncing the famous Manna Dey and Asha Bhosle song, Raat Gayi Phir Din in Boot Polish
).
Another famous number from
Boot Polish
, the semi-classical comedic melody
Lapak Jhapak;Tu Aa Re Badarwa
also featured David (Indian Jewish actor David Abraham Cheulkar, best known as simply David) in the film.
Years later, Manna Dey would sing another memorable song -- this one composed by Rahul Dev Burman ---
Lalla Allah Tere Nigahen
for the film
Abdullah,
which was sung on screen by Raj Kapoor.
"There was a special feeling when you sang for artists like Raj Kapoor," Manna Dey said. "The songs would become far more melodious than we intended them to be."
Manna Dey's own assessment of his songs could be very surprising, to say the least.
The song which fetched him a
Filmfare
award,
Aye Bhai Zara Dekh Ke Chalo
from the film
Mera Naam Joker
is considered to be one of his finest. And in the final and third part, the nearly seven-minute-long song turns into one of the most poignant numbers in Indian movie history.
"It was not challenging enough for me," Manna Dey told me. "It was more like a talking song… I had to imagine very hard how Raj Kapoor would enact it on screen, how he would be walking and moving his body, and make my singing better. I knew I was singing for a great actor."