Pyar Ke Side Effects opposite Bollywood bombshell Mallika Sherawat won him accolades galore. He effortlessly slipped into his character as the 'commitment phobic' Sid.
His rugby fixation is legendary and his dedication to social work is admirable.
A director, writer, an avid sports person, a social activist, an actor... Rahul Bose juggles all this with considerable elan.
And now he takes on kids in his latest offering Chain Kulli Ki Main Kulli which is all set for release this Friday. Swati R Chaudhary managed to track him down for a chat. Excerpts:
Tell us something about Chain Kulli Ki Main Kulli?
It's essentially a children's film, about a child who has a 'magic bat' and whenever he hits the bat, the ball goes for a four or six.
One day the bat loses its magic and a lot transpires thereafter. It's a fun fantasy film with a meaningful lesson in the end.
It's about this kid's relationship with me and how we both end up learning from each other. I play the captain of the Indian team in the film.
Did you practice for the film?
Yes I did. I had to train for about a month at the Khar Gymkhana. Technically, I had to look like the opening batsman in the film. (Incidentally, none other than Mansoor Ali Khan Pataudi, former Indian cricket captain, coached him when he was a teenager)
Was it a pleasurable experience or did you have a tough time mingling with kids?
I had a wonderful experience working with them and enjoyed myself immensely. Children needn't be treated like children. It's so easy to get along with them.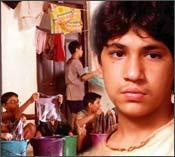 What made you do a children's film?
There are quite a few reasons actually. For one, I had never done a children's film before. Second, my ten-year old niece would get to see a film like this. Such films have huge market potential and I want to set a standard with this one. Moreover, I wanted a U-certificate for at least one of my films. 
Your favourite children's film?
There are some amazing children's films I've seen. Shekhar Kapur's Mr India was very enjoyable. Actually I enjoy animation films like Shrek a lot more!
What are your next films?
There's Rajiv Virani's The Whisperers with Manoj Bajpai -- a two-man psychological thriller, Aparna Sen's Japanese Wife that portrays a long distance romance through letters, Samar Khan's Shourya, based on court martial and Santosh Sivan's Before the Rains, which I'm extremely proud of. I have no news as far as Bits and Pieces (National Award-winning director Manmohan Mahapatra's first Hindi film) is concerned.
When shall we see you donning the director's hat again?
I'll be directing a film based on Pakistani author Mohsin Hamid's novel Moth Smoke.  But that's a year from now so I'd rather not talk about it.
If you could single out one filmmaker who showcased your talents in the most amazing way, whom would you choose?
I consider myself to be very fortunate for having got the opportunity of working with some of the finest filmmakers like Govind Nihalani, Aparna Sen, Santosh Sivan and Buddhadev Dasgupta to mention a few. They all have extracted the best out of me.
Any specific director you want to work with?
I'd love to work with Shekhar Kapur someday!
You've worked with Mallika Sherawat and Konkona Sen Sharma, both as different as chalk and cheese. Who's the better actor?
Mallika and Konkona are one and the same. They are just the same people, who appear at different places, at different times.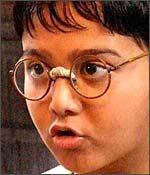 And the better person?
They are the same as I said earlier.
Do you have close buddies in the industry you often hang out with?
No. I don't have close friends in Bollywood. I live on Peddar Road in south Mumbai. So I have a very non-filmy social circle. Manoj Bajpai is a good friend though he stays very far from my residence.
You are considered an art-house film actor. Does that offend you? And is that the reason you are consciously treading the commercial path now?
Firstly, I don't think I follow trends. You just need to believe in yourself. People have varied perceptions and that doesn't really bother me. They will obviously have different things to say about different people. Wait until Before the Rains and a few of my other films come out!
Comedy, dark films and now a children's flick? Which other genre do you wish to explore?
I would love to do an action film but it has to be a well-written, taut script with my role well etched out. May be something like Lethal Weapon!
Your most gratifying performance to date?
It has to be (Buddhadeb Dasgupta's) Kaalpurush .
Are you content with your career?
I am more than happy with my career. My cup of happiness is overflowing. I don't want to change anything about it.