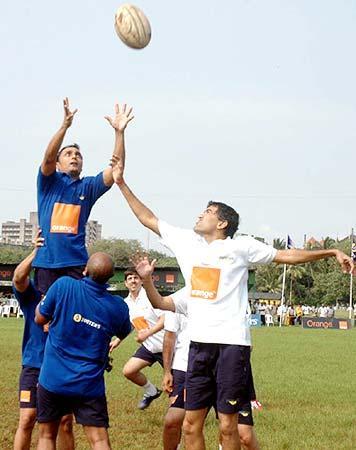 Some Saturdays are sweatier than others.
A bunch of assorted Mumbai celebrities, from the fields of entertainment and the media, took the field at the Bombay Gymkhana for a spirited game of rugby on Saturday afternoon.
As is evident, actor Rahul Bose (left) was among the most enthusiastic players. But when he was pinned to the grounds minutes away from scoring a final, vital goal, he saw red.
Other players included advertising gurus Piyush Pandey and Bharat Dhabolkar, journalists Ayaz Memon and Anil Dharker, and assorted people from films and television, like director Madhur Bhandarkar, VJ Cyrus Broacha and Rahul's Jhankaar Beats buddy, Sanjay Suri.
A terrific way to take advantage of a rarely rain-free Mumbai afternoon.
Photograph: Arun Patil