But Rahul Raj Singh insists the couple was 'happy'.
Rajul Hegde reports.
Pratyusha Banerjee's boyfriend Rahul Raj Singh has denied having fights with his deceased girlfriend and says they were 'happy' together.
Singh says he does not know why Pratyusha committed suicide on April 1.
Pratyusha's family and friends have accused Rahul of physically assaulting her.
Pratyush's parents, who flew down from Ranchi on Saturday morning, blame Singh for their daughter's death.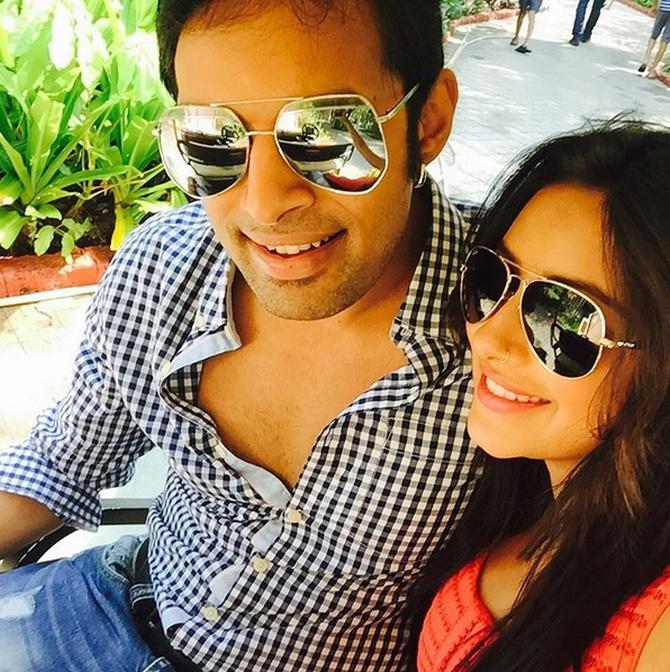 IMAGE: Pratyusha with Rahul Raj Singh. Photograph: Pratyusha Banerjee/Instagram
Her friends claim Pratyusha learnt last December that Singh was previously married in Ranchi, but that wedding had ended in divorce.
When Pratyusha confronted Singh about his earlier marriage, they had an ugly fight.
After Pratyusha discovered that Singh was in touch with his former girlfriend Saloni Sharma, her friends claim, Pratyusha and Saloni had a heated argument last month.
"Rahul and Pratyusha used to fight very often because of Saloni," says Sandeep Suryavanshi, the society manager at the building in Goregaon, north-west Mumbai, where Pratyusha's body was found.
"A month ago," Suryavanshi claims, "Rahul and Saloni had an ugly fight in the building, which was recorded on CCTV. Saloni had threatened Rahul and even hit Pratyusha in the lobby."

Pratyusha lodged a police complaint against Saloni that night.
Enquiries with the neighbours revealed that Pratyusha and Singh had a nasty fight on the night of March 31.