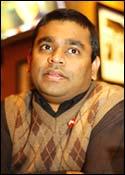 Having turned down M F Husain with a heavy heart the first time, A R Rahman just could not say 'no' the second time to the maverick painter and filmmaker.
He is truly glad he took up the second, Meenaxi, says Rahman, adding that under Husain's encouragement, he created a complex musical score.

"He [Husain] wanted me to compose the music for Gajagamini about four years ago," Rahman recalls. "But I was too busy with so many projects I thought I would not be able to do justice to the film."
Instead of Rahman, Bhupen Hazarika composed the music for
Gajagamini
. About two years ago, Husain contacted Rahman again. The composer wasn't busy then.
"But I just could not refuse someone as respected as Mr Husain," says Rahman, adding that the music for Meenaxi was composed when he was under tremendous pressure, especially revising the score of Broadway-bound hit musical Bombay Dreams. Rahman took up the project despite Gajagamini having been seen by very few.

He would not have regretted it if he had scored the music for Gajagamini, he says, adding that he is used to seeing the score for many of his films, including the Tamil film Iruvar by Mani Ratnam, taking a long time to gain recognition because the films weren't hits.   

"When Mr Husain narrated the story of Meenaxi," Rahman continues, "I decided I will take up the film. He then took me to Prague since it is one of the three cities the film is set in. He wanted me to be familiar with the city and capture its moods in the film's music."
"It was very cold in Prague," Rahman adds with a chuckle. "But I was even more convinced that this would be an interesting film."
Rahman talked about Meenaxi, Bombay Dreams and a number of other films at the end of a gruelling day of working with the musicians and cast of Bombay Dreams. The musical, which is in previews now, opens on April 29 on Broadway.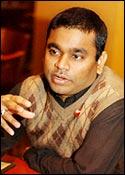 Though he worked under intense pressure on the Meenaxi score, Rahman says he felt he had 'more freedom on this film than most films I have worked for.' There was plenty of fluidity in the script, he explains.

"We were to work on a song with the words Ishq, ishq, ishq but then I thought of numerous songs with those words," he continues. "There was no novelty in those words anymore, I felt."

"We then discussed the alternative. And that is how the qawwali Noor-un-ala-noor came about."
People tell him today it is one of the best qawwalis they have heard. "I am learning to compose better qawwalis," he says, laughing softly, remembering his first qawwali, the devotional Piya Haji Ali, used in Khalid Mohamed's film Fiza. The rest of the songs in the film were composed by Anu Malik.

"Composing a qawwali for Bombay Dreams came next. And with Sukhwindara Singh's help," he adds. "We had a beautiful wedding qawwali, Sona, sona, in the show that became a huge hit with the London audiences."  

Many consider Meenaxi as Rahman's more focused and melodious scores. "Working under pressure is nothing new to me, especially when I feel that the filmmaker is also passionate about the film," Rahman adds. "Several of the film's songs were tuned in London in a matter of days," he continues, with Hussain's son Owais flying between Mumbai and London. "There were a few lines of lyrics Mr Husain wrote even when he was briefly hospitalised."
"On one occasion, I heard from Mr Hussain and his son that they needed a song for a particular situation urgently," Rahman continues. "I had a tune ready in a few hours in London, but there was no singer," Rahman continues, chuckling more.
He happened to bump into Lata Mangeshkar and Asha Bhosle the next day. "I said, 'Ashaji I want you to sing for me tomorrow'," he recollects. "Ashaji was headed for Scotland the next day, and she could not change her plan. I waited for a day or two, but we recorded the song [Dhuan, dhuan] in about three hours. That made up for any delay."
Has he been able to adjust to the radically different world of the theatre where a tune and music is fine-tuned right till the show opens? For instance, even after Bombay Dreams opened for previews on March 29, and about 1,500 people are seeing it each day paying the same price (average, $70) audiences would be paying after the official opening, a bit of tinkering is going on every day.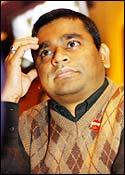 Even on the day Rahman spoke with rediff.com, he had spent several hours getting the actors rehearse the qawwali.

"In London, we used the recorded version of  Sukhwindara's qawwali," he continues. "But in New York, because of the union regulations, we have to use the live voices."

So even though it is an intricate qawwali, the cast will sing the number, as they would do the other songs (about a dozen), except Shakalaka baby. "There are too many special effects in that song sequence," he explains. "So we are using a recorded number by Preeya Kalidas (who played the lead in the London version)."

Rahman does not need a producer or a director tell him to create something unusual. "Whether I have worked on a big budget film or a small film, I am conscious of the need to create something different from the last song I recorded," he says.
Even then, he cherishes it when someone like Andrew Lloyd Webber, producer of Bombay Dreams and one of the most prominent composers in the West, reassures him that he has the freedom to create anything he wants. "He also reminded me I should create something that people had not heard in the West," Rahman explains. Similarly, Husain challenged him to create the melodies and sounds that would be long remembered.

In the Indian movies, Rahman said, songs take a life of their own as they are beamed from radios and television sets before a film opens. Such luxury is not available in British and American theatre. The cast album of any musical won't be ready for several weeks after it opens, and in the case of many musicals that are not smash hits, the producers just won't produce a cast album.

"Hence in a live production like Bombay Dreams, the songs had to be immediately accessible," he says. "All of us want the audience to hum different songs from the show as they leave the theatre."    

The best experience he has working in the London and New York editions of Bombay Dreams is watching "talented artists both act and sing."

"In India, actors do not their fighting [well, most of them]," he says. "They do not sing their own songs. Often, they don't do dialogue dubbing too."

"But in a musical in London or here, actors go through complex situations acting before some of the most critical audiences in the world," he continues. "And they sing and dance, and they do it all very well."

"I wish we could have a similar culture in India, too," he adds.
Photographs: Paresh Gandhi
Click here for More Features