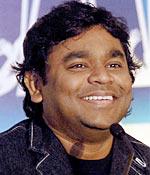 Oscar and Grammy-winning musician A R Rahman has been nominated for yet another award -- excellence in musical scoring for 2009 by International Film Music Critics Association (IFMCA).
He has been nominated in "best original score for a comedy film" category for Couples Retreat, his first venture into mainstream Hollywood, along with James Newton Howard (Duplicity), Marvin Hamlisch (The Informant), Alexandre Desplat (Julie & Julia), and Debbie Wiseman (Lesbian Vampire Killers).
IMFCA, which has members from around the world, will announce the winners of its Sixth Annual Awards on February 26.
Founded by Mikael Carlsson, it is an association of online, print and radio journalists who specialize in writing about original film and television music.