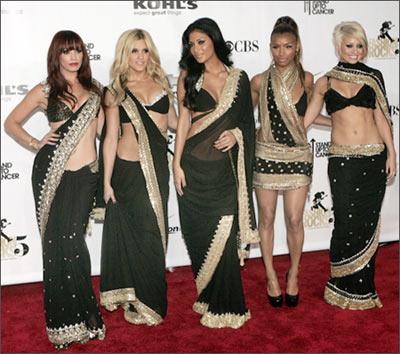 When the Mozart of Madras, AR Rahman, took home two Oscars at last month's 81st Academy Awards ceremony, it put an exclamation point on an exceptionally successful Hollywood awards season for India's favourite composer.
Amid the shower of awards and accolades, a clear verdict emerged: Tinsel Town has ackowledged and accepted Rahman's prodigious musical talents. In short, they understand why Rahman's name is magical for a billion-odd Indians.
But what about the common American? What does he know of Mr Rahman?
Quite a bit, actually.
In fact, Rahman has become the first Indian -- and by Indian, we mean born in India, raised in India and based in India -- to make it to the top 20 of the Billboard Hot 100 singles chart.
Yep, that's right: The release of the Pussycat Dolls version of his Oscar-winning song Jai Ho has quickly moved the single from number 100 to number 15 on the charts, with no sign of slowing [sales of both the original version of the song and the PCD's version are being combined by Billboard].
Of course, his current status as 'The Next Big Thing in Music' has made Rahman one of Hollywood's most wanted men. He and Slumdog Millionaire director Danny Bolye are reportedly being flooded with offers to collaborate again on celluloid.
And of all such rumours, there's none more juicy than this: Speculation in some insider circles has it that Boyle was recently asked to direct the 23rd James Bond film. And, given the tremendous success of Slumdog's soundtrack, it only makes sense to see Rahman and Boyle as part of the same package.
Wouldn't that be something?
Jai ho!
Photograph of the Pussycat Dolls: Joshua Lott/REUTERS