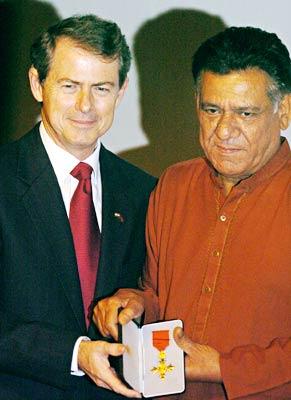 Ace actor Om Puri was presented with an honorary Order of the British Empire for his contribution to the British film industry at a ceremony at the British Council auditorium in Mumbai on Monday.
Om Puri has worked in Jewel In The Crown, Gandhi, City Of Joy and recently BBC Television's Canterbury Tales, among many others.
The British Council in Mumbai also organised a festival of Puri's films to honour the veteran actor. These films, which have not been screened in India before, include Second Generation, White Teeth, Murder and The Canterbury Tales (The Sea Captain's Tales).
"It is not only my honour, it is the honour of my entire fraternity. If any actor is recognised from India, it is a recognition as well because that proves Indian actors are dependable, Indian actors are good. In other way, it also makes a path for the next generation or colleagues who are behind you," Puri said.
One of the country's finest actors, Puri is one of India's most respected and prolific screen personalities. The actor had been awarded the OBE in July 2004.
"Om Puri has made a valuable contribution, particularly to the understanding of the British people of India and of what India is, through his work," said British Deputy High Commissioner Ian Hughes. "It is not just his personality as a wonderful Indian person and the quality of his acting, but also the kind of roles he played that has brought to the British audience a very clear and crisp understanding of India, India's culture and India's aspiration of where India is going."
King George V created the OBE in 1917. The honour was instituted in recognition of the large numbers of people in the British Isles and other parts of the empire who were helping England's First World War effort.
Photograph: Sebastian D'Souza/AFP/Getty Images