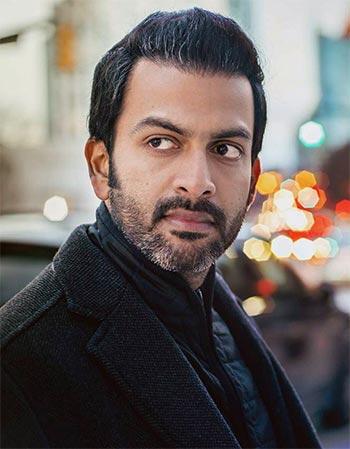 'We are the last generation of actors who have been part of a film shooting without a monitor. We used to share rooms with co-actors.'
'Now the scenario has changed and Malayalam cinema has become richer.'
Malayalam star Prithviraj talks about the changing times in Malayalam cinema.
At 32, Prithviraj has much more experience than any of his peers. His career has reached dizzying heights and has also hit rock bottom. He says that he loves the unpredictability of being an actor.
In his latest release, Ivide, he plays a cop working for the Atlanta Police Department. His debonair looks, style, and diction have been generally appreciated.
Currently he is acting in Nadirsha's Amar Akbar Anthony. Lijo Jose Pellissery's Double Barrel, R S Vimal's Ennu Ninte Moideen and Sachy's Anarkali are at various stages of completion.
In an exclusive interview with Vijay George, the young hero talks about the excitement of being an actor. Excerpts:
How was it playing a US based cop in Ivide?
My character, Varun Blake, is a conflicted personality. He has been brought up to believe that he is an American. But deep down he has strong Indian roots that he can't let go of.
He wants to believe and behave like an American but he is constantly in conflict with his Indian sensibilities. This conflict seeps into all aspects of his life, both personal and professional.
Aren't you doing too many cop roles in recent years?
(Smiles) Every time I decide not to do any more cop roles, something like this comes up which make me think may be I should do this one.
The fact that my character is a police officer didn't come across while reading the script. The other factors about the character were interesting.
How was it working with Shyamaprasad in Ivide?
Shyamaprasad had offered me some other projects after Akale but unfortunately I couldn't do them.
Very few directors invest so much time in the acting department as he does. He gives a lot of respect and freedom to his actors.
In Ivide, we worked with an American crew. They think differently and have a different sensibility, which made it even more enjoyable.
Though you are a young hero, you have several years of experience in the industry. How does it work to your advantage?
Let's say, the status quo is very different from those days when I became an actor. Then, it was the profile of the director or the production banner that mattered the most. Now things have changed and all that matters is the content of the film and that is the way it should be.
I wish I had made my debut today. But that's okay. The experiences I have gone through are invaluable.
We are the last generation of actors who have been part of a film shooting without a monitor. We used to share rooms with co-actors.
Now the scenario has changed and Malayalam cinema has become richer. But I am not an authority to comment on all these changes.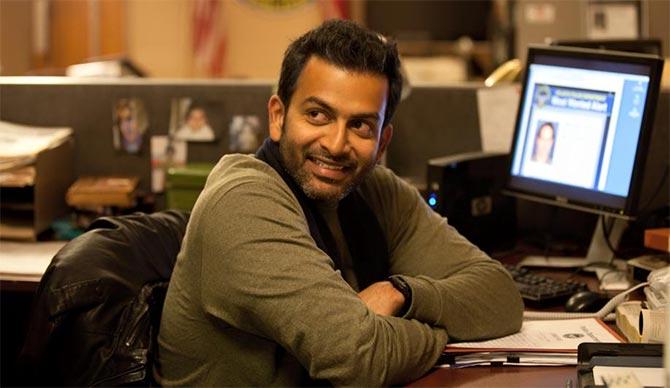 Image: Prithviraj in Ivide
You have made it clear that you will direct a film some day. How do you prepare for the job?
When I am part of a film, I am involved in its scripting, casting, making, acting and also post-production.
I don't know if it is good or bad, but that is the only way I know to work.
Is it the insecurity about success that makes you strive for more, as an actor?
Maybe the unpredictability is the excitement in this career.
I agree that being an actor is an unforgiving job, but it is very rewarding as well.
As romanticised as it sounds, the fact is that you are as good as your last Friday. You have three bad Fridays and when you do a good film, it becomes a 'comeback'. So if you can 'comeback' so soon, you can go fast as well.
Are you planning to do a Hindi or Tamil film soon?
Actually, I had committed to one Hindi film but the director has been busy with another project.
I haven't said yes to either a Hindi or Tamil film as of now.
How is it working with your brother Indrajith and Jayasurya in Amar Akbar Anthony?
I am doing a fun film after a long time. I laughed a lot while listening to the narration.
We have known each other for a long time and I think adding the chemistry to the fun will work in its favour.