'I would like to break the jinx that relationships made in the Bigg Boss house don't last long.'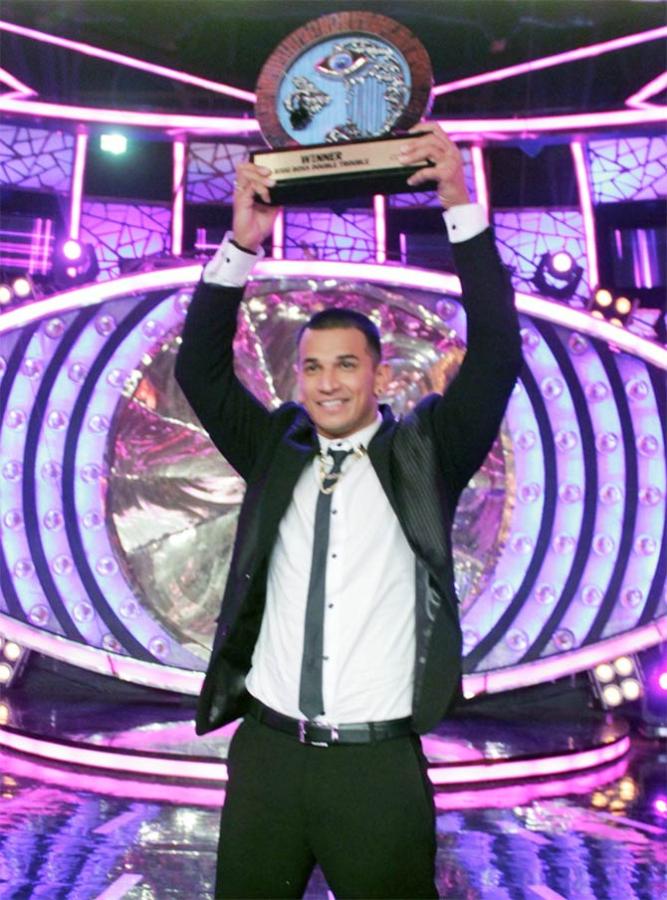 Prince Narula, 26, was declared the winner of the ninth season of Bigg Boss over the weekend.
When the season started, no one wanted to pair up with Prince, in the Double Trouble theme, and he was rejected by three ladies. Rochelle Rao finally agreed to be his partner. It seemed then that his journey would not last beyond a few weeks.
Obviously, that was proved wrong, and Prince emerged victorious.
He has earlier won reality shows like Roadies and Splitsvilla and was a runner-up for the Mr Punjab title.
He seemed to enjoy his stint inside the house, giving audiences the necessary amounts of action, drama and romance. He fought with everyone, made a sister in Kishwer Merchant and fell in love with Yuvika Choudhary and Nora Fatehi.
He talks to Rediff.com contributor Rajul Hegde about his Bigg Boss experience.
Congratulations! What was going on in your head just before you were declared winner?
Thank you so much!
Salman sir (Khan, the show's host) was pulling my leg before the announcement. I was very nervous even though I trusted my hard work.
I just stood there and waited for the moment when the winner would be announced.
Somewhere I knew I would win because I have always treated every task like a matter of life and death and completed it with utmost conviction. Ever since I set foot inside the Bigg Boss house, I have been dreaming about this moment.
Bigg Boss has been an emotional roller coaster for me -- the arguments, the tears, the fun, the excitement, the friendships...I'll cherish every moment for the rest of my life.
So you expected to win?
I wasn't over-confident about it. But I knew that hard work can take a person ahead in life and so I gave everything to the show. Also, because of my past shows (Roadies and SplitsVilla), I knew the youth would connect with me.
You seemed a bit worried after Kishwer's exit.
Actually, I was depressed. We had performed well during the Ticket to Finale task. The task lasted the entire day but only a chunk was shown.
Viewers judged me in that 45 minute-episode and thought I did wrong to Kishwer. After a long discussion, we had mutually agreed that it would be better that she quit, taking Rs 15 lakh, as I was better placed to win. It worked out for both of us. I credit my win to Kishwer and when the trophy was given to me, I handed over it to her. She was my toughest competitor.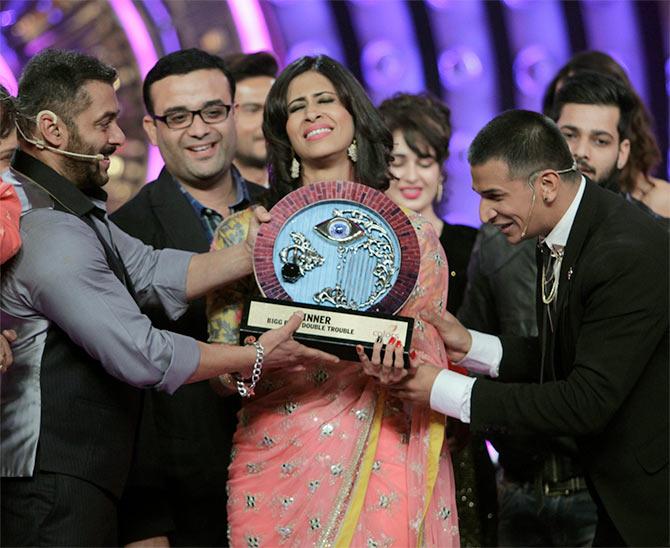 When Bigg Boss started, no one wanted to partner with you. How did you change that?
It was wrong on their part to judge someone. I wanted to teach them a lesson but I cooled down after I entered the house. So I promised myself that I would change their perception and win everyone's heart.
By the second week, when they saw my passion towards the tasks, I started gaining support. I earned a fair amount of goodwill, as I was the least nominated contestant, and also made house captain thrice.
You were in the news for your love stories with housemates Yuvika Choudhary and Nora Fatehi. Finally, who will you date outside the house?
(Smiles) Nora.
When you are staying with 15 strangers in the Bigg Boss house, it is very easy to get attracted to someone. But you get to know the real feelings only when you come out of the house.
We want to take it to the next level. But as of now, we aren't in love. We like each other a lot.
Now that I am out, we will spend some time with each other and take our relationship ahead.
No relationship made on reality shows stays forever. Even I made some wrong choices during my first two reality shows and we broke up within months after the shows ended. I would like to break the jinx that relationships made in the Bigg Boss house don't last long.
Who was your toughest rival?

Mandana Karimi! She always played the victim card very well. She speaks her mind and is very strong as a person. With the release of her film (Kyaa Kool Hain Hum 3), I thought she had a better chance of winning the show.
You always had arguments with her in the house.
Mandana is not a bad person. I guess what worked against her was that graph throughout the show did not change for the better.
She made it very clear in the beginning that she was not making friends in the house, and we respected that. What I didn't like about her is that she tried to play a victim card, which she was not.
What will you do with the prize money?

I will donate Rs 5 lakh to Salman Sir's charity foundation Being Human. My father has given me everything, and now it is my turn to do something for him.
What did think of Salman Khan as a host?
There cannot be a better host than Salman Sir. He guides and treats everyone equally. I owe my win to him.
What next?
I will stay away from reality shows for a while but maybe next year do an adventure reality show like Khatron Ke Khiladi. I had signed up for a show with &TV for Rashmi Sharma Productions but could not start it because of Bigg Boss. The upcoming venture will be a youth fiction show and I will play a romantic character.