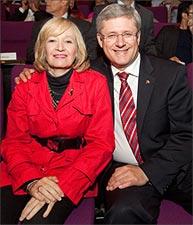 Canadian Prime Minister Stephen Harper and his wife Laureen attended a special screening of the Indo-Canadian movie Breakaway at Parliament Hill on October 3.

Over 800 guests, including Indian High Commissioner S M Gavai, were present at the screening.

The event was hosted by Heritage Minister James Moore and co-sponsored by public and private-sector partners, including First Take Entertainment, Alliance Films, Telefilm Canada, CBC-Radio-Canada, etc.

'We are extremely delighted to present a Canadian feature film Breakaway,' Moore said in his introductory remarks. 'This film, with a vast international cast and homegrown talent -- first time writer and actor Vinay Virmani -- represents a great cultural experience and insight into Canada today.'

Vinay said the 'film could have been made only in Canada. This film is like our great country. It celebrates our differences. And it truly reflects the Canadian immigrant story.'
Vinay presented an 18th century helmet, similar to the one worn by Sikh ice hockey players in the movie, to Harper.
'I am very fortunate and honoured that Prime Minister Harper and his wife are watching our movie tonight with us, along with invited guests,' said Ajay Virmani, co-producer, Breakaway. 'We have made this movie with a lot of heart. It delivers a message, yet it is commercial.'
Telefilm Canada's Carolle Brabant told Parliamentarians that in its opening weekend, the film grossed $500,000 at the box office.
Akshay Kumar, executive producer of the movie, was not present at the special screening. 'He was shooting somewhere outside the country and couldn't reach here on time,' Ajay Virmani said.