Congratulations, Prateik, Sanya!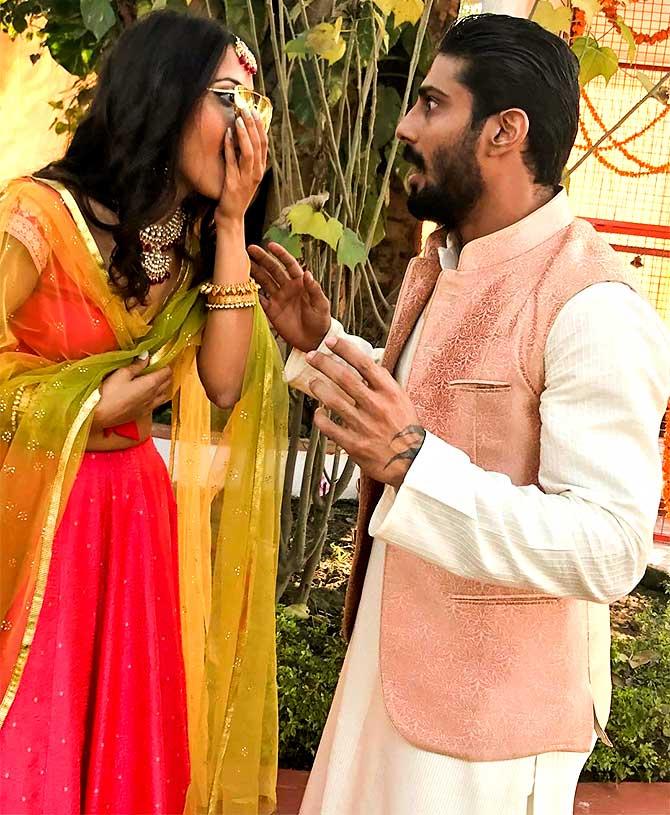 Photograph: Kind courtesy Prateik Babbar/Instagram
Actor Prateik Babbar and writer-director Sanya Sagar are engaged.
The duo, who have been dating for a year, formalised their relationship at a ceremony at Sanya's farmhouse in Lucknow.
The roka ceremony was attended by the couple's immediate family, including Prateik's father Raj Babbar, his aunts (his late mother Smita Patil's sisters) and Sanya's parents.
'I have always been a very guarded person when it involves my private life,' Prateik said in a statement after the engagement.
'In fact, I went down on one knee and proposed to Sanya at the Time Out 72 music festival in Goa in December and no one knew about it till she brought it up with her parents,' he said.
'Since my grandfather (Congress leader Shivajirao Patil) passed away last year, we wanted to keep the festivities low key and hence will plan the wedding only next year,' Prateik added.
Describing the engagement as the happiest day of his life, Prateik said Sanya has brought a lot of stability in his life.
'Yesterday was the happiest day of my life as Sanya brings a lot of stability and fortune into my life and I am someone who has always endorsed the idea of wedlock and brood,' the actor -- an only child who was brought up by his mother's parents after Smita Patil died a few weeks after Prateik was born in 1986 -- said.
The couple has known each other for eight years, but got together only in 2017 after Sanya returned from London after completing a post-grad course from Goldsmiths, University of London, with a specialisation in filmmaking.
She has worked as a production assistant on the Danny Huston starrer, The Last Photograph, and as a production runner on the Salma Hayek short, 11th Hour.
Prateik is planning receptions in New Delhi, Lucknow and Mumbai after the nuptials in 2019.
On the professional front, the 31-year-old actor is set to return to the silver screen this year with two big ticket projects: Ahmed Khan's Baaghi 2, co-starring Tiger Shroff and Disha Patani, and Anubhav Sinha's social thriller Mulk with Rishi Kapoor and Taapsee Pannu.