Prashant Raj Sachdev appears to be nonchalant even as his debut film Ram Gopal Varma Ki Aag is nearing release. For this first runner-up of Grasim Mr India, Jai's role (Amitabh Bachchan's in Sholay) was unexpected.
He was gearing up to leave for Los Angeles when the role fell into his lap. Aag, as he puts it, was a stroke of luck while he was busy making other plans.
Now after bagging one of the most coveted roles of the cult film Sholay, Prashant is thrilled to bits.
Swati R Chaudhary profiles the latest model-turned-actor. Excerpts:
Give us a brief overview of your background.
Though I was born in Mumbai, I've lived in Delhi for many years. I graduated in English honours and did a course in marketing. Ever since I was a kid, I was very passionate about modelling and wanted to give it a shot. I was very keen on trying out some of the lucrative modeling pageants so I participated in various inter-college festivals and did a lot of shows in college.
I was the first runner-up for Grasim Mr India and won the title of Mr Model of the Universe in Quito, Ecuador. I was the first Indian to win that pageant.Then I decided to come back home. I have also participated in the reality show -- The amazing Race Asia (AXN) with my friend Sahil Shroff.
So acting was a natural progression?
Not really! Ram Gopal Varma Ki Aag just happened to me. I attribute it to luck and destiny. I had left my portfolio at Mr Varma's (director, Ram Gopal Varma) office and as soon as I left, about an hour later, I got a frantic call asking me to come back, and the next thing I know is I'm sitting face to face with Mr Varma. 
I was all set to leave for Los Angeles to pursue a career in events and international modelling. I had got my US business visa and was supposed to fly in a few months time when this happened. I was least expecting that call and the sudden series of events has just changed my life. Believe me I had no idea why I was called!
And Jai's role must have been a bigger shocker?
I was blown over when I was offered Jai's role.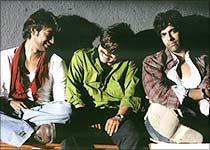 Mr Varma asked me for an impromptu audition but I wasn't nervous at all. He asked me for my views on acting, what I thought of this profession etc and the next minute I was offered this role. Obviously I was over the moon. Before I knew it, I was all over the newspapers and life just changed.
He gave me a 'scene paper'. He said he wanted me 'in character' the next time we met. So I came home, pulled out my father's old shirt, bell bottoms and just immersed myself into Raj's (Jai) character.
It's an overwhelming feeling. I strongly believe in destiny. I think we all make plans for ourselves but there is someone up there who has a different agenda for us. I was least expecting Aag to happen. 
Immortalising Amitabh Bachchan's role must have been intimidating, more so because you are a newcomer?
I was told from day one that Aag is a modern day Sholay. I was very sure of the inevitable comparisons to Mr Bachchan and the original film of course, but at no time did I try to mimic Mr Bachchan. We all have consciously tried to bring in a new flavour to this film.
I admire Mr Varma's decision of doing the impossible, of doing the unthinkable. It takes a lot to remake a cult film, something that was made 32 years ago, that too for a new generation.
I personally feel it's wrong to compare the two films because at no point is Mr Varma trying to make a better film. He is just presenting a modern day version to the audience.
It's quite a futile effort to compare the two because even if they have the similar sequence of events, the entire plot is different. Moreover if people hold the previous one too close to their hearts they won't enjoy this one.
Sushmita Sen's presence must have been daunting as well?
I was intimidated by Sushmita Sen until I met her. Sushmita Sen today is a brand by itself. She is a larger than life personality. I was supposed to shoot an important scene with her that kept getting delayed. It was like a countdown and the pressure was building up. I was a bit nervous when I met her for the first time but she has an innate quality where she just put me at ease in a second. She introduced herself and gave me a huge hug. We hit it off like old friends.
How was it hobnobbing with Ajay Devgan?
Most of my scenes involved Ajay Devgan. The chemistry that we share on screen is pretty much the same off screen. He took me under his wing. I will always cherish the time we spent together and his invaluable advices. Not once did he make me feel like I didn't belonged. He was very encouraging and supportive to say the least.
How many times have you seen Ramesh Sippy's Sholay?
I saw Sholay in totality when I signed Ram Gopal Varma Ki Aag. As a kid I only remember Gabbar Singh and watching the film with my friends in bits and pieces but I never got a chance to see the film at one go.
After watching the film I realized why it was such a huge hit. Even today all the characters are firmly ensconced in audiences' minds, whether it's Gabbar Singh, Thakur or mausiji. Each character was larger than life. Sholay has definitely redefined Indian cinema. I realized it was so impactful because it had every ingredient that catered to all sensibilities. It provided wholesome entertainment. 
Can you recall your toughest scene with Mr Bachchan?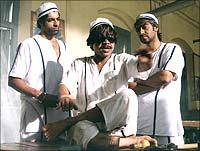 Each scene had its own level of difficulty but at no point did I feel like I was acting with Mr Amitabh Bachchan. He looks into your eyes and speaks to you. The very first question I remember asking him was how he felt about a complete novice like me essaying the role immortalised by him years ago. He reassured me saying I shouldn't worry about anything and that I should just go up there and do my best. So that boosted my confidence and everything else took a backseat.
Babban Singh is probably the greatest villain of all times and I can't see anyone other than Mr Bachchan pulling it off.
Any kind words for Ram Gopal Varma?
I consider myself blessed to work with a director who I was so fond of, way before Aag happened. I like the way he portrays his characters in all his films like Satya, Bhoot, Sarkar etc. They are so real and hard-hitting.
Mr Varma is an intense person and a hard taskmaster, understandably, because a film of this stature required him to be like that. He is an excellent mentor. I am grateful to him for giving me this once-in-a- lifetime-opportunity and I am proud to be a part of Aag.
Most of RGV's blue eyed boys (Mohit Ahlawat, Randeep Hooda, Manoj Bajpai) haven't done too well for themselves…
Maybe their sensibilities somewhere kind of collided with Mr Varma's. But I respect him and share an excellent rapport with him. I hope to maintain it. Besides, I don't lose sleep mulling over the future. This is the biggest moment of my life and I want to live it to the fullest. I believe in taking life as it comes.
Mohit Alhawat was the original choice for Jai's role...
I got to know about it after I signed Aag. I had no clue about the fact that he was supposed to do the film. I just feel that if it wasn't me, it would've been someone else. So there is no guilt feeling attached to it.
What else is happening on the professional front?
There is Ramesh Katkar's Toss starring Aarti Chabbria, Rajpal Yadav and Ashmit Patel.Then I may be doing one more film with Mr Varma that I am really excited about.
I am getting a lot of offers from different people and banners so I don't want to be choosy at this stage. I want to experience varied characters and am open to meeting more directors for the same. I don't want to be slotted in a particular image so I am not fixing a genre for myself.
Are you feeling the newbie jitters?
I am bound to feel jittery but it's also a lot of excitement coupled with nervousness and pressure. But I am prepared for it so I am going to just be. There is no point stressing out because what will happen will happen. So I might as well enjoy it.