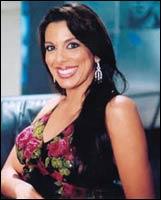 After a long hiatus, Pooja Bedi resurfaced on television with popular shows like Not Just Page 3, and then Just Pooja. Daughter of Kabir and the late Protima Bedi, Pooja talks about her show, her parents and being brought up in an unconventional manner.
You've dabbled in theatre and film, written books, been an interior decorator, and now a TV hostess. Which role is closest to your heart?

I believe that whatever you do, give it 100 per cent. I didn't choose to be a celebrity daughter; that was a gift. In life, you play the various roles of friend, wife, sister, professional. I have given every role 100 per cent.
The experiences in my life have made me better, not bitter. It's terrible to be trapped in a bad marriage. It would be nice if your marriage was forever, but why grudge it for what it was not? Why not cherish it for what it was? Things hurt, of course they do. But you cannot allow society to dictate terms. There is so much stigma attached to the term 'divorce.'

While doing movies, I enjoyed every bit of it -- the ambience, my co-stars, my roles, the art of getting under the skin of a character, everything. Now that I am part of the television industry, I love this medium. I love the fact that I'm playing myself on the show.

What has your favourite film been?

My favourite is Jo Jeeta Woh Sikander. People still remember me in Pehla Nasha. It's such a wonderful feeling. After 12 years, it is still fresh in everyone's memory. We should have a sequeal to the movie. After 10 years, a school reunion. I had Aamir (Khan) on my show once and he has not changed a bit. Nothing has changed in all these years. He is still a perfectionist. After working the entire day, he landed on my sets at 1:30 am. I yelled at him,'Sanju, do Model College boys make Queen's College girls wait?' and we both burst out laughing. He is such a prankster on the sets.

How did the role of anchor on Zoom TV come about?

I must thank Mid-day for this. The Times liked the columns I had written for Mid-Day. They liked the way I portrayed the Page 3 culture, my attitude that came across in the columns. They met up with me with regard to a television show based on the Page 3 concept. I thought the show should be meaningful and deal with social concerns. The show, Not just Page 3, got a tremendous response. That's when we decided it needs to have an identity of its own. That's how Just Pooja came into being.
Are you personally involved in the research?

It takes a certain amount of intelligence and repartee to anchor a show like mine. All three parties involved -- the production unit, the channel and I get together and brainstorm ideas. Whether it is the topic, the line of questioning or the guests invited, everything has to be to everyone's liking. Our show is a mix of the fluffy and heavy. We have cricketers and Abhijeet Sawant, as well as the BMC Commissioner and Shaina NC speak on serious issues.

Do you think you have an advantage as a celebrity, with guests not hesitating to open up to you?

I'd like to think guests open up because it is 'me' questioning them. I am a people's person, chatty and enthusiastic. My
enthusiasm is infectious. I love people, am inquisitive, curious, and I love interacting and chatting them up.

Your show throws light on sensitive topics like divorce and homosexuality. How do you think these issues need to be handled?
It depends on what the issue is, who the celebrity guest is and how comfortable or hesitant the person is about airing his views. If the issue discussed is homosexuality, it has to be treated with a degree of respect. There is so much stigma attached to homosexuality in society. It is an offence under IPC 377 of the penal code. There is a section of society that chooses not to acknowledge it. The spirit of my show is progressive, to help bring about a change for the better.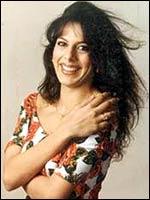 When did it first hit you that you were instrumental in changing lives?

It happened soon after the first three shows were aired. I had done an episode on homosexuality. Soon after, an old Parsi gentleman got out of his car and ran towards mine. He told me he was homosexual but was scared of coming out of the closet. He said my show had educated him about the rights of a homosexual. It felt wonderful to know I had touched his heart, and empowered him. A gay organisation also called to thank me. A gay rights activist told me I had accomplished more in one episode than they had in years.

What is your style of questioning as an anchor? Are you tactful?
(laughs) If you look at the stuff I get away with, you will know how much 'tact' is involved! If I have to put in a question that I know will put a guest on the spot, I spend hours thinking and plotting how to slip it in, how to build momentum and then finally say it. Sometimes, you have to laugh while asking an uncomfortable question, sometimes you need to be serious, sometimes you need to be earnest.
Salman Khan is a prize catch for any interviewer. How did you manage to get him on your show?
I know Salman since before Maina Pyar Kiya. He is a very close friend of my producer Nisha. That made him appear on my show. Though I put in questions in a hypothetical context, he knew they were directed towards him.

You caught Mallika Sherewat unaware by talking about her marriage. She did not take that too well. Did that affect your personal equation with her?

I didn't know Mallika before the show and have not met her since. I was surprised she took it so personally. Given the fact that she has portrayed an image of being bold and beautiful, one would believe she stands by it. If she were a strong woman, she wouldn't hide the fact that there was a man in her life, that the marriage didn't work out and she wanted out. She could have been an inspiration for those trapped in bad marriages. I was very disappointed about the way she chose to keep it under wraps.
You get the feeling that whatever she says and does, she does for effect. I was surprised that she was so defensive. She jumped off the sets and the unit actually had to catch her and put her back. She portrays the image of being honest, blunt and outspoken, but that is not the case. A honest person will not hide the past.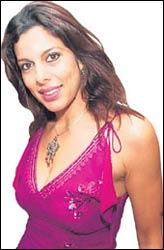 Shobha De once said that nobody trusts journalists. It comes with the turf. Has your relationship with friends changed since you donned the garb of hostess?

If you put your professional life before your personal, you should not be considered a friend in the first place. If you are giving somebody the title of friend, you should be worthy of it. My friends know I will never betray their trust. No one can say I misused information to my advantage. There has not been any change in the way my friends from the film fraternity look at me.

Do you spring surprises on your guests or are they briefed before the camera starts rolling?

My celebrity guests are aware of the show's topic and relevance of their opinion. Amrita Singh knew she was on my show to speak about a second innings for a woman after divorce, Farhan Akhtar knew he was the guest for a show revolving around children from broken homes, Meghna Naidu knew she was on my show symbolising a sex symbol. They are always briefed. When Aamir came to my show, he knew the theme was 'an actor prepares.' I didn't ask him about his divorce or alleged love child. There is no hidden agenda. 

Did you have an unconventional childhood?

I grew up as a reaction to my parents. I never smoked, did not touch drugs like a hippe child, gave up meat for a long time and didn't touch alcohol till late in life. My parents would ask me, 'What's wrong with you? You are such a backward child.'  They would laugh at me for being tame. I had a very unconventional upbringing. Friends of my age had deadlines and I'd never have one. Once I went to my mother and told her, 'Give me a deadline. Decide what I should wear and what I should not, which friends I should hang around with. Caring mothers behave this way.' My mother retorted, 'Fine, I'll play the perfect mother if you play the perfect daughter. Everyday, after coming from school, you must oil your hair and touch my feet.' I yelled back, 'That's disgusting.' So, she said, 'What you're telling me to do is equally disgusting.'
If I'd wear anything skimpy, she'd say, 'Sexy, have a great time!' It was too funny! My home was a party zone. In the morning, the amplifier would be burning hot. I hardly had friends my age. Most of my friends were friends of my parents. My mom was the most fun person in the world. She was a hands-on mom who took us out for picnics, trekking and lit bonfires. Wherever we went, we would pitch a tent and mash potatoes. Whenever she went abroad on her dance trips, she'd return with suitcases filled with books for us. She led a very bohemian life.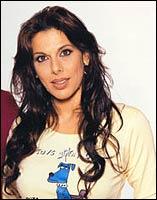 This unconventional life often shocked people. Did you ever face the brunt of this?

One day, I came back from school crying. A kid had told me his mom had seen mine running naked. He added, 'Shame, shame.' I felt terrible. My mom told me, 'Get one thing straight. This is my life. I will live life on my own terms. When you are in Standard Eight, I will accord you the same respect. I will not tell you how to live your life.'
She stood by her words. My mom gave suggestions, but the ultimate decision was always mine. Both my brother and I had a very sound upbringing.
Did your mother's memoirs help you get to know her better?

My mother was open about everything in her life. She never kept any details from her children -- be it her relationships or anything. To go through her memoir was not cathartic. It was a rehash of all we were told over the years. The most difficult part was not editing. As a daughter, there is only so much of your mother's life you want to share with the world. You want to hide certain aspects. The most difficult part was to detach myself and write the book the way she would have wanted it. The book is about Protima -- her thoughts, her level of being, her persona... I had to talk myself into doing justice to it. 
Are you a chip off the old block when it comes to parenting?

I'm more strict with my kids than my mom was with me. My kids get all the love in the world. But certain values are important, like respect for elders.

Tell us about your future projects.

I'm doing a new film-based show to be aired in Pakistan. I have been signed for it by Dubai-based ARY Digital. It will give the audience a peep behind-the-scenes at Bollywood. Ali Salman from Pakistan will be my co-host. Zoom may sign me for another show, but I can't speak about it at present. There are talks with India TV too, but I can't speak about that either. I am very flattered with the offers I've got from the film industry as well. But I have refused them because I want to focus on Just Pooja.

From being a sex symbol to being recognised as a cerebral person on TV, your image has changed. How do you look at yourself?

Cerebral and sexy together make a lethal combination. I am constantly evolving.