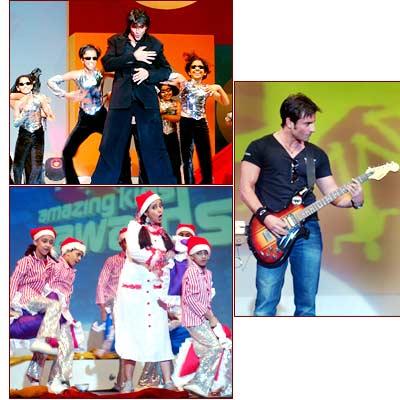 Time sure flies. While POGO may seem like it was  launched only yesterday, the fact is the channel, which began its run across India on January 1, 2004, has almost completed a year.
And what better way to celebrate an anniversary than with a show of awards? Of course, being the endearing channel that it is, the POGO Amazing Kids Awards is a unique show saluting India's extraordinary child prodigies in the POGO Kids Awards. Kids also got a chance to vote for their favourite stars in the POGO Voice Awards.
The incredible kid awardees include eight-year-old Mayank Sahu who can recognise any tune played on any instrument and replicate the same on his keyboard instantly; Tejas Parsekar, who swam 36 kilometres from the Gateway of India to Dharamtar in 10 hours, 30 minutes at the age of seven and a half; and Neelam Rani, 10, who saved two minor girls from being forcibly married off to middle-aged men!
The POGO Voice Awards was given to kids with special voting rights, and over 200,000 of them leaped at the opportunity to choose their favourite icons. Awards went to Tom & Jerry (The Amazing Toons), Preity Zinta (The Amazing Heroine), Johny Lever (The Amazing Comedian), Sachin Tendulkar (The Amazing Sports Hero), and Dhoom (The Amazing Movie), among others.
The show was chockful of performances crafted to delight the youngsters, by entertainers as varied as Urmila Matondkar, Saif Ali Khan, Hrithik Roshan, Sivamani and internationally acclaimed comedian Sylvester the Jester! The event will be televised on POGO on December 24, at 7.30 pm.