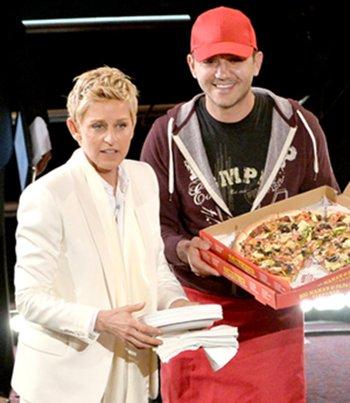 The pizza delivery guy who didn't know he was headed to the Oscars!

When Edgar Martirosyan stepped out to deliver pizzas on March 2, he had no idea he'd soon step into the glorious Dolby Theatre filled with Hollywood's biggest stars, where the 86th Academy awards were being held.
Making an appearance on Oscar host Ellen DeGeneres' self-titled talk show a day after the Oscars, Martirosyan revealed he was in shock when he went in.

The chat show host asked him, "You thought you were going to bring them (the pizzas) to some producers? What did they tell you?"

"Yeah, they told me I'm just going to deliver for writers and then when I was there they just told me wait here and you (Ellen) came out... and you said I'm going to let you know when to follow me and I was like, we're going," he said.

"You said just follow me and I'm going then I'm on a stage... I was in shock."

Ellen DeGeneres gave a $1,000 tip to him for having delivered the pizzas at the Oscar ceremony.
DeGeneres and Martirosyan had, on Oscar night, gone to audience members' area as they delivered the pizzas to actors like Brad Pitt, Jared Leto and Meryl Streep.

"I don't have any money," DeGeneres said at the show.

"Sandy? You've got a lot of money. You can tip him, right?" she asked Sandra Bullock, before asking Miramax film studio executive Harvey Weinstein.

DeGeneres managed to collect some money in Pharrell Williams' famous hat for the tip, but the pizza guy had left.

"So you left before, I wanted to get you a tip and I passed Pharrell's hat around and I ended up getting around $600, something like that," DeGeneres said on the talk show.

"Here is some more... here is $1000. Here is a total of $1000," she said.

Image: Ellen DeGeneres with Edgar Martirosyan at the Oscars. Photograph: Kevin Winter/Getty Images