'Bollywood runs on the idea of age.'
'If you are single, even if you are 40, you are still appealing, you are still young.'
'The moment you are married, even if you are 25, it's uh-huh. She's not sexy anymore.'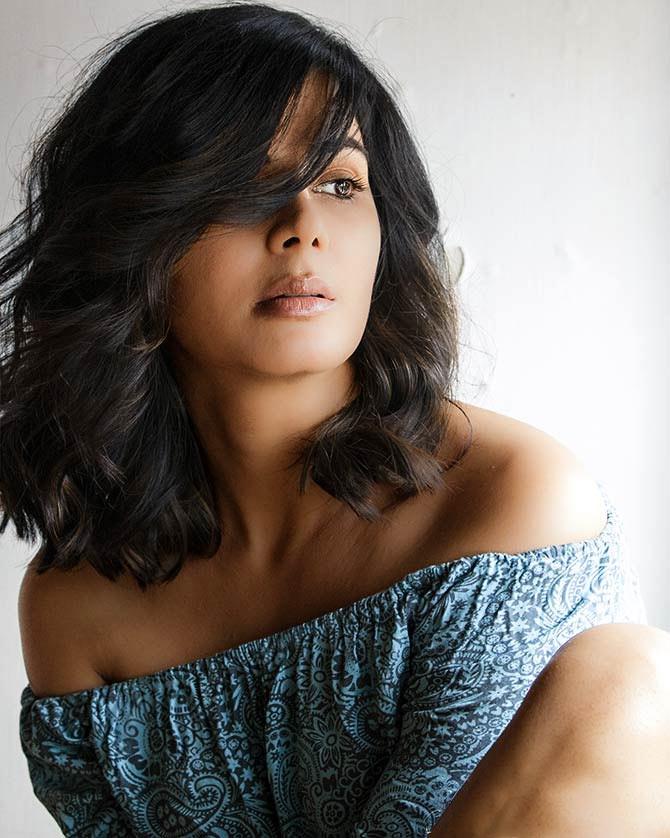 IMAGE: Kirti Kulhari
"I find it very weird when someone calls me a 'heroine'. I'm not used to that word," Kirti Kulhari laughs nervously.
The actress, who grabbed attention with her role in PINK, will be seen in Madhur Bhandarkar's Indu Sarkar.
Kirti discusses her career with Rediff.com's Ronjita Kulkarni and reveals why her character in Indu Sarkar was tough.
How did you get Indu Sarkar?
Madhur (Bhandarkar) had watched PINK at a screening.
The next day, he called and said he wanted to discuss something.
So we met and he explained what the film is about, what the character is about.
What was your first reaction?
Madhur Bhandarkar calling you for a film, especially after watching PINK...
I was pretty clear that the film would be about me because that's what he does best -- making films with female protagonists.
My character is very challenging, there's a lot happening in her life.
It was not just about doing a female-oriented film with Madhur, but doing this particular film with him.
I couldn't have asked for more.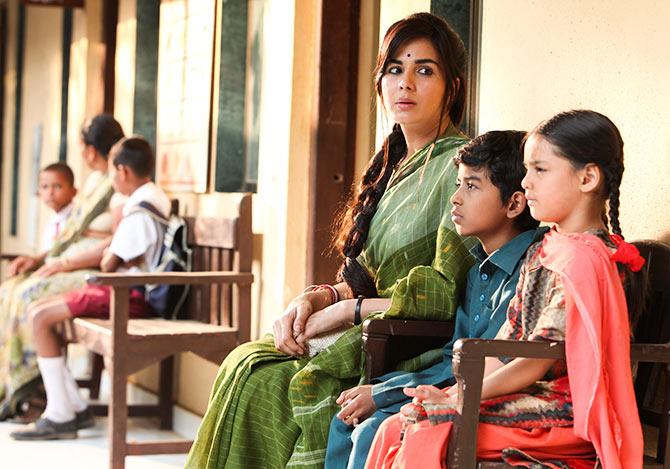 IMAGE: Kirti Kulhari in Indu Sarkar.
The film rests on your shoulders. Are you nervous?
There is a part of me which feels I don't know what's going to happen.
But there is a bigger part of me, which is relaxed and at peace.
As an actor, whatever I could have done, I have done.
I have given my best. What happens to the film is not in my hands.
A part of your family lives in Rajasthan. Are you a celebrity there?
My grandparents, both sides, still live in Rajasthan.
We have a house in a village. Yes, I'm a celebrity there.
We would visit during my summer vacations (Kirti was born and raised in Mumbai).
I have done the village things like fetching water from wells matke mein, taken the cattle for grazing...
We have two camels in the house.
My grandparents don't have a TV at home. They just know I work in films, but haven't seen any of them.
They see my pictures in the local newspapers and it is a big deal for them.
My dad was in the navy. He retired two years ago.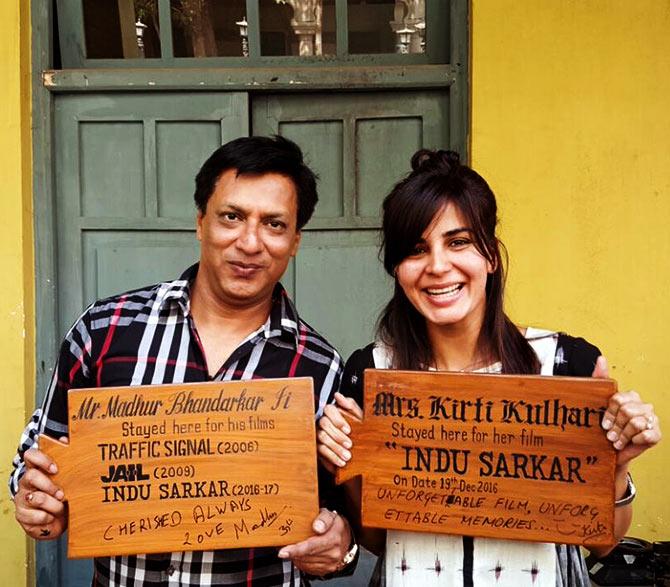 IMAGE: Kirti with Madhur Bhandarkar on the last day of shooting at the ND Studio. Photograph: Kind courtesy Kirti Kulhari/Twitter
Your character in Indu Sarkar stammers. How did you prepare for it?
Coming from theatre, I do a lot of reading, discuss my character a lot, discuss the lines. That is the standard process I follow.
This girl stammers, and that took the maximum effort to get it right.
It was also the most exciting reason for me to do Indu Sarkar.
I started watching a lot of videos about stammering, would analyse them... like what is the pattern, the letters, the words...
I wanted to understand how it happens, so I met a psychologist.
From the people that I have seen stammering, I know that the fact they stammer makes them feel differently about themselves.
So how does that affect them as children and the growing up process?
It's like a complex that they have, so how does that shape them as adults?
I also met a speech therapist to figure out the pattern of stammering that my character should follow for it to be consistent through the film, for it to not evoke laughter and for it to be affable on screen.
It should not distract you from the movie.
We discussed physical characteristics as well, like twitching, playing with hands...
I worked on it for two, two-and-a-half months.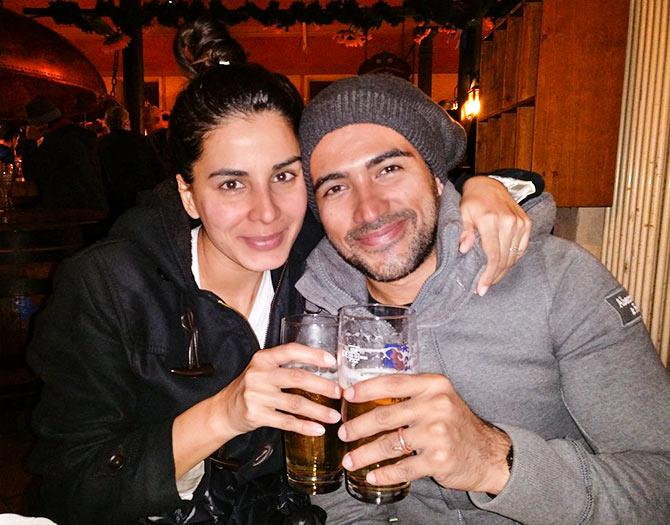 IMAGE: Kirti unwinds with husband Saahil Sehgal at a restaurant in Munich, Germany. Photograph: Kirti Kulhari
Is your husband Saahil your biggest critic?
He gives it to me straight. He loved the trailer. I haven't seen the film myself.
He loved PINK.
Does marriage get in the way of good movie offers?
I got married on June 24, 2016. We finished shooting for PINK in May, and it released after we were married.
I have never really been out there and interacted with people to see how they perceive me.
But I do understand that people feel that I have lost a bit of my appeal because I am not single any more, not 'available' any more.
They may 'desire' me less.
Marriage also has a lot to do with age. And Bollywood runs on the idea of age.
If you are single, even if you are 40, you are still appealing, you are still young.
The moment you are married, even if you are 25, it's uh-huh. She's not sexy anymore.
We still have 50-year-old men romancing a 22-year-old woman, and it's cool.
They don't want to play their age; they are the heroes!
Maybe people will end up giving me older roles now that I am married.
I would rather do the work I would like to do.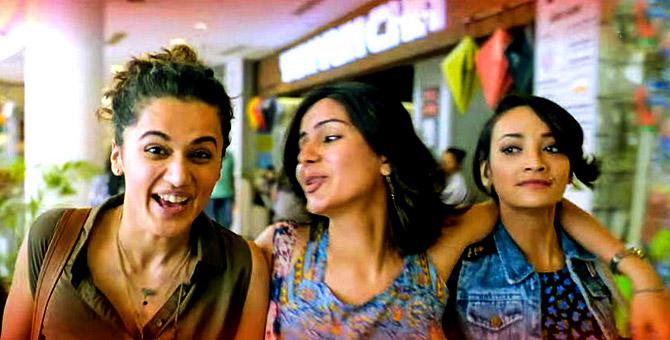 IMAGE: Taapsee Pannu, Kirti and Andrea Tariang in PINK.
How did PINK help your career?
My career has completely changed after PINK. Indu Sarkar is a direct result of that.
It's not like I get a script every day. I don't.
If I did, I wouldn't have been able to handle it.
But out of 10 scripts, seven or eight will be good, and I would be able to consider them.
I have a feeling that after Indu Sarkar, the kind of work I get will be even better.
What kind of movies would you like to do?
I have done Raita, a black comedy with Irrfan. It's directed by Abhinav Deo.
I would love to be part of an action film.
But I don't look at genres. The script has to really stir you up from inside!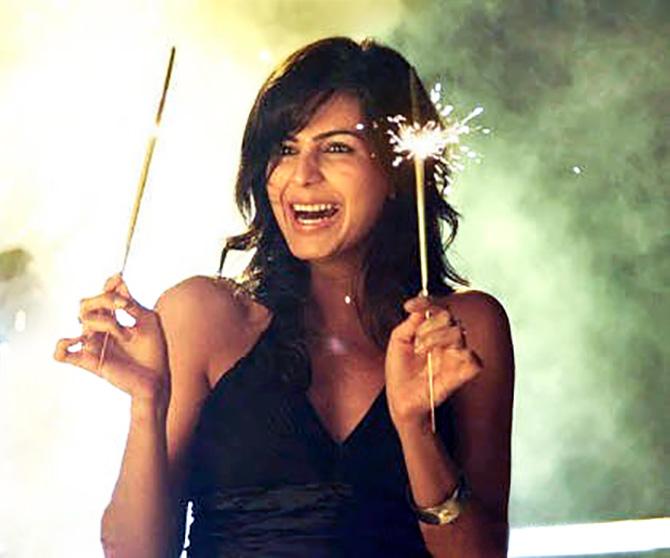 IMAGE: Kirti Kulhari in Shaitan.
Your start in Bollywood must have been very frustrating.
Even though you did good films like Khichdi and Shaitan. you had to wait for five years for PINK to happen.
Shaitan came six months after Khichdi. After that, there was a gap.
Yes, the wait was frustrating.
To do stuff that was interesting to begin with but which may not necessarily turn out to be as interesting once you see the outcome, that's frustrating.
And then if there is something interesting, and it doesn't reach people, that's frustrating too.
If PINK wasn't watched by everybody from the industry, it wouldn't have mattered if I gave an Oscar-winning performance.
I don't just need to be appreciated for what I have, but it needs to lead to further work.
So yes, I had to start from scratch and then prove myself, and then start from scratch again.
After PINK, that starting from scratch has come to an end.
Now people know that this is what I can do.
How important is networking in the film industry?
I have never networked. I don't like being seen in the media.
If promotions hadn't become such a big deal like it has, I would happily be doing my job and then sitting at home. I don't enjoy this.
I cannot go to a party because I am supposed to.
I've had to audition for each film of mine. Networking has never helped me.
When I wasn't working in films, I was doing theatre.
I was always learning my craft while I waited for my chance.
That is what will help you in the long run.
One has to just wait for the right moment.
My time came after PINK because of what I have done in it.
And I did what I did in PINK because I had worked hard for it while I was not networking.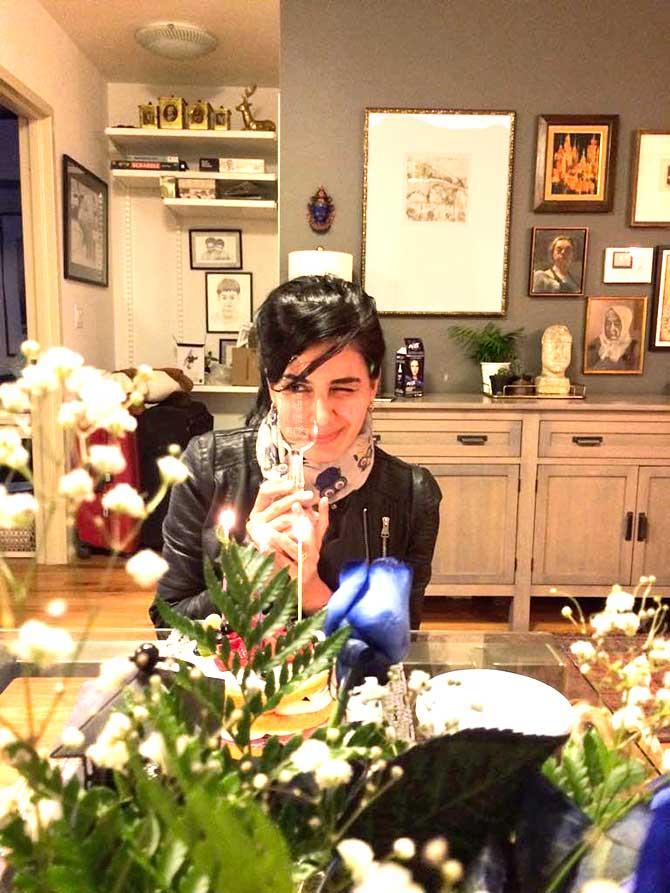 IMAGE: Kirti on her birthday. Photograph: Kind courtesy Kirti Kulhari/Twitter
How expensive is it to be an actress in Bollywood?
One has to always look good in public; even airport fashion has become a big thing.
I don't want to be a part of that race.
I will be called for (public) appearances only when I have some importance.
If I am a nobody, nobody will call me.
And when I have become a somebody, I am sure there will be people who would want to style me.
I will have brands who will want to give me their clothes.
You can spend on yourself as you can afford.
You can be as ahead of the rat race as you want to be, looking the best version of yourself.
I am sounding very anti-Bollywood, anti-heroine. But that also reflects on the kind of films I do -- non-glamorous and anti-heroine.
I find it very weird when someone calls me 'heroine'. I am not used to that word.
Which directors would you like to work with?
I would like to work with people who can break stereotypes.
Let's see if people can see beyond (what they see on screen) and take out something from me that will surprise everyone.
Are you in touch with your PINK co-stars Taapsee Pannu and Andrea Tariang?
We have a WhatsApp group. We chat once in a while, but everyone is busy with their own lives.
I went to see Naam Shabana when Taapsee called. But we are not really in touch.
I met Mr Amitabh Bachchan last at his birthday party last year.
How do you unwind?
I travel.
After I wrapped up Indu Sarkar, I went on a 25-day holiday to Europe -- Switzerland, Germany, Amsterdam and Barcelona.
After Raita, I went to New York for two weeks.
After PINK, I went to the Andamans for 10 days.
After my wedding, I went to Bali for a week.
I need to stay fresh as an actor, and for that, I need to have a life outside the industry.